Sports > Gonzaga basketball
Updates from Glendale during Gonzaga's loss to North Carolina in NCAA championship game
April 3, 2017 Updated Mon., April 3, 2017 at 8:46 p.m.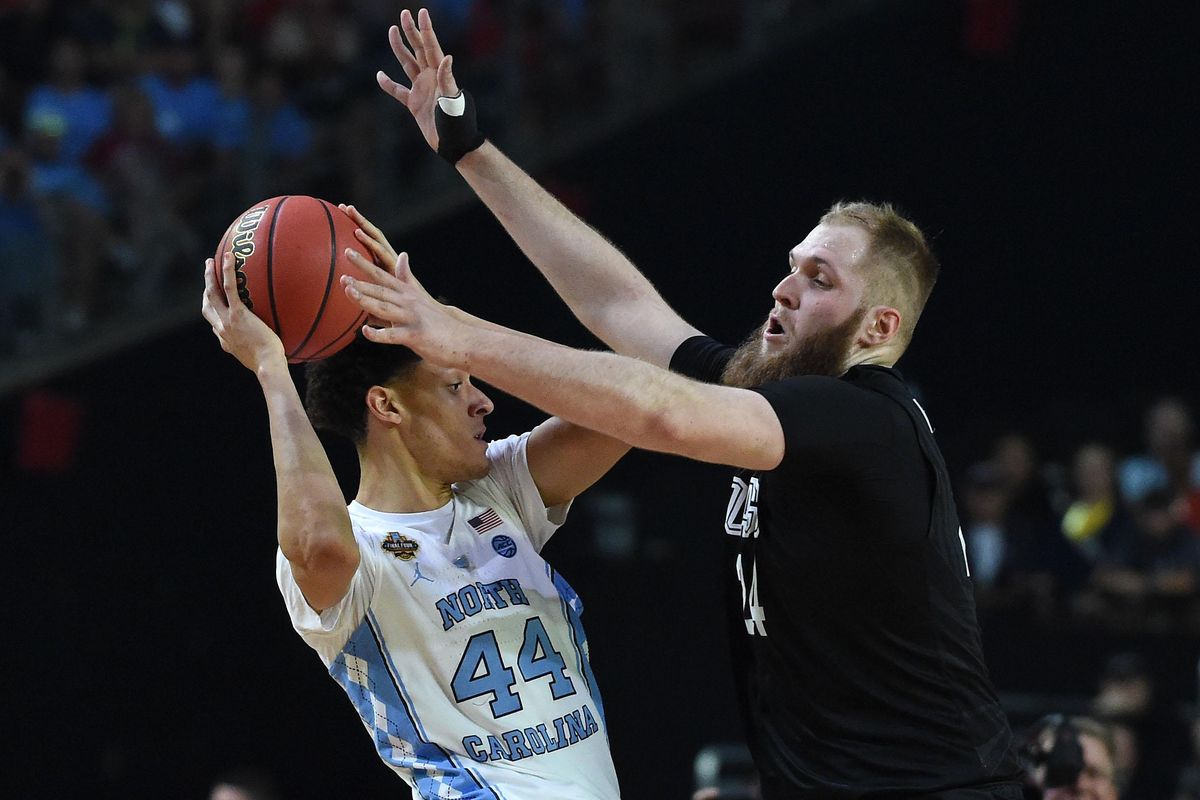 Gonzaga center Przemek Karnowski defends North Carolina's Justin Jackson in the first half of the national championship game on Monday, April 3, in Glendale, Arizona. (Colin Mulvany / The Spokesman-Review)
GLENDALE, Ariz. –
FINAL North Carolina wins, 71-65. Williams-Goss stayed in the game. With Gonzaga trailing by three points he tried a floater that was blocked by Kennedy Meeks and turned into a fastbreak dunk for Justin Jackson to secure the win for the Tar Heels. Thanks for sticking with us all season, we'll have plenty of game coverage shortly, and lots more coverage of Gonzaga's incredible season in the days ahead.
1:25: Uh-oh. Just as Nigel Williams-Goss and Justin Jackson were beginning to take over for their respective teams, Williams-Goss comes up limping. Looks like he tweaked his ankle. He had scored on GU's two previous possessions. UNC leads 66-65.
3:08:It's getting intense. The officials laid off for a few plays, and Nigel Williams-Goss hit a sweet 3-pointer to give GU the lead. UNC got it right back when Joel Berry hit his own 3. Williams-Goss nearly connected on a 3-point play. Now he'll head to the line for two shots with UNC leading, 62-60.
Nigel Williams-Goss pause, then buries a 3. Berry responds. This is getting fun, UNC leads 62-60 at the 4 minute mark.

— Josh Horton (@JoshHorton22) April 4, 2017
8:02: The game has ground to a halt with a stoppage of play on seemingly every possession, usually because a foul is called. UNC leads, 52-50.
9:42 Johnathan Williams picks up his fourth foul. But then Kennedy Meeks does as well. Both teams are going to be in a lot of foul trouble at this rate.
14:34 Karnowski finally gets on the board, and it's a big one. He's fouled, but misses the free throw. GU leads 43-40
15:53Jordan Mathews may have saved Gonzaga's season. He stole an inbound pass coming out of GU's timeout when UNC had all the momentum. He was fouled and Zach Collins had a three-point play on the ensuing possession. Mathews then hit a 3-pointer to give GU a 41-40 lead. But, Collins just picked up his fourth foul.
17:15: Brutal beginning to the half for Gonzaga, which has yet to score. North Carolina is having no trouble scoring, on the other hand, and leads, 40-35. The Bulldogs better settle down and get something going quickly, before the Tar Heels run away with this.
19:25 Another bad start for the Zags, who trail 35-36 after two UNC steals lead to two UNC scores.
HALFTIME: While we wait for the second half to begin, let's check in with Mark Few.
HALFTIME: Gonzaga leads, 35-32, at the half. The Zags had a chance to take a bigger lead but started to give up offensive rebounds, with North Carolina scoring nine second-chance points. The Zags started off hitting everything, but missed shots down the stretch. Still, the Zags outshot the Tar Heels by about 10 percent, and have to happy about the open perimeter shots they're getting. Josh Perkins leads all scorers with 13 points, while UNC's Joel Berry has nine.
12.6 Gonzaga will get the last shot of the half, leading 33-32. UNC got back in it with offensive rebounds.
038.3Kennedy Meeks got an offensive rebound off a missed free throw. But the Zags quicky stole it. Williams-Goss is fouled on a drive but misses both free throws.
Also, Justin Jackson is 0-5 from 3, 3-9 over all … and Nigel Williams-Goss has shadowed him without picking up a foul.

— John Blanchette (@JPBlanchette) April 4, 2017
Perkins with his third 3, 13 points, GU up 28-21. He had 32 points in the first five NCAA games. Collins second foul.

— Jim Meehan (@SRJimm) April 4, 2017
4:05: Josh Perkins is having himself a ballgame so far. He's got 13 of GU's 28 points after hitting two free throws and a 3-pointer. GU leads, 28-21.
8:09: Now it's UNC's turn for a four-point play, but Joel Berry also misses the free throw. His shot ended a 7-0 GU runs spanning three minutes. Justin Jackson scores off an offensive rebound, so GU lead is down to 21-19.
10:39:Gonzaga heads into the second media timeout with a lot of momentum. Nigel Williams-Goss hit a deep two-pointer and then Josh Perkins corralled a loose ball and hit a 3. Karnowski also had a block and got his own rebound. GU leads, 19-14.
15:17: North Carolina's going to have to try something different on shooters. They're called for their second foul of a 3-point shooter, and Jordan Mathews hits it. But he can't complete the four-point play opportunity. GU leads 10-8.
15:33: Josh Perkins and Joel Berry traded fast-break 3-pointers, so the score is 8-7 UNC at the first media timeout. UNC looked a little more comfortable the first few possessions, but the Zags are settling in.
17:00: Mark Few is turning to Zach Collins early, sending in the freshman for Johnathan Williams right after Williams makes a nice lefty hook shot. Nigel Williams-Goss is guarding forward Justin Jackson early, and the Tar Heels are trying to find their lanky leading scorer. UNC leads 5-4.
18:52: An inauspicious start for the Bulldogs, as Przemek Karnowski has the ball stripped, leading to a breakaway dunk for Joel Berry. but Josh Perkins draws a foul shooting a 3-pointer on the next trip down the court. He makes two to tie the game.
6:08 p.m.: Just a couple minutes until tipoff. Here we go. Remember, folks, it's just a game and TVs are expensive to replace.
5:46 p.m.: It may seem like the entire city of Spokane is in University of Phoenix Stadium right now, but plenty of Gonzaga fans have gathered back home to watch. Our intrepid Kip Hill passes along some video of the scene in Jack and Dan's:
5:33 p.m.: Oscar winner Mahershala Ali made a pretty cool video previewing tonight's game. Ali played college basketball in the WCC at Saint Mary's for current Washington State coach Ernie Kent.
5:18 p.m.: Somebody just walked by and handed me a starting lineup. I'm going to share it with you all now. Gonzaga will start the same players it always starts: Johnathan Williams, Jordan Mathews, Nigel Williams-Goss, Josh Perkins and Przemek Karnowski. North Carolina will counter with Theo Pinson, Joel Berry II, Kennedy Meeks, Isaiah Hicks and Justin Jackson. Both coaches sensibly sticking with the lineups that got them to the championship game.
5:10 p.m.: A few Gonzaga players have made their way out onto the court. I would tell you more, but Bill Walton is standing directly in front of me and I don't get paid enough to tell him to move.
5:03 p.m.: The Tarheels are out on the court getting shots up, about 70 minutes before tipoff. Still no sign of Gonzaga. I'll tell you, North Carolina has a little guard who never plays but he's hitting every 3-pointer he takes. I doubt Roy Williams will turn to this kid so late in the season, but if he does the Zags better be ready for some long-range set shots.
One last time, with feeling.
Welcome to the end of the road. Gonzaga has made it to the final showdown against defending national runner-up North Carolina. The program that has been to 20 NCAA Tournaments in a title bout against the program that has been to 20 Final Fours.
By tomorrow, there will be a new national champion. Maybe it will be the Zags. Either way, the season will be over.
This is one of most anticipated title games in recent memory, and you have doubtlessly done your research. But since we've got some time until tipoff, why not peruse all the stories the Spokesman-Review Crew has put together?
Jim Meehan sets the table for today's game with a typically thorough advance. Because Jim is a workaholic, he also has stories about the elevated court here at University of Phoenix Stadium, a preview of the big-man battle that will take place there later today, and caught up with Bill Walton to get his thoughts on the Zags.
John Blanchette wrote about Mark Few's Rat Pack, while Josh Horton explored the roots of GU's unity, the toll Przemek Karnowski's size takes on opposing players and how the Zags shook off their lone loss this season. Paul Turner talked to some of you, the readers, to gauge the confidence of Zags fans heading into The Big Game.
Whitney Ogden wrote about how the Zags are changing the minds of their critics and talked to GU president Thayne McCullough.
And I wrote some stuff, too. Specifically, I wrote about UNC is succeeding with in-state players, about a pair of Tar Heels who came back to school for another title shot, the big TV ratings these games are receiving, and a fun off-the-court story involving the two heads coaches.
Local journalism is essential.
Give directly to The Spokesman-Review's Northwest Passages community forums series -- which helps to offset the costs of several reporter and editor positions at the newspaper -- by using the easy options below. Gifts processed in this system are not tax deductible, but are predominately used to help meet the local financial requirements needed to receive national matching-grant funds.
Follow along with the Zags
Subscribe to our Gonzaga Basketball newsletter to stay up with the latest news.
---