News > Spokane
Love Story: Picture perfect: All it took was a photograph to launch their love
April 5, 2017 Updated Thu., April 6, 2017 at 5:30 p.m.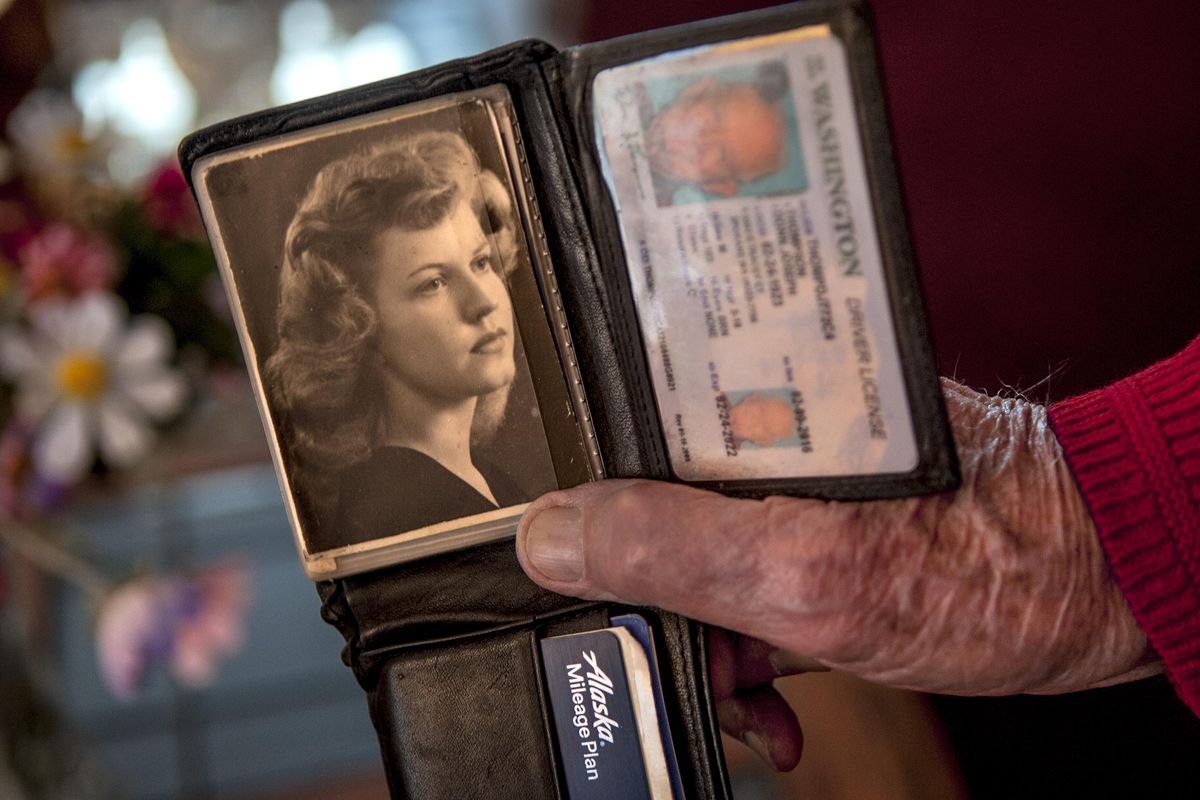 Donn Thompson has kept this picture of his wife Dude (Dew-dee) Thompson in his wallet since 1943 before they were married. Donn and Dude Thompson will celebrate their 70th wedding anniversary on Thursday, April 6, 2017. They talked about the picture at their home in Spokane on Wednesday, March 29, 2017. (Kathy Plonka / The Spokesman-Review)
Hell Week, University of Idaho, 1944. Freshman Dude (pronounced Dew-dee) Thompson was on her hands and knees scrubbing the dorm floor with a toothbrush.
"I was madder than a wet hen," she recalled. "Then I looked up and saw a photo. 'Who's that?' I asked. And my sorority sister, Jane said, 'That's my brother. He's in the Marines overseas. You should write to him.'"
So she did and sent a picture of herself. Seven decades later, Donn Thompson still carries that photo in his wallet, and Thursday they will celebrate their 70th wedding anniversary.
Donn had grown up on a farm in the Palouse and graduated from Lewis and Clark High School in 1941. He was attending the University of Washington and waiting for his draft number to come up when he decided to take matters into his own hands and enlisted in the Marines in April 1943.
"At boot camp, I was up before reveille. I was used to getting up at 4 a.m. to milk cows," he said. "So they made me squad leader."
He said basic training was supposed to take 11 weeks, but they cut it down to seven.
"They needed bodies," he explained, shrugging.
He was sent to Pearl Harbor for further training and then on to the Marshall Islands.
"It got really choppy about 500 feet out," Donn recalled. "I was on K.P. duty. Everybody was sick. I'd put food in front of them, and they'd vomit. I'd clean up the mess hall and then give them apples and oranges. I kept that whole platoon alive by giving them fruit."
He didn't get sick, though. "I was too busy to get sick," he said, grinning.
His smile faded when he talked about the brutal battle they soon endured.
"I got very good at going over the side of the ship. But one of my buddies was right beside me on the net when he got hit in the chest. I called for a corpsman. The bullet had gone straight through his chest and out his back. He survived."
When he made it to the beach, he encountered a chicken without any feathers.
"The concussion blast had shaken the feathers right off it," he said.
Donn and his fellow Marines went on to Guam and Guadalcanal and, for 83 long days, they took part in the battle of Okinawa.
All told he spent 27 months overseas.
"I saw the world, and it didn't cost me a nickel," he said.
He didn't know how hard his absence was on his parents until he came home.
"My dad was a very stoic person, but when I got off the bus in Spokane, there was my dad with tears rolling down his face."
The memory makes him pause to wipe his own eyes.
"I was very lucky. If they were shooting at me, they missed," he said.
Those letters from Dude gave him something to look forward to – something to hope for.
When he returned, he called her and asked her to come to Spokane with his sister and meet his folks. She agreed.
He told her he'd meet her at Felts Field and that he'd be wearing a camel hair coat. She arrived first and sat down to read a magazine. It was Dec. 30, 1945.
Soon she heard a voice call her name. It was Donn.
"I looked up and fell in love," she said.
Donn had a similar reaction.
"When I met Dude, I'd never seen anything as beautiful as that girl, ever," he said. "I'm not a particularly religious fellow, but I'd asked God if I could have a beautiful lady like Dude to be my wife and he put us together. Unbelievable."
Dude said, "I always said I want to marry a man, not a boy."
They were married April 6, 1947.
"I'll tell you how romantic I was. I asked Dude to marry me in the garage of our old home. I don't know if she ever said yes," Donn said.
Dude laughed. "I don't remember saying yes, but he gave me a ring."
Soon after their wedding, Donn decided to continue his studies at the University of Washington. Dude had left school to care for her ailing mother, who'd since recovered, so they moved to Seattle.
"We lived on the GI Bill – $120 a month," Donn said.
He left school to take a job at Atomics International in Idaho Falls, Dude's hometown.
Their children – Donn, born in 1948, George in 1951, Marianne in 1952 and Jim in 1955 – completed their family.
In 1963, the company transferred them to California, a move Dude was not happy about.
"I didn't want to leave my hometown," she said. "I told him I'd stay three years, after that I'm going home."
They ended up staying 29 years, and Donn finally got that long-delayed degree when he graduated from California State Northridge.
"He got his degree in 1969, the year our second child graduated from high school," Dude said.
Donn switched careers to the insurance industry. When he retired at 67, they decided to get out of the California rat race. They visited Spokane for his 50th high school reunion and liked what they saw. For 30 years, Dude had the plans for the home she'd always wanted, and in 1992 they built it near Ferris High School.
They plunged into Spokane life by volunteering at Deaconess Hospital and enjoying the connections they made at the South Side Senior Center.
"We played golf every Monday for 18 years, with a group Donn organized," said Dude, now 90. "We had a really great time."
Today, they have six grandchildren and one great-grandson.
"Our family has been the most important thing in our lives," Dude said.
She still appreciates the man she first saw in a photograph so many years ago.
"He's my best friend," she said. "I respect his privacy, and he respects mine, which is so important."
And Donn, 94, still admires his bride. Glancing at her, he said, "That young lady is probably the smartest non-degreed woman in the world. We enjoy each other as much as we did when we were younger. We're just very deeply in love."
Know someone who is in love? Love stories celebrates relationships that are strong and enduring. Whether you're dating, recently married, or have passed the 50-year mark, let us tell your tale. E-mail your suggestions to correspondent Cindy Hval at dchval@juno.com.
Local journalism is essential.
Give directly to The Spokesman-Review's Northwest Passages community forums series -- which helps to offset the costs of several reporter and editor positions at the newspaper -- by using the easy options below. Gifts processed in this system are not tax deductible, but are predominately used to help meet the local financial requirements needed to receive national matching-grant funds.
Subscribe now to get breaking news alerts in your email inbox
Get breaking news delivered to your inbox as it happens.
---