News > Spokane
Tax proposal for Spokane County 911 operations would create citizens' committee to oversee spending
Fri., April 7, 2017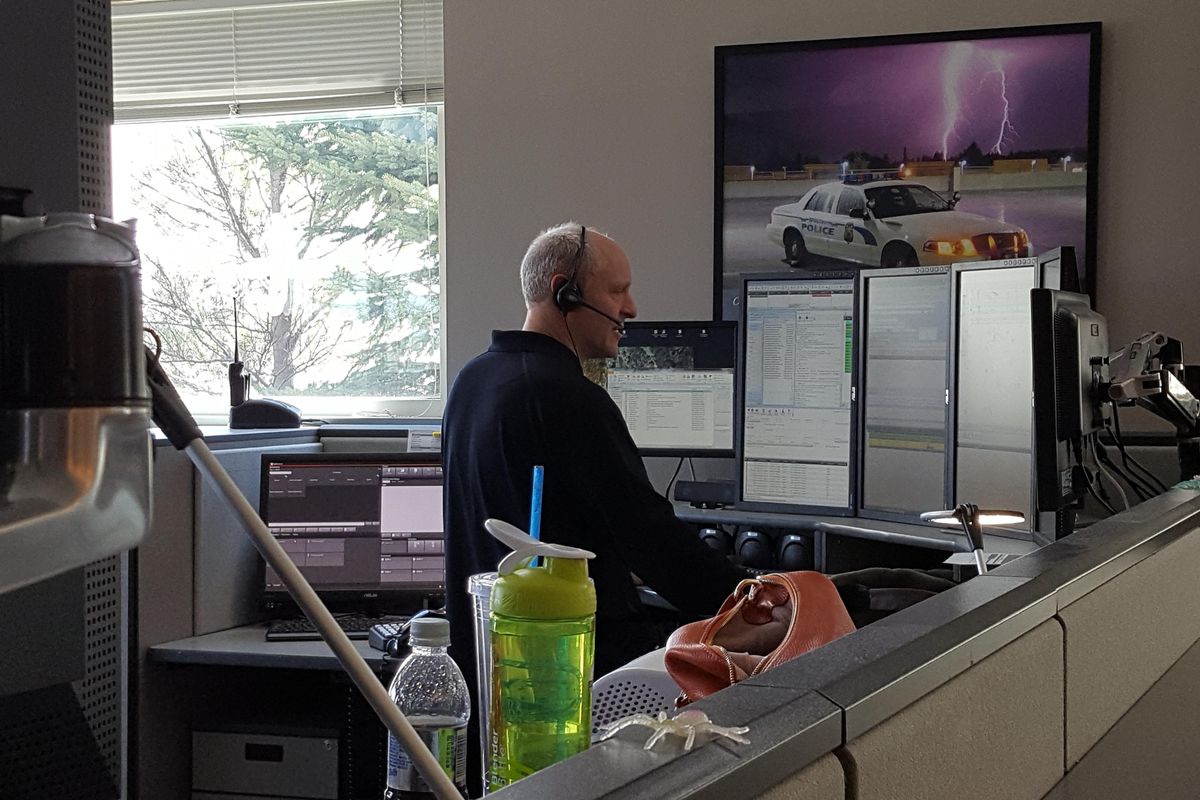 A Spokane County emergency dispatcher takes a call on Wednesday, April 7, 2017. (Chad Sokol / The Spokesman-Review)
Ballots in the mail this week give voters the option to renew a sales tax for Spokane County's emergency communications services.
Local officials say the 0.1 percent tax – one cent on a $10 purchase – has dramatically improved 911 operations as well as the radio network used by local police and fire departments. It first passed in 2008 with 66 percent of the vote. The renewal would last through 2028.
County officials say the tax amounts to about $12 a year for an average household.
Spokane Valley Fire Chief Bryan Collins said one of the greatest accomplishments of the ballot measure is an upgraded radio system that enables members of different agencies to speak to each other during emergencies.
"Prior to this type of technology and this type of system, I could be looking at a police officer down the road and not be able to communicate with him," Collins said.
Additionally, the sales tax has become the main source of funding for the Crime Check service, which is used to gather crime data and takes pressure off of 911 dispatchers.
For seven years starting in 2008, the tax revenue was overseen by a six-member panel of citizens appointed by the county commissioners. The current ballot measure would reestablish that committee.
Commissioner Al French said the committee served as a "watchdog" on how the tax revenue was spent.
"We never had any problem with the way that money was being spent," said Chris Hamp, a division chief with Spokane County's Fire District 9 who served as chairwoman of the committee.
As the last of the projected tax revenue was being allocated in 2015, Hamp concluded that the committee's work was done and asked the county commissioners to let the group disband. Commissioners Al French, Todd Mielke and Shelly O'Quinn signed off in November of that year.
"There was no reason to keep meeting and to have paid county staff continuing to take time out of their days to staff those meetings," Hamp said, adding that government spending is still closely monitored by the state auditor's office.
Not everyone on the committee wanted to disband, however.
"Part of our responsibility was just existing, just having someone to keep an eye on things," said Michael Lemberger, a local doctor who served on the committee.
But Lemberger stressed that he thought the tax money was spent responsibly.
"There was nothing wrong with the tax money or the expenditures," he said. "I actually think the taxpayers got a pretty good deal."
Ballots are due April 25. The county has compiled information about the proposal at prop1spokane.org.
Local journalism is essential.
Give directly to The Spokesman-Review's Northwest Passages community forums series -- which helps to offset the costs of several reporter and editor positions at the newspaper -- by using the easy options below. Gifts processed in this system are not tax deductible, but are predominately used to help meet the local financial requirements needed to receive national matching-grant funds.
Subscribe now to get breaking news alerts in your email inbox
Get breaking news delivered to your inbox as it happens.
---