A&E
Zip's is the place to go when you need fast and cheap and filling food served with a side of nostalgia
Sun., April 9, 2017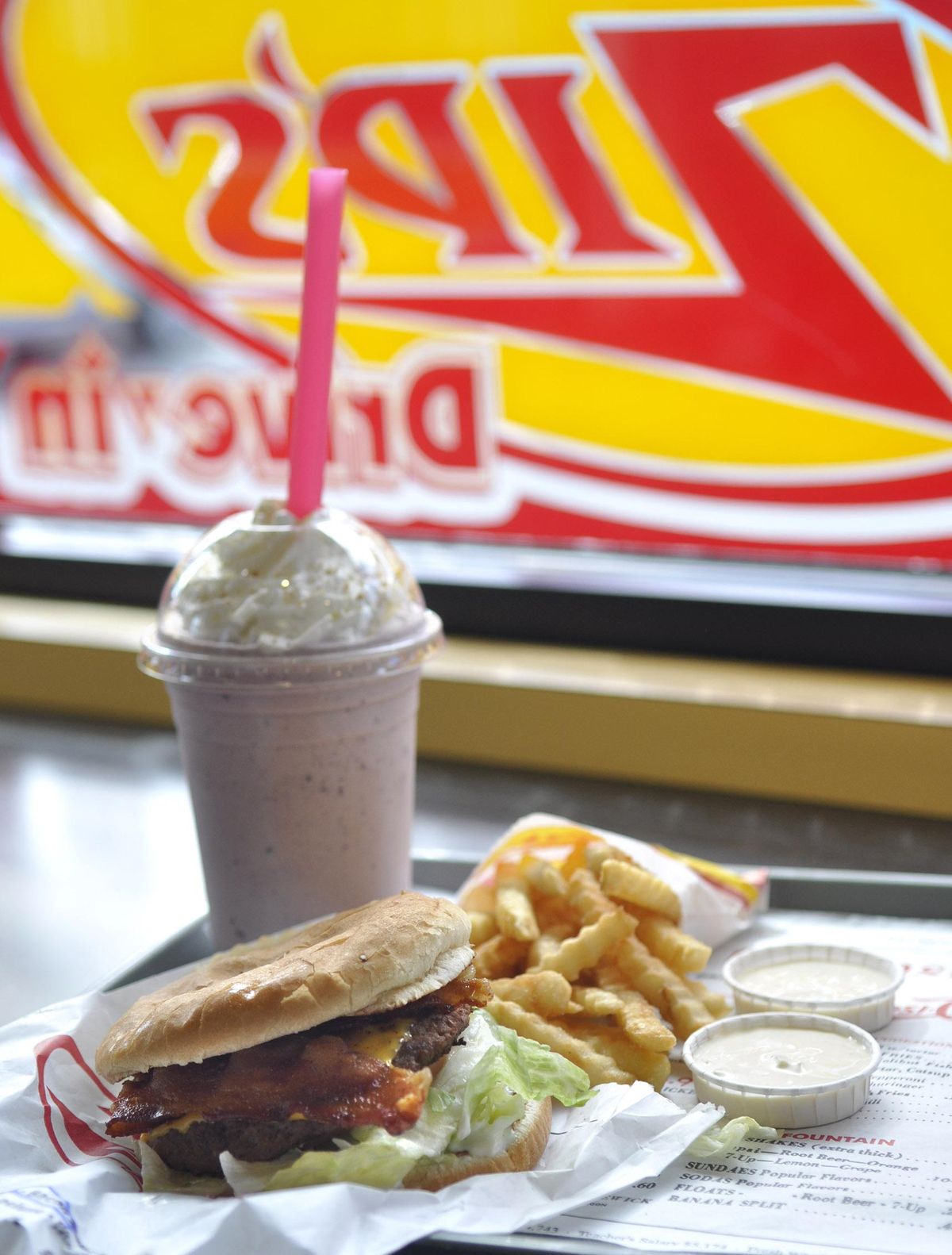 A huckleberry shake, a bacon burger and Zip's signature crinkle-cut fries - it's what Spokane likes to eat. (Adriana Janovich / The Spokesman-Review)
The drive-in is often the first stop after landing at GEG.
Before going home to see Mom, there's coming home to those crinkle-cut fries with that tartar sauce, the Papa Joe burger with a slice of ham or – even better – the Buster with both ham and bacon, and extra-thick "cream pie" milkshakes topped with whipped cream and blended with graham cracker bits.
The tartar sauce is so legendary around these parts that customers buy it by the tub to take home.
In the Inland Northwest, there's Mom's home cooking, and there's Zip's.
Zip's is synonymous with fast and cheap and local. That's one of the best parts about it. Zip's is a Spokane-area institution, an Inland Northwest cultural icon and tradition.
"In Spokane, it's what you grew up with," said Dennis Kelly, who owns five of the approximately 40 Zip's locations in the Inland Northwest. In the '60s, '70s and '80s, he said, "It was really just us and a few other drive-ins.
"Just that we've survived this long – something that predates McDonald's – that's probably the largest part of the story. That we could still thrive in this larger global market is unusual."
Zip's is to the Inland Northwest what In-and-Out Burger is to Southern California – albeit on a smaller scale. Both brands – started within five years and a couple of states of each other – have kind of a cult following. After wheels touch down at LAX, a trip to one of the two closest In-and-Out Burgers is often in order – just like making a beeline for Zip's after landing at GEG.
"Isn't that remarkable?" Kelly said. But, it's certainly not unusual. In fact, "We hear that all the time."
Zip trip
Zip's was founded by Robert "Zip" Zuber in Kennewick, in 1953 – two years before McDonald's Systems, Inc. and five years after In-and-Out. The motto was "Thrift and Swift."
Today, McDonald's has more than 36,000 stores in more than 100 countries and In-and-Out has 325 locations in six states. Zip's exclusively remains an Inland Northwest phenomenon.
There are three stores in the Tri-Cities and 38 in all listed on the Zip's website at zipsdrivein.com. All of the stores are concentrated in a relatively small region in and around Spokane and North Idaho – from Boise to Bonners Ferry, Airway Heights, Cheney and Ritzville. None are on the West Side. But fans would like to see one there.
"We get comments cards from people saying, 'Please come to the West Side' because so many people have transplanted to the West Side from here," Kelly said.
Zip's has fans in the land of In-and-Out Burger, too. When Chad White was living in San Diego, the chef and restaurateur of Bravo TV's "Top Chef" fame flew to Spokane from SoCal "just for a Bacon Double, told no one in my family and flew back to San Diego," he told Chefsfeed.com for a listicle published this year under the headline "When I Die Bury Me at Zip's." He posted that line on Instagram, too.
White further explained he's been "addicted" to Zip's since childhood, telling Chefsfeed "not much has changed, it's just damn good and nostalgic," and, to him, "In-N-Out = good. Shake shack = a little better. Zip's = get in my belly. If ever on death row, my last supper would be a bag of Zip's burgers."
Zip-A-Dee-Doo-Dah
In-and-Out Burger has plenty of fans in Spokane. There's even a "BringInNOutToSpokaneWa" Facebook page. But the popular SoCal chain – which has expanded to Utah, Nevada, Arizona and as close as Medford, Oregon – doesn't offer crinkle-cut fries, corn dogs or cream pie-style shakes.
In this area, Zip's is the place to go when you need fast and cheap and filling food – served with a side of nostalgia. Working at Zip's was almost a rite of passage for kids who grew up in the Inland Northwest. And if they didn't end up working at Zip's, they certainly ate there.
"Growing up, my mom was sort of on a budget. When she would get her money at the first of the month, she would take us to Zip's. It was like our special treat," said Jennifer Palanuik, 27. "I'd always get the Papa Joe, onion rings and a banana shake."
It was – and still is – made with real bananas.
This summer, Palanuik celebrates five years of working at the downtown Zip's, where she's an assistant manager. "It's like a comfort stop," she said. "I definitely still get the Papa Joe. It's one of my favorite burgers here."
Zip's was often the first dining-out experience for local kids. It certainly was for Kelly, 59, whose parents took him to Zip's long before his father bought his first drive-in.
At least, "It was the first restaurant I remember going to," said Kelly, the oldest of seven siblings. "In all, there were nine of us. I'm sure we each got one cheeseburger."
He remembers taking those burgers to the park and washing them down with his mom's homemade lemonade.
Jon Berroter, 57, didn't start coming to Zip's until he got his own wheels. Then, he said, "You could go where you wanted, and Zip's was often the spot. There was always something about the fries and tartar sauce."
The self-serve tartar sauce is located in the lobby in the largest of all of the hand-pumped canisters; the other sauces occupy much smaller containers. For to-go orders – and for folks who just want the sauce – "We sell cups of it," Kelly said.
Every Zip's mixes its own tartar and fry sauces in-house. Recipes vary store to store. That's because there's no Zip's university, no corporate kitchen, no franchise office, no annual conferences, reunions or retreats – "no big wigs to tell us what to do," said Berroter, who started working at Zip's in 1993 and has been there ever since. He manages the downtown store.
"My favorite's always been the Papa Joe with onion rings," he said.
For heartier appetites, there's the Big Zipper with three patties. Make it a Boss by adding ham and bacon. The Wrangler has two patties, bacon and barbecue sauce.
The barbecue sauce varies from store to store. So do others, such as ranch or jalapeño ranch or, at the downtown store, chipotle fry sauce.
"This is the only Zip's that has it," Palanuik said.
There are many other variables, too. Some Zip's stores offer breakfast; many don't. Some season their patties with a "secret" blend of spices; many don't. Hours vary store to store and, sometimes, season to season. It's all part of the Zip's charm.
"It makes us unique that way – inconsistent, but unique," said Kelly, who cites each owner's independence – along with the fast-casual restaurant's core menu – for Zip's longevity. "I can't stress our independence enough, how important it is," he said. "It has worked so far – almost 70 years. Our uniqueness is our size. We're small relative to everybody else out there."
Kelly hasn't been to all three dozen stores. But, "I've never met a tartar I didn't like at any of the stores I've been to," he said. "I think there's a lot of care that goes into making it. Everyone's proud of what they serve. It's pride of ownership for each store. People have their favorites."
Which Zip's is best?
"That's for the customers to decide."
In the bag
The first store in Spokane was built on North Division Street near the Gonzaga University campus. The popular drive-in expanded throughout the region in the '60s and '70s with the help of three early owners: Kelly's dad, the late Don Kelly, and his former business partner, Ed Minor, as well as Harold Fettig.
Today, most stores are owned and operated by former store managers or relatives – including children and grandchildren – of those three businessmen through different limited-liability corporations.
"Zip's is not quite a franchise," Kelly said. "Our best description would be a co-op. The core menu is approximately the same. But you'll find differences in every store and with every owner. It's very small-business-like."
That's part of its attraction, if you ask Spokane chef and restaurateur Adam Hegsted of the Eat Good Group of restaurants, which includes Wandering Table, Yards Bruncheon, The Cellar, Gilded Unicorn and Eat Good Cafe as well as Le Catering.
"It's definitely a local institution," said Hegsted, who puts Zip's tartar sauce on his crinkle-cut fries. "The tartar sauce is super-good."
But, oh, so are the peanut butter milkshakes. The huckleberry shake, too. And the cheeseburger and fish and chips. The cod pieces are hand-breaded in-house. Don't forget the beer-battered mushrooms, either.
"They're like molten lava on the inside," Hegsted said. "But they're delicious."
The Zip's website describes the fare as "Deliciously Exotic!" But, Kelly said, "Fast-food-wise, it's a pretty simple menu. Our kitchen has not changed fundamentally since 1953. The cheeseburger we put out in 1953 is fundamentally unchanged. It's mustard, ketchup sauce, three pickles and a beef patty and American cheese. We're decidedly low-tech – no microwaves."
That's fine with loyal customers. Written on a bright yellow comment card in January: "Please never close down or change."
Said Kelly, "Americans love their burgers. We offer people what they want."
Zip's burgers are made to order. So, it's not the fastest fast food.
"Compared to the big boys," Kelly said, citing McDonald's and Wendy's, "we're much slower. We don't pre-cook. No sandwich is made in advance. Your burger is made when you order it.
"The Papa Joe is very popular. I think that's probably our No. 1. It's a hamburger with ham on it. Ham is an unusual topping on a hamburger. Everybody has bacon. It's rare to run across ham."
But, the Buster – with both bacon and ham – now, "That's a real winner."
So are the crinkle-cut fries. "Crinkle-cut fries have more surface area on them, which might make them taste better and certainly makes them hold on to more tartar sauce," Kelly said. "I love our french fries. They are really, truly the best."
Also, on the menu: Hurricanes, a blend of ice cream and chunks of Oreo cookies or Reese's Peanut Butter Cups, and – at least at seven of the Zip's stores – "cream pie" shakes blended with graham cracker crumbs "to give it more texture. That's part of the pie part," Kelly said. "They're thicker. We actually have a bigger straw for them because they are so thick."
Hurricanes come with a spoon.
Berroter's particularly proud of them – "We use real Reese's and Oreos" – and of the milkshakes, too. "We use real peanut butter in our peanut butter milkshakes. We use real huckleberry in the huckleberry."
Plus, there's Folgers in the coffee shake, he noted, holding up a container of instant coffee crystals.
One of the best things about the shakes: "You can mix and match," Palanuik said. One of her favorite combos: peanut butter and strawberry chunk with graham cracker crumbles. "It tastes just like a peanut butter and jelly sandwich."
She knows many of her regular customers by name or by order and agrees that Zip's is like In-and-Out Burger. "It really is. It's only here. It's not all over the world – like McDonald's."
Berroter calls Zip's an Inland Northwest "foundation. People who are not from here always say they've been told to come here. If you go to Spokane, you must stop at Zip's."
Local journalism is essential.
Give directly to The Spokesman-Review's Northwest Passages community forums series -- which helps to offset the costs of several reporter and editor positions at the newspaper -- by using the easy options below. Gifts processed in this system are not tax deductible, but are predominately used to help meet the local financial requirements needed to receive national matching-grant funds.
Subscribe to the Spokane7 email newsletter
Get the day's top entertainment headlines delivered to your inbox every morning.
---