News > Spokane
Fixing Rotary Fountain in Riverfront Park may cost nearly $1 million
April 12, 2017 Updated Wed., April 12, 2017 at 10:21 p.m.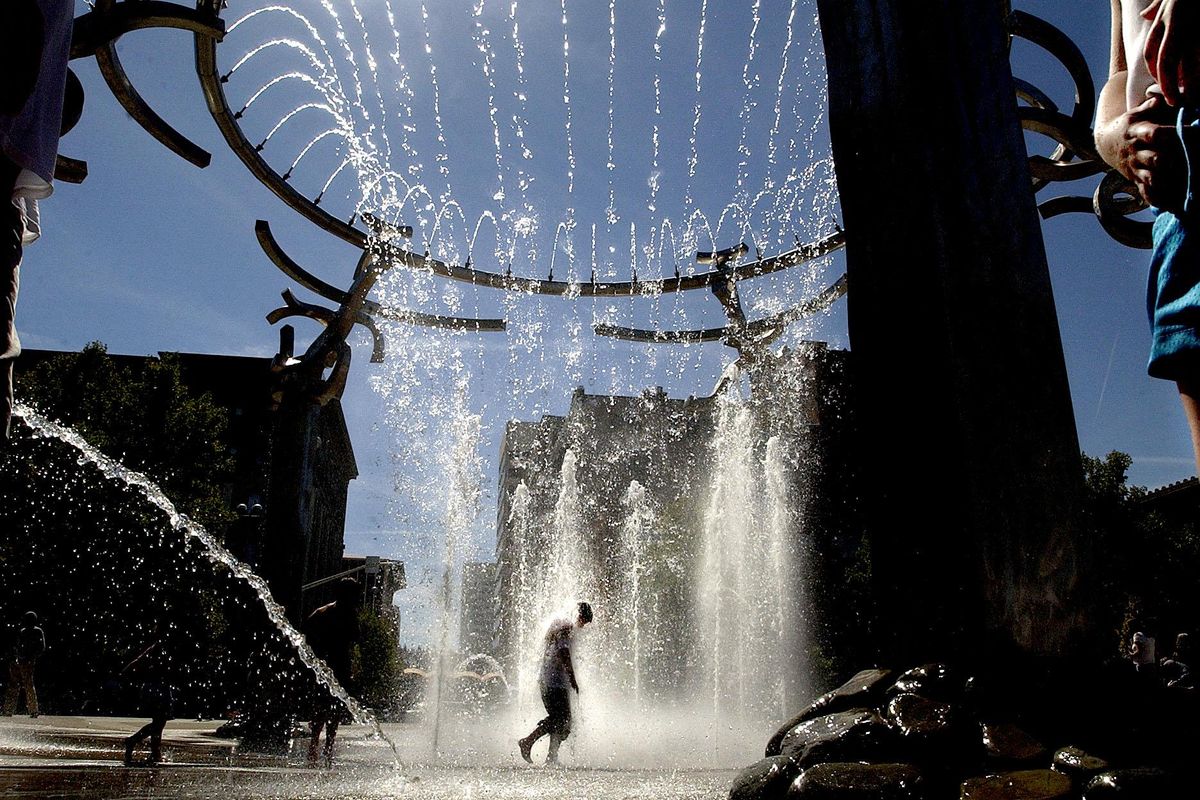 In this Sept. 1, 2005 photo, a visitor the the new 60 foot wide water fountain at Riverfront Park in downtown Spokane is doused with some 3,500 gallons of water per minute via 150 jets that spray 35 feet into the air. (Spokesman-Review)
The artistic Rotary Fountain in Riverfront Park has so many mechanical problems that it could cost $1 million to bring it back to life.
Members of the Riverfront Park Committee of the Spokane Park Board voted 4-1 Wednesday to move ahead with a plan to fix it.
"I feel we need to deliver the south end of the park in first-class fashion," said Ted McGregor, the committee chair.
The committee recommended to the full park board moving ahead with deciding the feasibility of an overhaul plan outlined by consultants.
McGregor was joined by Park Board members Steve Salvatori, Greta Gilman and Chris Wright in endorsing the repair plan.
Susan Traver voted no. She said she is concerned that the repair job would take away money from other park needs.
The south end of the park along Spokane Falls Boulevard is fenced and torn to pieces for development of an ice ribbon, a building to house the Looff Carrousel, a new pedestrian bridge and other features.
The $1.25 million fountain, designed by Spokane artist Harold Balazs, opened in 2005 to community fanfare as a cooperative effort of the Rotary Club of Spokane 21 and the parks department.
It was planned to have scores of water jets, sprays, misters and other features. It stands on five stainless steel columns that are 24 feet high.
Kids and even some adults could run through the sprays of filtered and treated water to cool off during hot weather. All of the pumps, plumbing and other equipment were hidden below a concrete plaza.
But the fountain developed problems that wouldn't go away. Rust appeared on the stainless steel finish soon after it opened and continues to be a problem today.
In 2010, the fountain was shut off early after a main filter pump developed a leak and needed rebuilding.
At the time, the parks department spent $1,400 on the fountain's computer control board, and it still wasn't working.
Last October, a pump failed and heavy rains flooded the underground vault and submerged mechanical and electrical equipment, rendering most of it virtually useless, according to experts who took a close look at it.
"The electronics are basically shot. The plumbing is in disrepair," said Berry Ellison, program manager for the Riverfront Park redevelopment.
The flood, Ellison told committee members, "was just the knife in the heart."
Hydro Dramatics, of St. Louis, Missouri, was hired to examine the fountain with other project consultants.
The consultants said they aren't sure what is causing the rust, although they offered potential remedies.
One underground vault hatch is distorted and won't close properly. Intake grates, nozzles and lights are broken or missing.
During the flood last October, about 5 feet of water covered pumps, control panels, an exhaust fan, motorized valves, chemical pumps, circuit breaker panels and wiring systems, according to the consultant report.
"Any plans of re-using this equipment have become uneconomical due to the cost to remove/repair and replace versus new, more efficient equipment," the report said.
The report recommended new control equipment that could be operated remotely with a smartphone or other digital device.
The experts also said that overhead sprays, which create a crown effect at the top of the fountain, should be replaced with lower-volume sprays to keep water from crashing down onto fountain users from above. That is estimated to cost $50,000.
Lights for colored water displays could be added, too.
New flume jets would be an additional $100,000.
Total cost for all repairs could be more than $1 million.
The fountain needs a number of building code upgrades, including an improved system for disinfecting the water.
The job will require extensive excavation.
Park board members said the city might be able to offer a naming right for the fountain to raise money for the project, but that would be a delicate issue because the fountain is named for the Rotary group that undertook the project originally.
Local journalism is essential.
Give directly to The Spokesman-Review's Northwest Passages community forums series -- which helps to offset the costs of several reporter and editor positions at the newspaper -- by using the easy options below. Gifts processed in this system are not tax deductible, but are predominately used to help meet the local financial requirements needed to receive national matching-grant funds.
Subscribe now to get breaking news alerts in your email inbox
Get breaking news delivered to your inbox as it happens.
---