News > Spokane
Spokane County Commissioner Shelly O'Quinn resigning to lead Inland Northwest Community Foundation
April 12, 2017 Updated Wed., April 12, 2017 at 10:20 p.m.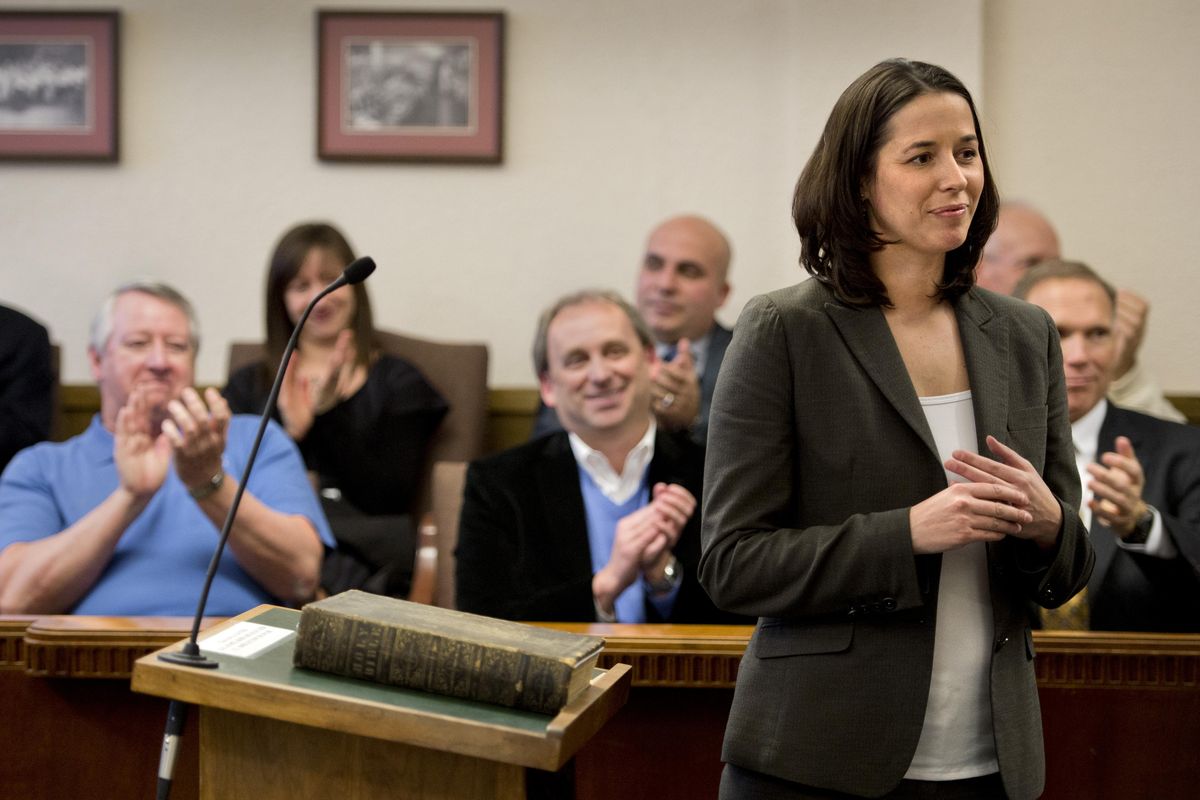 FILE – New Spokane County Commissioner Shelly O'Quinn, right, turns to her supporters and is applauded by fellow commissioners, Al French, left, and Todd Meilke, center, after she is sworn in, Dec. 27, 2012 in the Spokane County Courthouse by Judge Harold Clarke. (Dan Pelle / The Spokesman-Review)Buy a print of this photo
Four months after starting her second term, Spokane County Commissioner Shelly O'Quinn announced Wednesday that she will resign in June.
O'Quinn will become the chief executive officer of the Inland Northwest Community Foundation, replacing Mark Hurtubise, who is retiring after 12 years in that position.
The job was posted in January. The foundation, which manages a $110 million endowment and funds charitable causes across Eastern Washington and North Idaho, selected O'Quinn after a nationwide search that produced 55 applicants.
"I had several people reach out and ask me to consider applying," she said in an interview Wednesday. "It's an organization which I strongly believe in, and its values align very closely with mine, so I put my name in the hat."
O'Quinn previously served as a senior program manager for the foundation in 2007 and 2008.
In her new role, she will lead a 10-member staff that doles out nearly $5 million in grants each year across a vast area – 10 counties in Eastern Washington and 10 in North Idaho.
Her expected salary hasn't been disclosed, but it will probably be higher than the $110,693 she makes as a commissioner. Current foundation CEO Hurtubise made nearly $247,000 in total compensation in 2015, according to publicly available tax documents.
"We were looking for an outstanding leader and collaborative community builder," Bob Bishopp, chairman of the foundation's board of directors, said in a statement, adding that O'Quinn's "experience, passion and vision will serve the foundation and our region well."
Recently, the foundation has subsidized efforts to boost graduation rates at Spokane high schools and improve literacy among elementary students in Coeur d'Alene.
"The foundation has been an active player in our community, and I believe what I bring to it is the ability to make it more visible," O'Quinn said. "I believe it's the greatest hidden gem in this community."
A Republican, O'Quinn first won her commission seat in 2012, defeating Spokane County Treasurer Rob Chase in the primary and Democrat Daryl Romeyn, a former television news broadcaster, in the general election.
She won re-election in November after a challenge from attorney Andrew Biviano, the current chairman of the Spokane County Democrats.
O'Quinn's replacement will be selected by the remaining two county commissioners, Kerns and French. According to the state constitution, her replacement must be a Republican.
The Spokane County Republican Party will nominate three candidates, and the commissioners will have 60 days from the date of vacancy to choose from the three. If they are unable to choose, the governor would then have 30 days to choose.
Among her accomplishments as a commissioner, O'Quinn lists an ongoing effort to implement "lean management" strategies that cut costs and bureaucracy, as well as several appeals to the Legislature that she says have benefited the county. Among those victories are a bill, currently awaiting the governor's signature, that would allow the county to better maintain land set aside for conservation, she said.
"I have greatly appreciated Commissioner O'Quinn and her passion for the community and the amount of energy she's devoted to the county," said Vicky Dalton, the county auditor. "It will be a loss for us."
Commissioners Josh Kerns and Al French didn't respond to phone calls Wednesday but offered glowing statements about O'Quinn in a county news release.
"It will be difficult to see Commissioner O'Quinn leave the board, but I'm glad that she'll be accepting a position that has such an influence in our community," French said. "Her leadership at Spokane County will be sorely missed."
O'Quinn clashed with French in 2015 after he questioned if she and former Commissioner Todd Mielke were violating open meetings laws. Those concerns were found to be baseless by the state Auditor's Office.
Mielke later resigned to lead Greater Spokane Incorporated, the region's central business organization.
He said O'Quinn will bring impressive experience to her new role. She has served on more than 20 boards and commissions as part of her role as a county leader.
"She's been a great collaborator, and I think that will serve her well at the foundation," Mielke said.
Before joining the commission, O'Quinn was GSI's education and workforce development director.
A native of Spokane Valley, she graduated from Central Valley High School. She received her bachelor's degree in business and accounting from Whitworth University in 1997 and later earned a master's in business administration from a college in California.
She expressed doubt when asked if she would ever seek a return to public office.
"I have very much enjoyed it but never did see it as something I would do forever," she said. "This is, at least for now, the end of my political career."
Local journalism is essential.
Give directly to The Spokesman-Review's Northwest Passages community forums series -- which helps to offset the costs of several reporter and editor positions at the newspaper -- by using the easy options below. Gifts processed in this system are not tax deductible, but are predominately used to help meet the local financial requirements needed to receive national matching-grant funds.
Subscribe now to get breaking news alerts in your email inbox
Get breaking news delivered to your inbox as it happens.
---