News > Crime/Public Safety
Teens involved in car crash with train on Rathdrum Prairie
UPDATED: Thu., April 13, 2017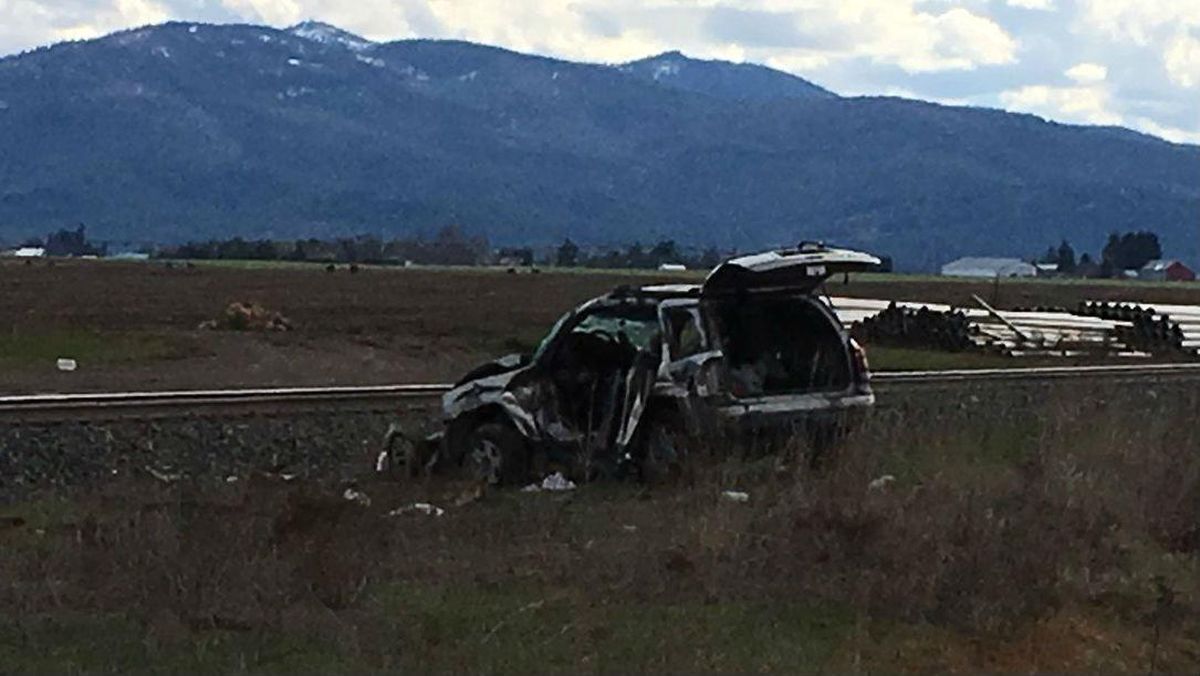 Two North Idaho teens were in this car when it was struck by a train on the Rathdrum Prairie on Thursday, April 13, 2017. (Courtesy of KHQ)
Two teens were injured Thursday afternoon when their car was struck by a train on the Rathdrum Prairie.
The driver was 18-year-old Austin C. Wiseman of Hayden, Idaho, and his passenger was a 15-year-old girl from Coeur d'Alene. Wiseman was in critical condition at the scene and his passenger was in serious condition, said Kootenai County Sheriff's Det. Dennis Stinebaugh.
The crash happened at 3:10 p.m. at a railroad crossing on North Huetter Road near Lancaster Avenue. The crossing has stop signs but no railroad crossing arms.
Stinebaugth said while he and other investigators were still on the scene, he watched a car go through the crossing arms on Lancaster Avenue near the intersection as a train was coming. The car made it safely through, he said.
"It's just such a prevalent thing," he said.
The crash was the second in two months where teenagers were involved in car versus train collisions in the area.
A 15-year-old girl died in mid-February at a Post Falls crossing when a train struck the car she was riding in at an uncontrolled crossing.
The driver, a 17-year-old boy, was injured. The two were en route to a school event.
According to an Idaho State Patrol news release, the car first stopped at a stop sign and then attempted to cross the tracks when the train struck it.
Local journalism is essential.
Give directly to The Spokesman-Review's Northwest Passages community forums series -- which helps to offset the costs of several reporter and editor positions at the newspaper -- by using the easy options below. Gifts processed in this system are not tax deductible, but are predominately used to help meet the local financial requirements needed to receive national matching-grant funds.
Subscribe now to get breaking news alerts in your email inbox
Get breaking news delivered to your inbox as it happens.
---