This column reflects the opinion of the writer. To learn about the differences between a news story and an opinion column, click here.
Opinion > Column
Huckleberries: Where has all the beautiful long hair gone, long time passing
Tue., April 18, 2017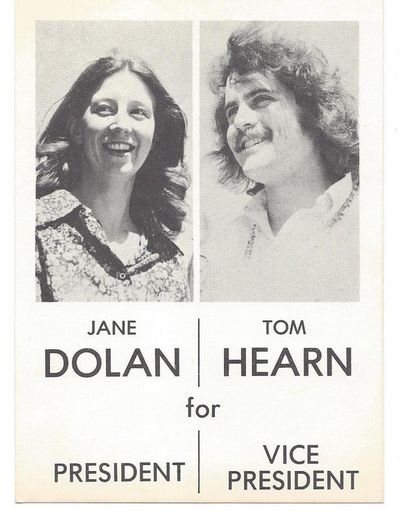 Time has taken a little off the top from Coeur d'Alene school Trustee Tom Hearn. Well, mebbe more than a little.
He now sports a high forehead. But 45 years ago, in April 1972, he had a mustache and long, wavy hair that flowed over his collar.
Tom posted a photo of his forever-younger self on his Facebook page Saturday. A campaign poster shows the photo of Tom and a woman named Jane Dolan. Tom was running for student body vice president of Chico (Calif.) State College. Jane was running for president. Jane won and went on to become a Butte County supervisor (commissioner) for 20 years. Tom lost by 17 votes. And he says: "I eventually got a haircut and moved to the Northwest in the summer of 1973."
Tom worked as a mental health specialist for 30 years before retiring. He was elected to the Coeur d'Alene School Board four years ago – and is running unopposed for re-election.
After seeing the photo of College Tom, Facebook Friend Joel Hazel, of Coeur d'Alene, commented: "You need to bring the hairstyle back." To which another Facebook Friend, Jana Johnson Robnett, of Helena, responded: "How?"
Whoever answers that question will be a multimillionaire.
A friend in Eddie
We can learn a lesson from Eddie Davis, son of Coeur d'Alene Summer Theatre artistic director Jadd Davis.
Eddie is always on the lookout for a new friend. At Coeur d'Alene's City Park on Wednesday night, Eddie spotted his next new friend and kicked into friend mode. Only the boy's mother was concerned because her child is autistic and struggles with making friends.
Within minutes, however, the two boys were playing like longtime best friends. Jadd reports that it was "wonderful to see the other boy's mom visibly relax."
Quoth Jadd: "I know autism is seldom predictable, and Eddie's friendliness may have had nothing to do with the successful interaction. But I am still so damn proud of my son and his consistent kindness to others."
Jadd has a right to be proud.
Huckleberries
Poet's Corner: For hours on end/I searched my cranium/to find a rhyme/for his geranium – Tom Wobker, The Bard of Sherman Avenue ("An Ode to Mr. Hagadone's Favorite Flower") … Yeah, yeah, Huckleberries knows that The Blind Guy of Coeur d'Alene retails in home window coverings. But we still did a double take when a white van with "Blind Guy" on the side pulled out from a side street on Hayden's Maple Street on Good Friday. For a "Blind Guy," however, the driver was motoring better than most … After a run to the grocery store Saturday morning, Val Hughes of Spokane figured out what most people planned to serve for Easter the following day: Lots of booze … Shout Out: After taking a date to see "Lion" over the weekend, Dave Chamberlain of Coeur d'Alene gives props to Hayden Discount Theater, one of the best entertainment values in North Idaho. Quoth Dave: "For two people, and a bag of good caramel corn, for about 10 bucks, how could you go wrong?" You can't.
Parting shot
Count Rose Backs of Coeur d'Alene among the shoppers who don't like Target's emphasis on self-checkout. Self-checkout, she explains, is OK when a shopper has a few items and no kids in tow. But, as was the case Friday morning, with Target funneling shoppers to the self-service lines, it's more than a mother shopping with three kids can handle. Mebbe, Rose says, Target should reevaluate its demographic. And, p'haps, Target should meditate on that old saying: The customer is always right.
Contact D.F. Oliveria at daveo@spokesman.com. Also, you can follow him on his Huckleberries Online blog (www.spokesman.com) and Twitter (@HucksOnline).
---
---