News > ID Government
Rep. Raul Labrador fields questions, cheers and boos from big crowd at town hall meeting
April 19, 2017 Updated Thu., April 20, 2017 at 7:51 a.m.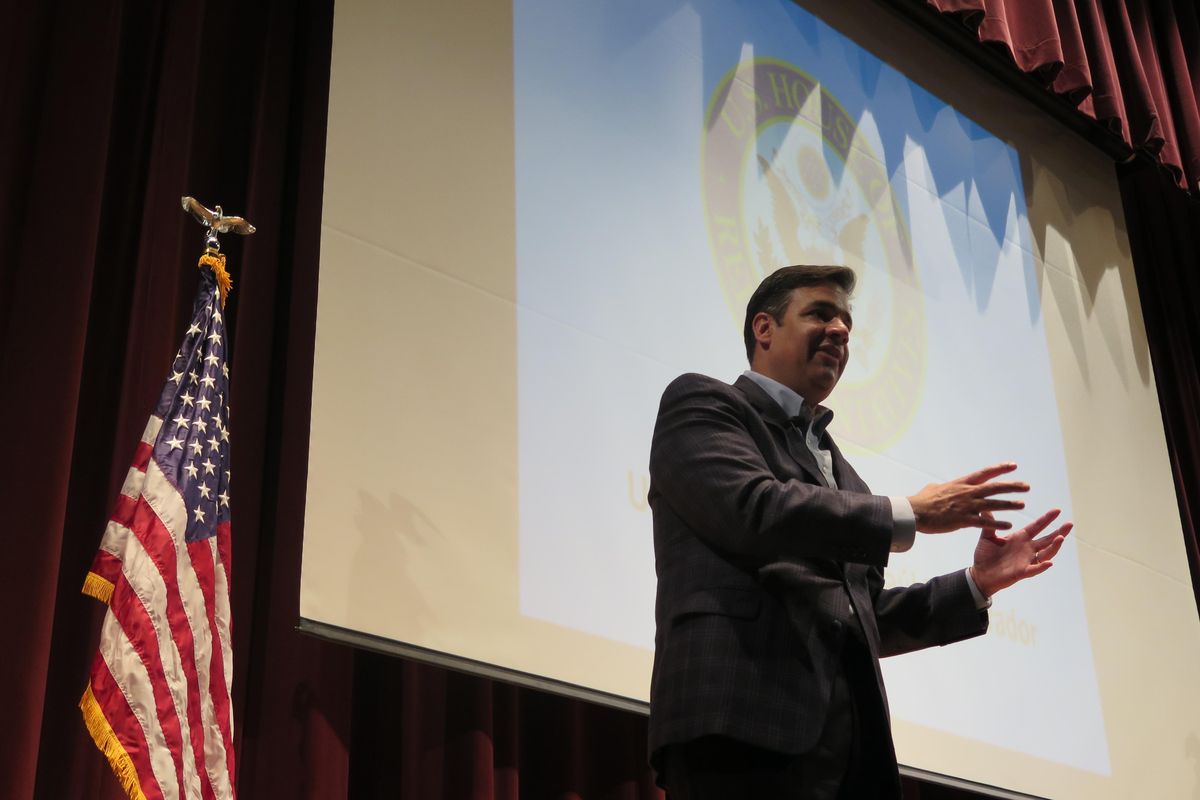 Idaho Rep. Raul Labrador fields questions – along with cheers and boos – at a raucous town hall meeting in Meridian, Idaho, on Wednesday, April 19, 2017. (Betsy Z. Russell / SR)
MERIDIAN, IDAHO – Idaho GOP Rep. Raul Labrador fielded an array of questions along with cheers, boos, applause and shouts at a lively town hall meeting Wednesday night, which drew close to 700 people.
When a questioner told Labrador he appreciated the congressman holding the meeting and that it didn't look like much fun, Labrador said, "I actually like it – I'm used to getting booed. I get it at home all the time." That drew a laugh.
It was Labrador's first town hall meeting of the year; he said he hopes to hold one in North Idaho in the coming weeks. The Freedom Caucus co-founder and four-term congressman has been at the center of some of the big fights in the U.S. House, and also is pondering a possible run for governor of Idaho in 2018.
At one point about an hour into the meeting, after an extended exchange between Labrador and a questioner who called for him to back investigations of President Trump, the crowd began chanting, "Do your job, do your job!"
Labrador paused, smiled and spread his arms. "Two years ago, the shoe was on the other foot," he said. "And I would go to town halls and have Republicans yelling at me, 'Why didn't you impeach Obama?' " He said, "I'm not going to go on a witch hunt."
When Labrador was asked about President Trump not releasing his tax returns, he said, "I have no problem challenging a president of the other party or a president of my party, and I think I've shown that in my seven years in Washington, D.C. I have no problem challenging my leadership."
Then, he said, "I don't think that there's anything in the law that requires the president to provide his tax returns. There's nothing in the law." That was met with a loud boo and some applause from the crowd. "I don't think there's anything in the law, and we as a body, our responsibility is to investigate if they have done something that is illegal. I don't think I can go forward and ask for his tax returns when I have no evidence of any crime." At that, there was a loud roar mixed with some boos from the crowd, and many waved red sheets of paper to indicate that they disagreed.
At other times, many in the crowd waved green sheets of paper to show they agreed – usually with the questioner, not with Labrador.
Labrador was asked about topics ranging from education funding, internet privacy and Planned Parenthood to paid parental leave and whether he believes health care is a basic right. Numerous questioners objected to his sponsorship of legislation to eliminate the U.S. Department of Education; he said he wants to redirect the funding that goes there to states.
The parental leave question prompted a back-and-forth with the woman asking the question, who said, "You seem very concerned about the well-being of children before they're born, but I'm wondering what happens to that compassion going forward," in education, health care and more.
Labrador responded, "I am pro-life, and I'm pro-life all the way," drawing light cheers and applause. "But the difference that you and I have, sometimes people want that responsibility to be the burden of the government. I think that should be the burden of the local communities." Talking of being raised by a single mother and drawing on a support system including church and friends, Labrador said, "So it's not always the government." When the questioner pressed him on paid parental leave, Labrador said, "I just don't think we should provide it. We disagree on this."
The health care question also prompted a back-and-forth. "No, I do not believe that health care is a basic right," Labrador said to a roar from the crowd and loud boos. "When something is a right … it's something that must be provided by the government. … But I do believe that people should have access to health care."
When the white-haired woman asking the question said people simply can't afford it, Labrador said, "I think we should take care of vulnerable people, I think we should take care of people that cannot work and cannot provide for themselves. But if you're a working person, then we should make it easier and less expensive to you to purchase health care."
A man in the crowd shouted loudly at Labrador, "Where do you get your health care?"
He responded, "Before I was a member of Congress, I got it from myself, and I provided it for the five families that worked for me." That drew applause.
Later, when a questioner referred to the "Trump camp," another man in the audience shouted, "That's PRESIDENT Trump!"
When other questioners were interrupted by the crowd, Labrador said, "Honestly, you guys," and said mildly that he can't hear the question when others are interrupting.
Labrador, who held 21 mini-town hall meetings around the 1st District last year in small venues, last held a large-venue town hall meeting in November of 2015.
On Wednesday night, he told the crowd that he usually spends about 10 or 15 minutes on opening remarks, "but since we have so many people, I'm not going to do that."
"It's a great honor – I've been representing the 1st District of Idaho now for seven years," he said. "I really enjoy doing town hall meetings. I enjoy meeting with the constituents, and I've been doing them consistently since I was first elected."
Then, he said, "I don't mind if you boo me or if you yell at me, that's fine, that's part of the process. But ask your question … and try not to scream at each other. … If you agree or disagree with my answer, be equally respectful. I'm going to try to do the same thing."
With that, he went straight to questions. People immediately lined up in the aisles behind the two microphones at the front to ask them.
Despite all the noise from the crowd, Labrador and questioners had numerous cordial exchanges, in many cases agreeing on some points while disagreeing vehemently on others. The session had been scheduled to run for 90 minutes, but with questioners still lined up, Labrador stuck it out for an additional hour.
Local journalism is essential.
Give directly to The Spokesman-Review's Northwest Passages community forums series -- which helps to offset the costs of several reporter and editor positions at the newspaper -- by using the easy options below. Gifts processed in this system are not tax deductible, but are predominately used to help meet the local financial requirements needed to receive national matching-grant funds.
Subscribe now to get breaking news alerts in your email inbox
Get breaking news delivered to your inbox as it happens.
---