Former Airway Heights prison guard sentenced to prison for armed robberies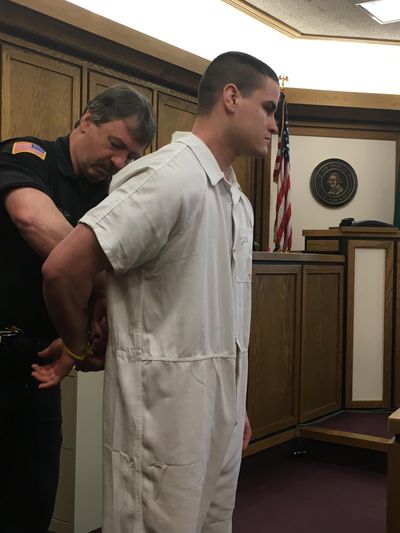 A former Airway Heights prison guard was sentenced to just over 16 1/2 years in prison Thursday for two take-over armed robberies of a Dollar Tree store in Cheney where he used to work.
Jeffrey J. Pool, 23, was found guilty of 10 felony counts of kidnapping, second-degree assault and robbery last month. The first robbery was in May 2015 and the second was in July 2016. In both cases employees told police that the robber seemed very familiar with the store and they suspected he used to work there, according court records.
In the second robbery, Pool wore dark pants and a utility belt and used zip ties as handcuffs on the manager and another employee. All three items match gear worn and used by guards at the Airway Heights Corrections Center, according to court documents.
Prosecuting attorney Kyle Treece said it's difficult to understand why someone who came from a good home, had a good family and a good job would commit two robberies. "He did everything right in his life, until he didn't," Treece said.
Treece noted both robberies were well planned and sophisticated. He even knew that the locks on the store's front door had been changed between robberies.
"Again, it shows planning," Treece said. "It shows that despite everything, there is something else going on."
The standard sentencing range for Pool's crimes is 251 to 334 months in prison and Treece said he knew the defense was asking for an exceptionally reduced sentence of between 150 and 200 months. But he argued against the reduction, saying that if anyone should know about the deterrence of life in prison, it's Pool.
"No matter how nice and polite and educated he seemed as an armed robber, there is at least one young lady who has been severely traumatized by this," he said. "He was planning this as a corrections officer. You have to wonder, did he think about this at work during the down time on the night shift?"
Defense attorney Jason Johnson argued that Pool will lose a significant portion of his adult life even with a reduced sentence. "That's well over 10 years and only 10 percent of the time will be eligible for good time," he said.
Johnson also argued that Pool's time in prison will be more difficult than the average inmate's. "He's kept in solitary because of his job as a corrections officer," he said.
Pool addressed the court briefly, saying that he wanted the opportunity to get back to his family. "I know that if given the opportunity I can still live a positive and productive life," he said.
Judge John Cooney granted Johnson's request for an exceptionally reduced sentence, imposing 200 months in prison. His close family ties mean he will be less likely to reoffend in the future, Cooney said.
"The state is probably right that you should know better," he said.
---