ISIS claims attack on French police that left 1 dead, 2 wounded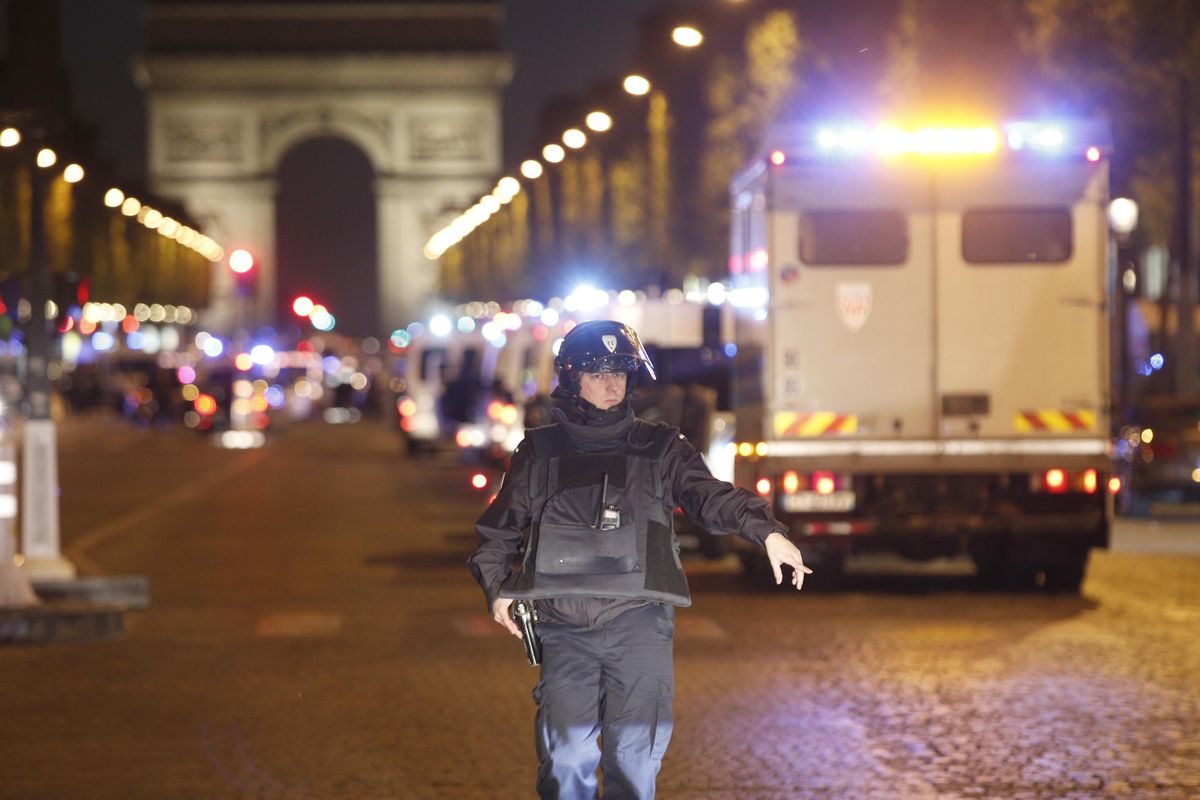 PARIS – A gunman opened fire on French police Thursday on Paris' best-known boulevard, killing one officer and wounding two others before being fatally shot himself in an incident that raised the specter of renewed terrorism just three days before voters go to the polls to elect a new president.
The Islamic State, through its affiliated Amaq News Agency, quickly claimed responsibility for the attack, which sent panicked pedestrians fleeing into side streets and prompted police to seal off the renowned Champs-Elysees, close metro stations and order tourists back into their hotels. The terrorist organization said the attack was carried out by a Belgian national it identified only as Abu Yusuf al-Baljiki, a pseudonym.
There was no immediate confirmation that the Islamic State was behind the shooting. French officials declined to attach a motive to the attack, although they said police were deliberately targeted and that they were opening a terrorism investigation.
The incident occurred three days before France holds the first round of a hotly contested presidential election, with candidates from across the political spectrum vying to succeed Francois Hollande as president. Hollande scheduled an emergency meeting late Thursday to discuss the attack.
Francois Fillon, one of the presidential candidates, said in a statement that the election campaign should be suspended. "We must show our solidarity with the police and the French population, which is increasingly worried," he said. "The fight against Islamist totalitarianism must be the top priority."
Marine Le Pen, leader of the far-right National Front party, wasted no time in using the attack as the latest evidence in her call for France to intensify its fight against "Islamist terrorism."
By contrast, Emmanuel Macron, the popular independent candidate vying for the presidency, was quick to argue against any fear-mongering.
"We must not yield to fear today," he said Thursday. "This is what our assailants are waiting for, and it's their trap."
Ahead of the first round of the vote on Sunday, Macron is leading Le Pen in the latest polls, but by only a small margin. Both Fillon and Le Pen announced that they would cancel planned events on Friday, the last official day of campaigning.
A European security official told The Washington Post that the dead attacker was known to French intelligence, having previously come to authorities' attention because of radical Islamist links. Two officials said the gunman used an AK-47 assault rifle.
One French official said investigators recovered an ID card on the shooter and were awaiting the results of fingerprints.
Frangois Molins, the Paris prosecutor who spoke at an impromptu news conference late Thursday, confirmed that "the identity of the attacker is known" and said that "investigations are underway with searches to find out whether he benefited from collaborators."
Police were searching the home of the suspect, in Seine-et-Marne outside Paris.
The French Interior Ministry said one police officer was killed on the spot and two others were "seriously wounded" when the gunman opened fire on a police car. The ministry said security forces gunned down the attacker as he tried to flee on foot.
A spokeswoman for the Paris police, Johanna Primevert, said the gunman attacked police guarding an area near the Franklin Roosevelt metro station at 8:50 p.m. Thursday Paris time at the center of the heavily traveled Champs-Elysees.
She said the attacker appeared to act alone, but other officials said it was too soon to tell whether he might have had an accomplice.
The Reuters news agency reported that police issued an arrest warrant for a second suspect who they said had arrived in France by train from Belgium.
Interior Ministry spokesman Pierre-Henry Brandet told France's BFM television that the gunman got out of a car that pulled up beside a police vehicle and opened fire on the police officers.
"It's too early to say what's behind this, but clearly police were the target," he said. "We don't know yet what his motivations were." There were conflicting reports about whether another person was in the gunman's car.
In Washington, President Donald Trump said during a news conference with the visiting Italian prime minister that the Paris shooting "looks like another terrorist attack," and he offered condolences to France.
"Again it's happening, it seems," Trump said. "I just saw it as I was walking in… . That's a very, very terrible thing that's going on in the world today. But it looks like another terrorist attack. And what can you say? It just never ends. We have to be strong and we have to be vigilant, and I've been saying it for a long time."
The country has been hit by a deadly wave of terrorist violence in the past two years that has claimed the lives of at least 230 people and injured hundreds of others.
Thursday's shooting – on the most famous boulevard in the French capital, always crowded with tourists and commuters – came just two days after authorities arrested two men in the southern city of Marseille on suspicion of plotting what Paris prosecutors described as an "imminent" and "violent" assault. Police discovered an Islamic State flag and three kilograms (6.6 pounds) of explosives in one suspect's home.
The Islamic State has claimed responsibility for previous attacks in France, including a coordinated November 2015 terrorist assault on multiple targets in Paris that left 130 people dead and more than 360 wounded.
After that attack and others in the past two years – many perpetrated by Islamic State militants or those claiming to be inspired by the extremist group – terrorism and national security have become crucial issues in the most contentious election France has seen in decades.
Le Pen, the far-right presidential candidate, has campaigned heavily on an anti-immigrant platform and what she has couched as the need to defend France from "Islamist globalization." In the final days of the campaign, she said she would halt immigration altogether if elected president.
The shooting occurred in the middle of a televised campaign event, when each of the 11 current candidates was given 15 minutes to sell voters on their respective platforms.
There was no immediate information on the identities of the attacker or the policemen who were shot.
According to Christophe Cripin, a spokesman for the UNSA Police Union, the gunman opened fire on the police with an AK-47 assault rifle, targeting officers who were near a Marks and Spencer store on the corner of the busy avenue. Cripin said one man carried out the attack but that others could have been involved.
Police ordered people away from the area, and at least three metro stations were closed, the Interior Ministry said.
Branigin reported from Washington. Souad Mekhennet in Frankfurt, Germany, contributed to this report.
---