Spokane nonprofit Blessings Under the Bridge gets chance of Lifetime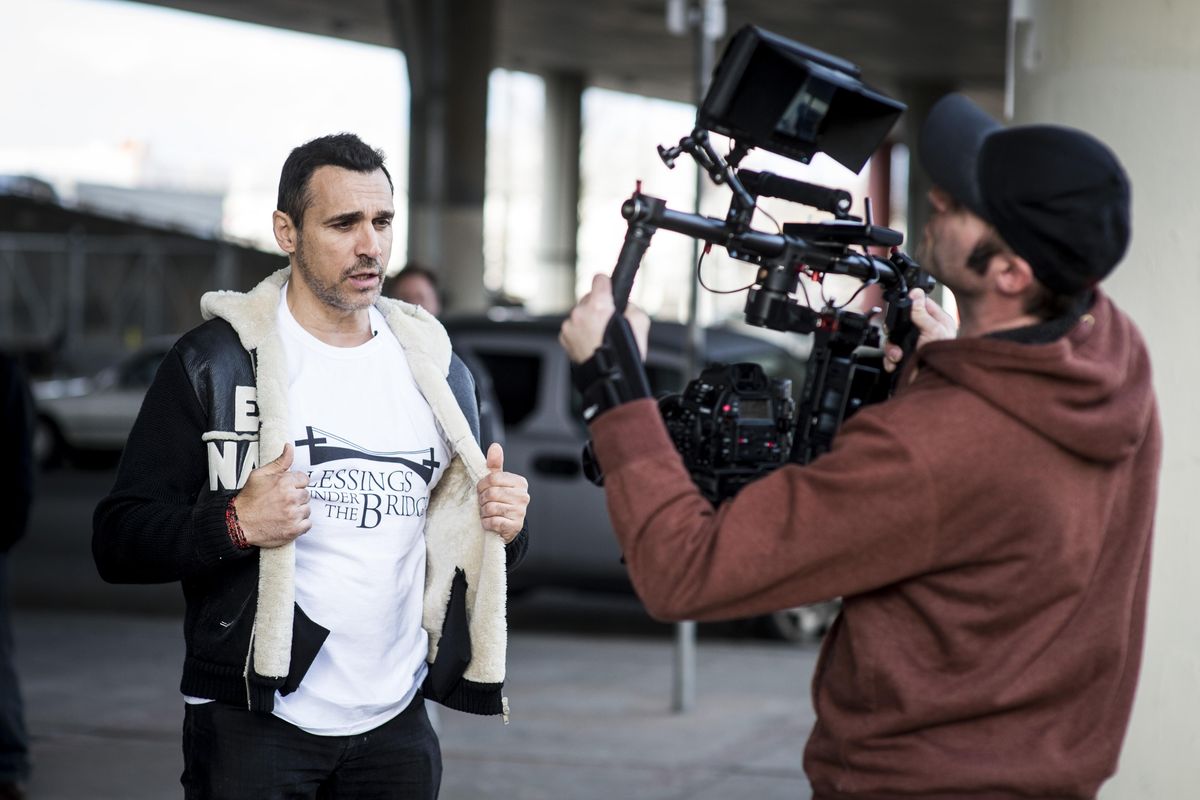 Blessings Under the Bridge has fed thousands of homeless people over the past 10 years at dinners under the Interstate 90 bridge every Wednesday evening. Now the rest of the country will get a chance to know the nonprofit.
Lifetime Television was in town on Wednesday filming the first segment of a show called "Live It Forward," which is hosted by "Highlander" star Adrian Paul.
"And I thought being on 'Rachael Ray' was big," said Jessica Kovac, who founded Blessings Under the Bridge. "This is amazing."
With a documentary film crew in tow, Paul walked from station to station and visited with volunteers, helped servers and waited in line with homeless people who were there to eat.
"This is the best way to make the connection we are trying to make," Paul said. "I want to be here and talk to people and hear their stories."
The Lifetime show hosted by Paul was initially done in a studio, but late last year producers decided to take it on the road.
"We want to highlight corporations and what they do for charities," Paul said.
Paul is an actor and director who gained thousands of fans when he starred as Duncan MacLeod in the syndicated TV series "Highlander" from 1991 to 1997.
Based in Los Angeles, Paul also runs a children's charity called The Peace Fund which helps small, underfunded charities for children all over the world.
"I've been doing that for 20 years," Paul said. "We've been to Cambodia, Haiti and many other countries. And we host a radio show about what we do."
He's been with Lifetime for just a year.
Lifetime called Numerica Credit Union, which sponsored the episode about Blessings.
Numerica Vice President Of Marketing Jennifer O'Callaghan said she'd been talking to Lifetime all summer.
"We were so excited about the opportunity to work with them and showcase the local charities," O'Callaghan said. "Spokane does really wonderful work for people here."
Numerica employees have volunteered for Blessings for four years, and O'Callaghan said the credit union supports a corporate culture of volunteering and giving back to the community.
"In 2016, our employees gave 13,000 volunteer hours to 256 organizations," O'Callaghan said.
Blessings Under the Bridge began with Kovac handing out a few bagged sandwiches and has grown to serve more than 100,000 meals over the past 10 years.
Kovac has a background in the restaurant industry, so she puts on what she calls a real dinner.
Wednesday's menu was stuffed chicken breast, a spring salad, broccoli, garlic bread and dessert. Blessings accepts everyone, no questions asked, no judgment passed.
"We are all in," Kovac said. "We just try to make people feel a little better."
The nonprofit is 10 years old this year and has plans for adding mobile showers, a mobile triage unit that can provide basic health care on-site, and also what Kovac calls a "Blessings portal."
"Microsoft gave us eight laptops, and we want to find a way to hook them up here under the bridge, so people can check email," Kovac said.
The lines at Blessings are almost as long as in Los Angeles, said Paul. He added that he can't imagine what it's like being homeless and also having to worry about really bad weather.
"I don't know how people live in the streets during the winters here," Paul said.
He wants to help break down stereotypes about homelessness and draw attention to homeless programs that work. He hopes the Lifetime show will help a little bit.
"There's this idea that homeless people are old guys," Paul said. "But look at the line here. It's everyone. Young and old and families. It's a huge problem."
---