A&E > Art
Artist Shana Moulton's alter ego inhabits surreal spaces with humor
Sat., April 22, 2017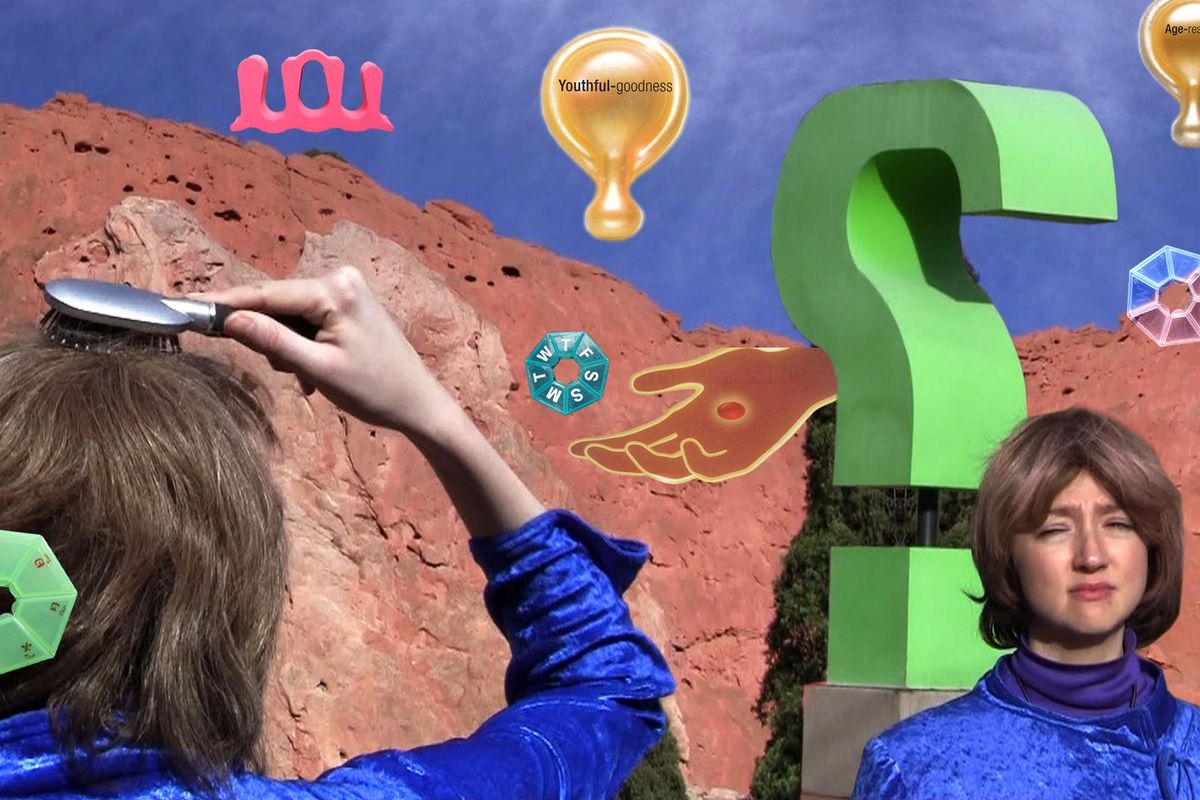 "Garden of the Goddesses" (2014), digital collage by Shana Moulton, who is visiting the Spokane region this week as part of the Range Visiting Artists Lecture Series.
Artist Shana Moulton's alter ego, "Cynthia," is a woman searching for spiritual meaning in a wasteland of consumer goods and beauty products bought on late-night television.
Moulton's performance and video series portrays a naïve Cynthia (Moulton with a wig) strutting and fretting within a "Twin Peaks"-like existence. Hilariously terrifying visions lurk underneath a pastel-painted world of kitsch that the confused Cynthia has organized for herself.
Local audiences will get the chance to inhabit the surreal spaces of Moulton's ongoing "Whispering Pines" performance and video explorations when she travels to Spokane as the final artist of the 2016-17 Range Visiting Artists Lecture Series. The Range partnership includes Terrain, Eastern Washington University, Jundt Art Museum at Gonzaga University, and Spokane Falls Community College.
"Moulton's work offers something that doesn't get showcased much in Spokane – video performance," said Range's EWU representative Jenny Hyde. "Video art, though an established art form, is often met with a lot of skepticism. But Shana's work is accessible, relatable and memorable."
Moulton will give a screening and a performance at 6:30 p.m. Wednesday at the Jundt Art Museum Auditorium on the Gonzaga campus. The public can also attend two of her artist talks, one at SFCC at 11:30 a.m. Wednesday in Building 24, Room 110. The other talk is scheduled for noon Thursday at EWU's Art Auditorium, Room 116 in the Art Building.
Moulton is internationally renowned for her edgy video art depicting a West Coast style of existential angst. She has had solo exhibitions or performances all over the world, including The New Museum in NYC, SFMOMA, MoMA P.S. 1, Performa 2009, The Kitchen, Art in General, The Andy Warhol Museum, The Palais de Tokyo in Paris, The Migros Museum in Zurich, and the Times Museum in Guangzhou. She is currently a featured artist in Electronic Arts Intermix and Art 21.
There is an eerie familiarity when viewing Moulton's work; it is both seductive and uncomfortable, capturing the romance and horror of simply being alive. The earnest Cynthia tries to find transcendence among the rainbow dream catchers on which she meditates, the exercise balls with which she wrestles, and the medical devices she's sewn into the fabrics of her clothes. The wry humor bubbles up whenever Cynthia tries to conjure the magic from the objects she's purchased on her path to enlightenment. She finds escape and even joy in psychedelic mind trips or spirituality. Other times she heads into a surreal version of the natural environment.
Moulton answered The Spokesman-Review's questions about her art by email. The following are excerpts:
Q. How did growing up at the Whispering Pines senior mobile home that your parents owned on the edge of Yosemite inform your art?
A. It was both idyllic and isolating. I would visit my senior neighbors and would play with their grandchildren when they visited, but I ended up spending a lot of time alone as a child. I think this allowed me to explore my creativity unfettered by social pressures, and to this day my preference is to work alone.
Growing up in Oakhurst (California), I'd had zero exposure to any contemporary art or experimental film. "Twin Peaks" aired when I was 13 or 14, and it was the first thing to, in the words of David Foster Wallace, "ring my psychic cherries."
Q. How did the idea of performance art take hold for you? What age?
A. As an undergrad I started out studying psychology and then anthropology, but as I started to explore various art classes I experienced a revelation in the "new genres" or performance art class. I realized that with performance art I didn't have to limit my interests or specialize in one area of study but could follow my interests wherever they took me.
Q. Describe your decision to embody your alter ego Cynthia.
A. Cynthia was originally more a result of needing a way to activate a series of medical-dresses I'd created: dresses with neck braces, walkers and hemorrhoid pillows embedded in the fabric. As the videos progressed she became more and more autobiographical. I didn't intend for her to become a permanent fixture in my work but whenever I had a new idea I needed her to execute it.
Q. What gives Cynthia the most discomfort in her world?
A. Looking in the mirror, imagined or real medical conditions, aging, not knowing the function of an object or the inability to make sense of something, existential angst.
Q. Your humor figures in all your art. Who/what are we laughing at?
A. I'm laughing at myself, and my hope is that in relating to aspects of Cynthia, the audience is able to laugh at themselves too.
Local journalism is essential.
Give directly to The Spokesman-Review's Northwest Passages community forums series -- which helps to offset the costs of several reporter and editor positions at the newspaper -- by using the easy options below. Gifts processed in this system are not tax deductible, but are predominately used to help meet the local financial requirements needed to receive national matching-grant funds.
Subscribe to the Spokane7 email newsletter
Get the day's top entertainment headlines delivered to your inbox every morning.
---