News > Washington
Problems remain at troubled Western State Hospital
Sat., April 22, 2017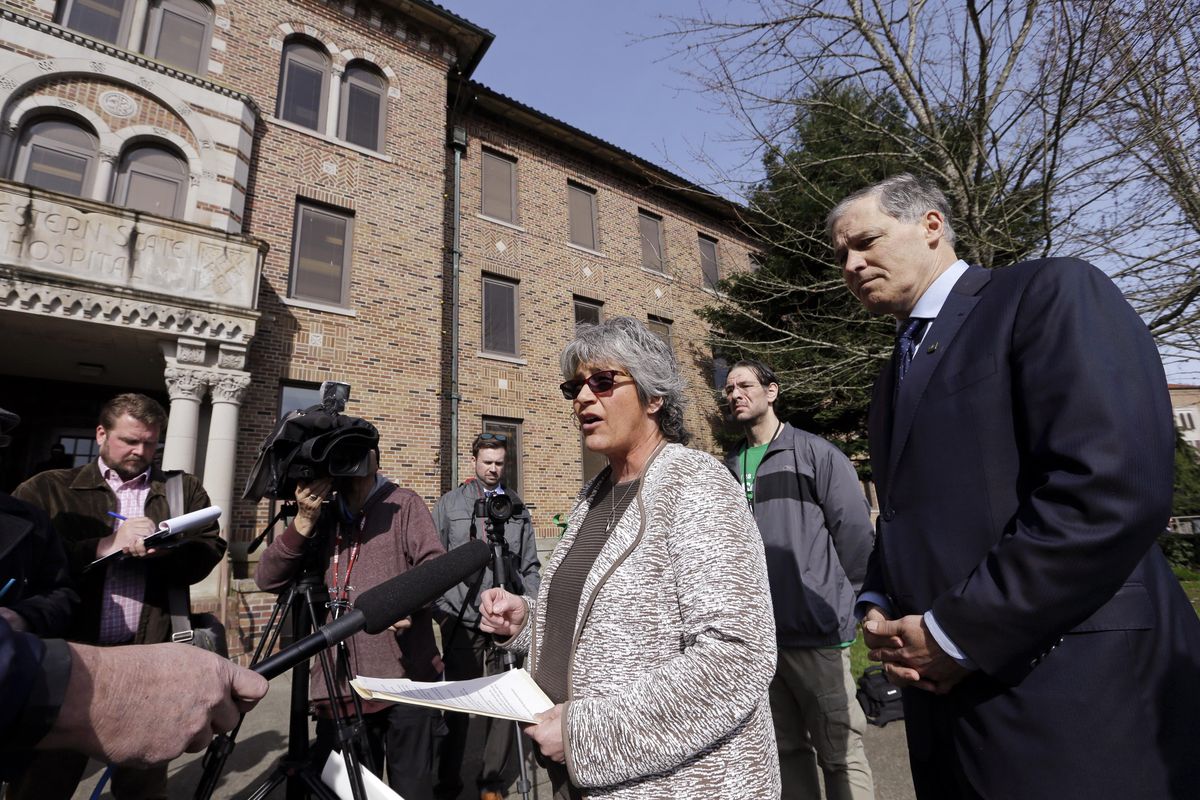 In this file photo taken April 11, 2017, Western State Hospital CEO Cheryl Strange addresses members of the media in front of the facility as Gov. Jay Inslee looks on, in Lakewood, Wash. Inslee and Strange said theyve made significant improvements in patient safety and staffing levels. He said he hopes to get more money to continue the work of fixing the hospital. (Elaine Thompson / Associated Press)
SEATTLE – Inspectors who visited Washington state's largest psychiatric hospital found that safety problems that thrust the facility into the national spotlight after the escape of two dangerous patients a year ago persist, including neglected patients.
And a survey of Western State Hospital staff, conducted as part of federal oversight in December and January, found that administrators make decisions that "adversely affect patient safety" and there was a lack of trained or qualified staff, fear of retaliation from managers and too much focus on bureaucracy over staff safety.
The survey and the consultants' report were obtained by the Associated Press from someone close to the hospital who requested anonymity for fear of retaliation.
State officials say they are making progress, including hiring additional staff members, as they try to turn around the facility since the patients escaped in April 2016. They say correcting problems that have developed over decades will take time to resolve.
Dr. Joseph Wainer, a psychiatrist at the hospital, said the problems continue. He wrote a letter to the editor that recently appeared in the Tacoma, Washington, newspaper in which he alleged that management at the facility was traumatizing employees and patients.
"I see people who've been told that their perspective is ignorant, who have been ignored, shamed and intimidated into silence by an increasingly authoritarian leadership," he wrote.
Wainer told AP in an email this week that the hospital placed him "under investigation." Wainer said the investigation was "quite frightening" and "I still don't know exactly what they're suggesting I did wrong." Wainer said investigations are often used to "discredit and to intimidate both the person investigated and those who might question contemplating the executive leadership."
Kelly Stowe, a spokeswoman for the health department, said the agency couldn't confirm or deny an investigation because they don't comment on personnel actions. "What I can tell you is that we don't restrict an employee's right to free speech," she said.
A judge recently issued an injunction against the hospital that requires it to address a pattern of retaliation against staffers by the end of April, and also ordered a $1.1 million award for a case involving a former worker who faced retaliation when he reported patient neglect.
A consulting firm hired by the state to identify areas for improvement visited the hospital in January and February and found many patients were left alone or ignored.
After the 2016 escape, which led to a statewide manhunt, the hospital was hit with a series of health and safety violations that put it at risk of losing the millions it receives from the Centers for Medicare and Medicaid Services. Gov. Jay Inslee then fired the hospital's CEO and sought state funds to hire more staff. The state Department of Social and Health Services entered into an agreement with federal officials in June that required it to fix the problems by July 2017 or face losing its funding and accreditation.
At a news conference last week outside the hospital, Inslee and new CEO Cheryl Strange said they've made significant improvements in patient safety and staffing levels. He said he hopes to get more money to continue the work of fixing the hospital.
Carla Reyes, assistant secretary for the DSHS, said the facility has used the recent surveys and report to make improvements.
"The scope of improvement necessary at WSH is the result of decades of underfunding and the changes needed take time to implement," Reyes said. "We have made great strides and continue making necessary changes every day."
Besides noting that they've hired additional staffers, the state did not cite the number of new violations they've had or the number of overtime hours worked by staff.
The state health agency inspected the hospital in late March and reported a patient safety violation involving nursing staff and a patient's treatment plan. The patient's doctor had ordered a special diet of thick liquids for a patient who had trouble swallowing. The patient was to be in a nurse's line of sight during all meals, due to the danger of aspiration. That information was never entered into the patient's treatment plan, which put the patient at risk, officials said.
The state said that based on these findings, it has "reviewed and updated plans for all patients with special diets."
In the survey, staff said managers were concerned only with paperwork, rejected requests for changes that would improve safety and criticized staff or handled discipline problems in front of others.
When the state entered into the improvement agreement with federal regulators, it hired Clinical Services Management, a consulting firm, to help it come into compliance. The firm visited the hospital in January and February. And among the findings were:
In one ward, inspectors found two patients lying on the floor in hallways, and "no staff was observed to be engaged" with either one.
In another ward, six patients were supposed to be involved in an exercise group, but two were walking the halls, two were sleeping in their rooms, and two patients were sitting in the day room not engaged in activities.
Federal investigators will conduct new inspections before the July deadline.
Local journalism is essential.
Give directly to The Spokesman-Review's Northwest Passages community forums series -- which helps to offset the costs of several reporter and editor positions at the newspaper -- by using the easy options below. Gifts processed in this system are not tax deductible, but are predominately used to help meet the local financial requirements needed to receive national matching-grant funds.
Subscribe now to get breaking news alerts in your email inbox
Get breaking news delivered to your inbox as it happens.
---