Decade-by-decade: What to do now to retire better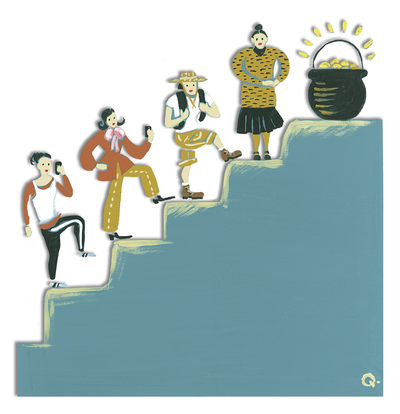 Aaron and Melissa Abolofia, both millennials at age 27, already follow a discipline for retirement savings.
Their start: Leverage what's essentially bonus money from an employer and save a bit consistently.
Aaron Abolofia, an art director at Seven2 digital design firm, contributes to a Roth 401(k) at 5 percent of his income that's matched 4 percent by his Spokane employer. His wife, who works part-time at Seven2, adds to a Roth Individual Retirement Account.
They've created a budget, set aside emergency savings, and bought a house.
"We're not putting away a crazy amount of money," said Melissa Abolofia, who works in accounting and is still paying off her student loans. "It's just doing what you can to get started."
At any job they've held, they participated in retirement programs since age 23.
"We both knew it was important to take advantage of those perks and not squander what is really just free money for you later down the line," Aaron Abolofia said. "We're able to budget ourselves to make sure that match of our employer is met."
Whether age 23 or 57, it's never too early or too late to take similar steps toward a better retirement, say Spokane financial planners. Depending on your decade of life, you can take some determined steps to help improve that scenario. Most important at any stage, do something.
"First of all, take control and start," urges Michael Gradl, STCU investment services program manager.
Loran Graham, a Spokane financial planner and licensed CPA, suggests a goal to reach savings at 15 percent of income and 10 percent toward giving, then live on the rest. Start early spending habits that create more financial freedom later in life.
"Develop a financial plan with disciplined spending, living on a fractional percentage of income," he said.
Here are some other decade-by-decade retirement guidance:
20s and early 30s
While this period requires getting established, when people launch careers and often start families, steps at this stage bolster far-off retirement. It's also good to start the habit of living on less than you make, with a deliberate set-aside amount toward savings.
"Save ahead for larger ticket items like a trip rather than extending yourself out on credit," Gradl said. "Don't create unnecessary debt."
Other actions are to pay down or eliminate existing debt, maximize 401(k) if available to get a full employer match, and build a separate emergency savings at three- to six-month of income. Then if the unexpected happens, you won't be as tempted to interrupt retirement savings.
Leaving college and getting that first job, it's often easy to fall into the mindset of whatever your net paycheck amount, that is what you can spend, Graham said. "Actually, there are other things they should carve out, to practice that early discipline of spending less."
Although housing and child costs can mount, Graham encourages trying to save ahead for expected big purchases later.
"Pay cash for things considered consumer discretionary. If you save for short-term needs adequately, it minimizes having to take on debt and ultimately frees up more cash later if you're not making a debt payment."
Other suggestions for these decades:
Regarding that employer 401(k), most workplaces require workers to save from 4 percent to 6 percent of pay to qualify for the full employer match. Start with at least 5 percent of your salary.
Stretch if you can to put additional savings into an IRA. Because time is on your side, consider a Roth IRA and Roth 401(k) for post-retirement tax advantages.
Create a monthly budget to include a savings amount, even if just $20 in an automatic savings deposit, to build an emergency fund.
Investments can be more aggressive for greater growth potential, with a higher percentage of stocks in your portfolio. Equities outperform fixed-income investments over time.
Late 30s and 40s
Likely more settled now, people should look at increasing individual contributions to an employer 401(k) plan and IRA. Budgeting still helps in juggling expenses, and you might now be thinking about funding children's college savings too.
Don't skip carrying health insurance, and definitely consider life insurance strategies, Gradl said. Many people by now build a relationship with a financial adviser to plan big-picture retirement goals.
Among people in their 40s and entering 50s, more than three-quarters are behind on retirement savings and may feel overwhelmed, Gradl added. If you're entering peak earning years, try to push more income toward retirement savings and ask friends or professionals to recommend a financial adviser.
Graham strongly counsels people by their 40s to focus on a financial plan to become debt-free by the time they're five to 10 years from retiring. If you can, also consider refinancing to a 15-year mortgage.
"By achieving debt-free status before retirement, that provides more flexibility and lowers risks in retirement," he said. "Once the mortgage is paid off, make the payment to your retirement savings."
Other tips:
Increase your 401(k) percentage contribution with each pay increase. Strive to reach 20 percent.
Continue setting aside more savings in Roth or traditional IRAs, depending on tax needs.
Life insurance strategies might provide access to investments later on for retirement.
Consider moderate growth investments, such as 75 percent in stocks and 25 percent in bonds.
50s
This period has provisions for accelerating retirement steps. At age 50 and above, people can increase contributions for IRAs by an extra $1,000 a year, so from $5,500 to $6,500, Graham said. A much higher catch-up contribution is allowed for an employer 401(k) through elective deferrals.
"It would be a good idea to check with your plan administrator," Graham said. "We encourage employees to take the initiative on that."
He also recommends the book, "Halftime," encouraging thought about how people want to invest time and talents later in life. Perhaps it's transition time for a passion to become an encore career.
A retirement big picture should have sharper focus by now. Financial advisers have software to crunch numbers on the trajectory of taxes, income, appreciation and other factors. More people are remaining in the workforce until 65 to keep employer health insurance, Graham added.
Gradl said people tend to be laser-focused by their 50s on how to get to retirement, and some may panic, but they have resources such as those catch-up provisions.
"Don't get discouraged," he said. "Start making it happen."
Review life insurance and long-term care insurance, Gradl added. More than 70 percent of people turning age 65 will need long-term care at some point of their life, says the U.S. Department of Health and Human Services.
Gradl offers other 50-something thoughts:
Work to eliminate debt if you haven't before, including the mortgage.
Ask a financial adviser about a game plan for retirement income from all sources, including when it makes sense to take Social Security payments.
Your retirement portfolio can shift toward some more conservative investments.
60s and older
You can get an estimate of future Social Security benefits and a record of lifetime earnings history at the website, www.socialsecurity.gov. Another option is checking AARP's retirement guidelines and Social Security benefits calculator.
People can claim Social Security as soon as they turn 62, the earliest possible age, although more people are staying in the workforce later in life. Social Security retirement benefits increase by a certain percentage depending on date of birth if you delay your retirement until later years.
Consider shifting investments to a more conservative asset mix, but some investors keep about 40 percent in stocks or stock funds well into retirement.
Here are other strategies:
Position your IRA and other retirement accounts for ease-of-income distributions.
Consider whether downsizing your home makes sense.
Research annual withdrawal rates for taking funds from retirement savings, perhaps starting with a conservative amount and adjust for inflation after that.
Before age 65, review Medicare options and your health care strategy.
---