Sports
NBA capsules: Golden State Warriors move on with a sweep of the Portland Trail Blazers
April 24, 2017 Updated Mon., April 24, 2017 at 10:36 p.m.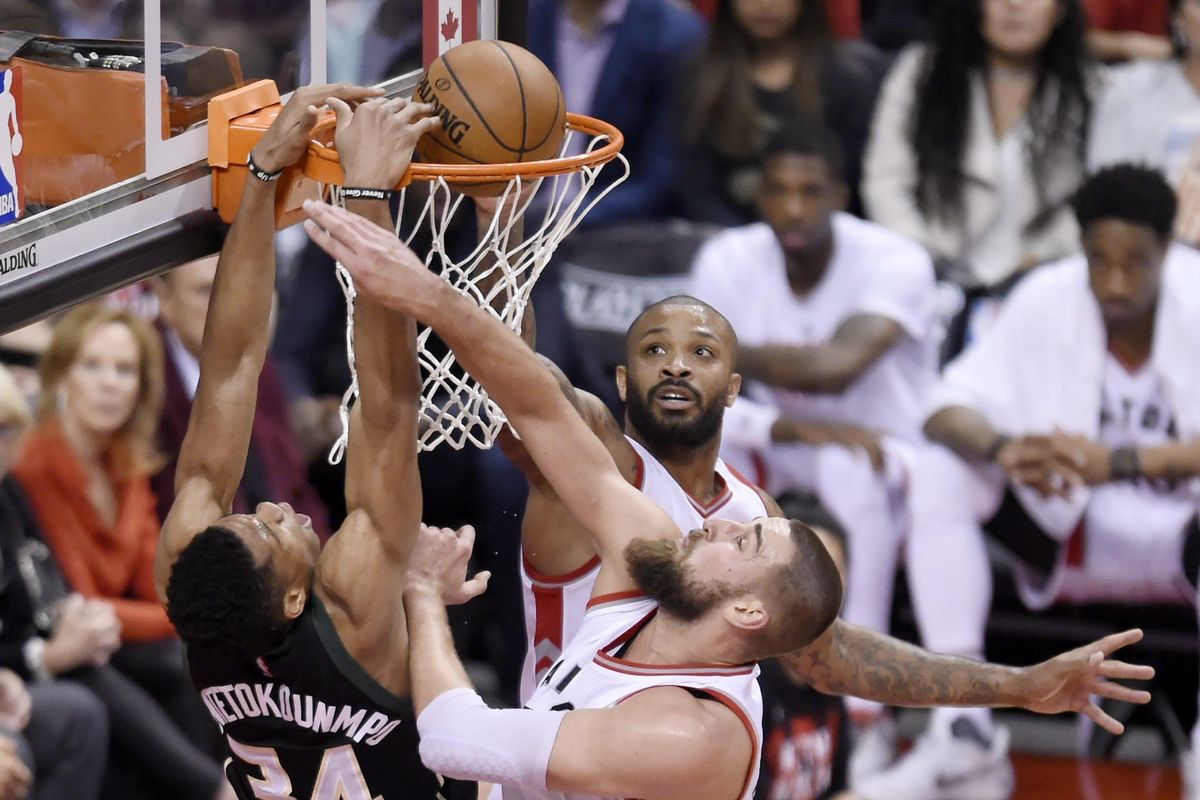 Milwaukee Bucks forward Giannis Antetokounmpo, left, dunks the ball past Toronto Raptors forward PJ Tucker, back center, and center Jonas Valanciunas during the second half in Game 5 of a first-round NBA basketball playoff series in Toronto on Monday, April 24, 2017. (Nathan Denette / Associated Press)
Stephen Curry had 37 points before sitting out the final quarter and the Golden State Warriors welcomed back teammate Kevin Durant with a 128-103 victory over the host Portland Trail Blazers on Monday night to sweep their first-round playoff series.
The Warriors advanced to the conference semifinals, where they'll face the winner of the series between the Utah Jazz and the Los Angeles Clippers, which is tied at 2.
Golden State played for the second straight game without coach Steve Kerr, who has been experiencing a flare-up of symptoms stemming from back surgery a couple of years ago. Assistant Mike Brown has served as head coach in Kerr's absence.
Durant hadn't played since Game 1 because of a strained left calf. He started and the Warriors built a 72-48 lead by the end of the opening half.
Toronto 118, Milwaukee 93: Norm Powell scored a career playoff-high 25 points, Kyle Lowry had 16 points and 10 assists and the Raptors beat the Bucks in Toronto in Game 5 of their first-round playoff series.
Serge Ibaka scored 19 points and DeMar DeRozan had 18 for the Raptors, who can advance to face defending champion Cleveland in the second round with a victory in Game 6 at Milwaukee on Thursday night.
Many in the sellout crowd of 20,251 rose to their feet and chanted `Raps in six' in the final minute of the game.
Toronto lost Game 6 on the road at Indiana in the first round and at Miami in the second round last year, rebounding to win Game 7 at home each time. They were eliminated in six games in the Eastern Conference Final against the Cavs, losing at home in the clincher.
Atlanta 111, Washington 101: Paul Millsap bounced back from a sluggish start to score 19 points, Dwight Howard had his best game of the postseason and the Hawks pulled away from the Wizards in Atlanta to even the opening-round playoff series at 2-all.
Howard, who was a non-factor through the first three games, had a double-double by halftime and finished with 16 points and 15 rebounds. The Hawks got double-figure scoring from seven players, including huge contributions off the bench from Kent Bazemore and Jose Calderon.
Bradley Beal scored 32 points, bouncing back from a dismal performance in Game 3, and John Wall had another stellar performance with 22 points and 10 assists. But those two, as good as they were, couldn't match a more balanced approach by the Hawks.
Now, the series is down to a best-of-three. Game 5 is Wednesday night in Washington.
Local journalism is essential.
Give directly to The Spokesman-Review's Northwest Passages community forums series -- which helps to offset the costs of several reporter and editor positions at the newspaper -- by using the easy options below. Gifts processed in this system are not tax deductible, but are predominately used to help meet the local financial requirements needed to receive national matching-grant funds.
Subscribe to the sports newsletter
Get the day's top sports headlines and breaking news delivered to your inbox by subscribing here.
---