News > Spokane
It's a homeless shelter that folds like an accordion: These WSU students think it's perfect for Spokane
Tue., April 25, 2017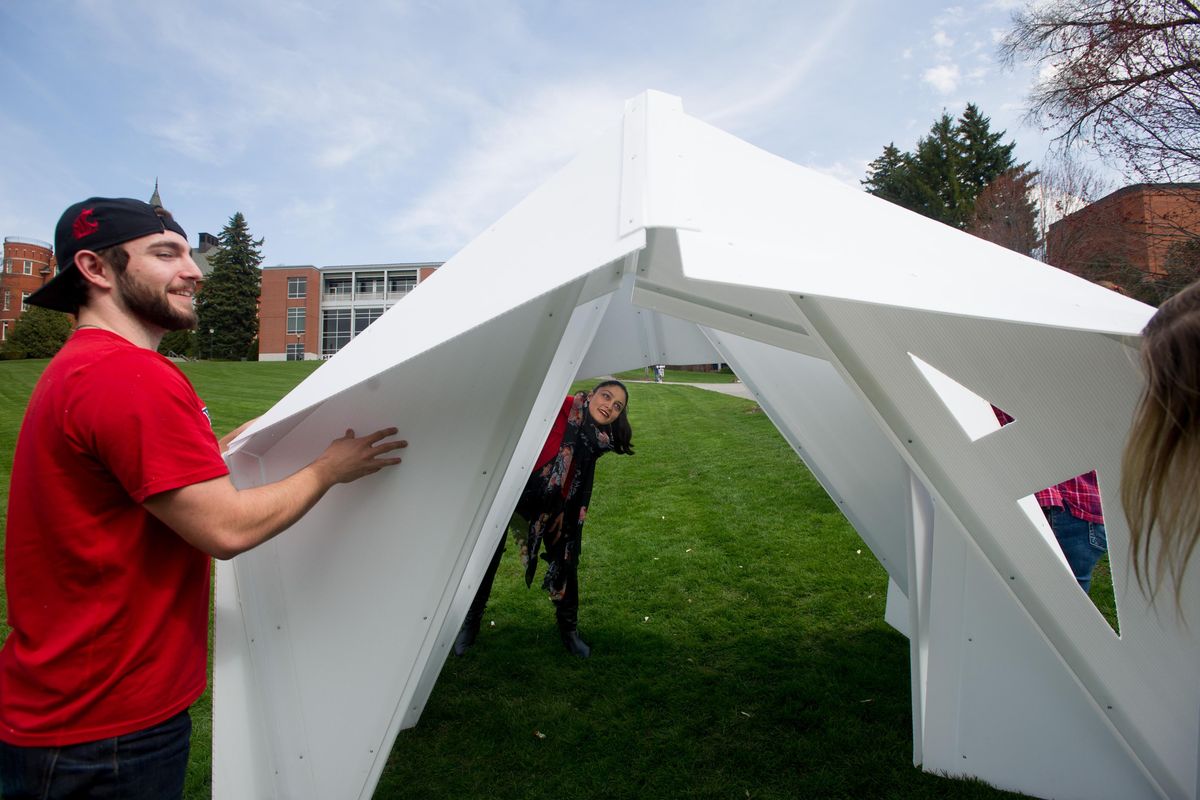 Mona Ghandi, an assistant professor of architecture at Washington State University, center, helps set up a portable homeless shelter designed by her students, including Jamie Stidhams, left, on Wednesday, April 19, 2017, in Pullman, Wash. (Tyler Tjomsland / The Spokesman-Review)
A team of architecture students at Washington State University has designed and built a portable homeless shelter that can be folded like an accordion into a variety of shapes and sizes.
They say it's perfect for a city like Spokane, where it will be featured in a design competition this week.
"We want to raise awareness about the reality of homelessness across our nation. The way that they live, there is no shelter, there is no dignity, there is no safety, there is no privacy," said WSU assistant professor Mona Ghandi, who led the architecture students through an intensive design and construction process.
The shelter is made of triangular panels of corrugated plastic – the same material used for poster boards – and held together with metal rivets. It utilizes an origami technique called the Yoshimura fold, which lends both strength and versatility.
A similar design has been marketed as a refugee shelter, and researchers at Brigham Young University recently used the same folding technique to create a portable bulletproof shield for police.
In less than a minute, the homeless shelter can transform from a full-length sleeping tent into a "pop-up shop" suitable for vending small items. Students said the final product will be aesthetically pleasing, too, with its sleek geometry and color-tinted plastic windows.
"We tried to design something that serves both the homeless people and the city," Ghandi said. "We tried to design something that's beautiful so people like having them around their property."
Her students started the semester in January with a crash course in foldable architecture, lightweight materials and digital design. They also took a field trip to Spokane to interview patrons of local homeless shelters, including the downtown House of Charity.
"They just wanted something simple," Jenny Schneider, a junior in the class, said of the homeless people she interviewed.
Thirteen students designed their own shelters and created renderings and small-scale models, which were judged by professors in a classroom competition. Schneider's design received the highest marks and was selected to become the group's entry in the Spokane competition.
She said her design is sturdy, lightweight and, most importantly, simple. There are no levers, latches, buttons or bolts. Although it's a little heavier than planned, the shelter folds flat enough that a single person can carry it.
Plus, Schneider said, the air pockets in the corrugated plastic offer a degree of insulation.
The other students offered a range of novel shelter designs, from a set of stacking modular boxes to a reinforced sheet that can be bent into rigid shapes and then rolled up like a yoga mat.
"Being able to design and build something while in school, especially as a third-year (student), that's huge," said Abigail Shane, another student. "Usually your professor gives you a design project, you do it and it never gets built."
The student's shelter is being assembled from seven parts. Photos, videos and written explanations of the design process can be found on the class's website, wsushapeyourshelter.weebly.com.
The shelter will be featured in a design competition Thursday at the Montvale Event Center in Spokane, hosted by the Spokane chapter of the American Institute of Architects. It will then be on display at River Park Square through May 14.
Teams of students from Spokane Community College and the University of Idaho also are participating in the competition. Winners will receive cash prizes and interviews with local engineering firms.
Jose Barajas, a competition organizer, said the goal is to entice architecture students to live and work in Spokane.
"I believe that Spokane needs more talent," said Barajas, who's also an architect with local firm Integrus Architecture. "A lot of students, when they graduate, they go straight to Portland or Seattle. They skip Spokane completely."
Barajas also said the portable homeless shelter may one day be common in the city.
"We try to pick projects that could actually happen. We try to keep it focused on Spokane," he said. "Eventually we would like to take one of these design projects and see if we could mass-produce it, and then we could work with the city and maybe start a pilot program."
Local journalism is essential.
Give directly to The Spokesman-Review's Northwest Passages community forums series -- which helps to offset the costs of several reporter and editor positions at the newspaper -- by using the easy options below. Gifts processed in this system are not tax deductible, but are predominately used to help meet the local financial requirements needed to receive national matching-grant funds.
Subscribe now to get breaking news alerts in your email inbox
Get breaking news delivered to your inbox as it happens.
---