News > Crime/Public Safety
Anti-Semitic graffiti scrawled on the Community Building in downtown Spokane
Fri., April 28, 2017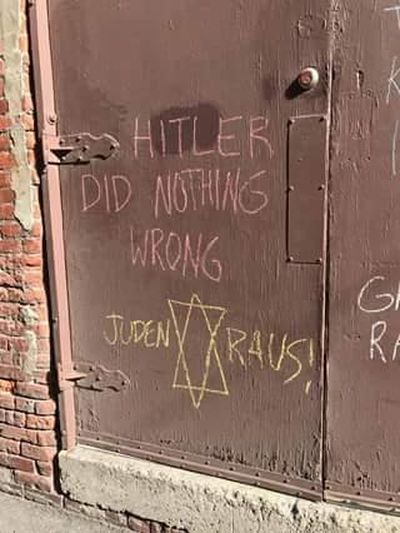 Anti-Semitic graffiti praising Adolf Hitler was found written on the back door of the Community Building in downtown Spokane early Friday morning.
One statement said "Hitler did nothing wrong" and another called for a race war against the Jews.
Liz Moore, director of the Peace and Justice Action League of Spokane, has her office in the building, located at 35 W. Main Ave. "It was actually our interns that found it," she said. "I find it shocking and sad."
Moore said she was also angry, particularly at one statement that used a racial slur to refer to Jews and called for their death. "That's a threat," she said.
This is not the first time the Community Building has been vandalized by hate speech. In March anti-Semitic and white nationalist flyers were plastered on the Community Building as well as the Spokane County Democrats building at 1403 W. Third Ave. and a Starbucks at 2703 N. Division St.
Moore said she's not surprised that the building is a target for racist graffiti. "This is a building of social justice organizations," she said.
The Center for Justice also has offices in the building and posted a picture of some of the graffiti on its Facebook page. "The Community Building was the target of another act of hate today," they wrote in a post. "We stand strong against hate and work for justice to see these acts stopped in our community."
While the people who wrote the graffiti obviously wanted to get their message out, they did it in a cowardly way, Moore said.
"They were deliberately choosing not to interact," she said. "These are people who are interested in leaving messages behind without showing their face."
The incident was reported to police and the graffiti was covered up. Moore said her organization and others in the building will continue their work.
"I think the organizations in this building exist to respond to oppression," she said. "We're already doing the work to respond to the message that was left here."
Local journalism is essential.
Give directly to The Spokesman-Review's Northwest Passages community forums series -- which helps to offset the costs of several reporter and editor positions at the newspaper -- by using the easy options below. Gifts processed in this system are not tax deductible, but are predominately used to help meet the local financial requirements needed to receive national matching-grant funds.
Subscribe now to get breaking news alerts in your email inbox
Get breaking news delivered to your inbox as it happens.
---