News > Business
Luxury homes in Spokane
Sat., April 29, 2017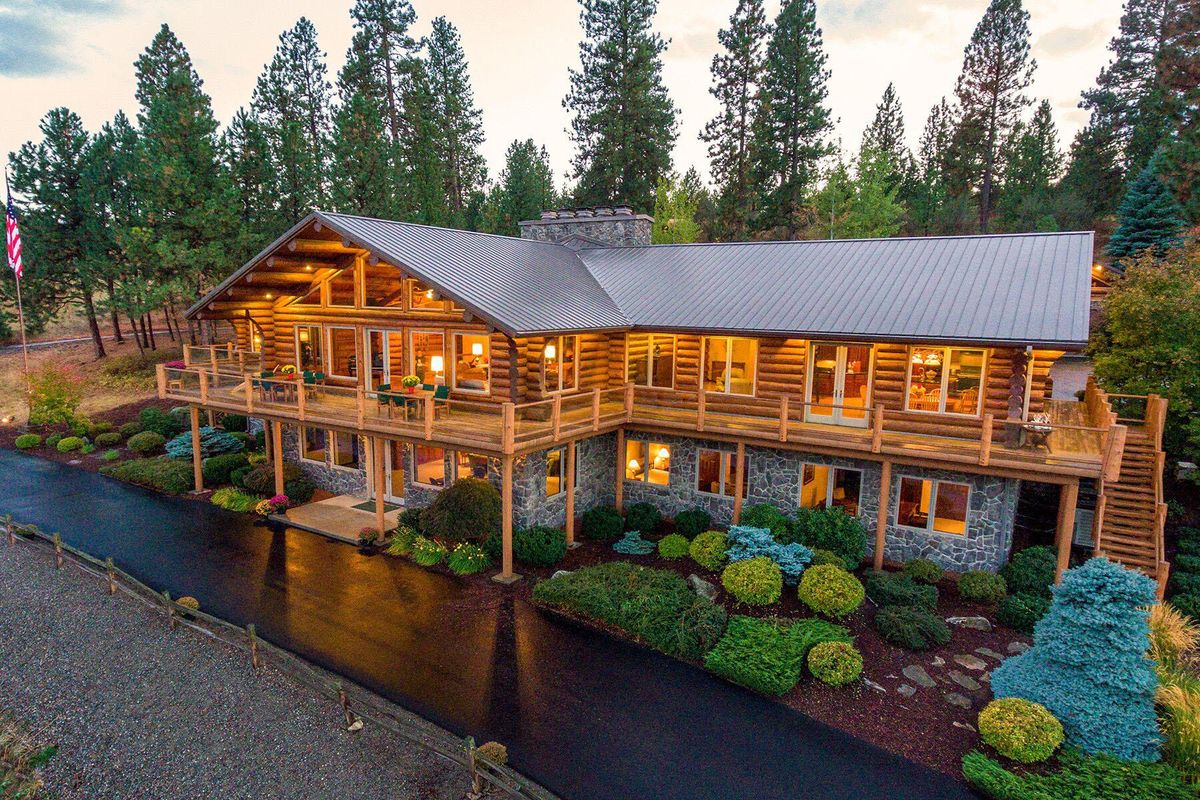 Redtail Springs Ranch is a 10,400-square-foot, six-bedroom lodge on 200 acres south of Greenacres. (COURTESY OF TOMLINSON SOTHEBY'S)
What will a million bucks and change get you in Spokane County's real estate market?
Not nearly as many choices as next door in Kootenai County, flush with lakefront and riverfront listings in the seven figures.
Still, if you're looking to drop a meal ticket or more on some luxury digs, a few pricey properties are on the menu in and around Spokane.
At the top of the market is Redtail Springs Ranch, a 10,400-square-foot, six-bedroom log lodge sitting on 200 forested acres in the hills south of Greenacres.
The estate was listed in mid-December for $3.5 million and has had five qualified showings so far, but no offers, said Lyssa Kopke, a Realtor with Tomlinson Sotheby's International Realty in Coeur d'Alene.
It also has inspired a lot of lottery jackpot dreamers, apparently. The property is one of the highest viewed Pacific Northwest properties on Sotheby's global network, Kopke said.
A video tour of the ranch launched on Jan. 24 has received about 21,000 unique views from around the world, she said. The listing page online has received over 12,000 unique views, averaging about 90 new ones each day.
"We can see where they're clicking in from. We had someone from Moscow, Russia, that was consistently clicking in. We also have someone from Serbia clicking in," Kopke said. "It's fascinating to see who's clicking in, where they're from."
In addition to the sprawling main house, Redtail Springs comes with two separate 1,500-square-foot bunkhouses.
The dream home was built by Curt and Adele Berklund in the late 1990s.They owned and operated timberlands and sawmills in Cottonwood, Elk City and St. Maries, Idaho. He served as national director of the Bureau of Land Management from 1973 to 1977.
Curt was a modern renaissance man: ski jumping, ice hockey, hunting, logging, trapshooting, flying planes, ranching, international consultant. After he retired, the couple moved to Spokane, and Curt served on the Spokane County Civil Service Commission.
They property features mature forests, spring-fed streams, natural meadows and wildlife – red-tail hawks, white-tailed deer, turkeys, upland game birds and more. Curt, who died in 2013, tapped his expertise in land management to look after the property. He reforested a former wheat field, planting more than 15,000 Ponderosa pines in neat rows, and he restored the health of spring-fed streams and 80 acres of mature timber.
As for the lodge, spruce logs were harvested from stands of dead trees burned in the Yellowstone National Park fires in 1988. The logs were hand-peeled, scribed in the Swedish Cope style and assembled on site by hand. The couple chose Douglas fir for the ceilings and trim, Canadian hard maple for the floors, and cherry for custom cabinetry – all paired with rare granite and fossilized slate.
"When you walk in, it can literally can almost take your breath away, it's so magnificent," Kopke said.
Local journalism is essential.
Give directly to The Spokesman-Review's Northwest Passages community forums series -- which helps to offset the costs of several reporter and editor positions at the newspaper -- by using the easy options below. Gifts processed in this system are not tax deductible, but are predominately used to help meet the local financial requirements needed to receive national matching-grant funds.
Subscribe now to get breaking news alerts in your email inbox
Get breaking news delivered to your inbox as it happens.
---