News > Business
UberEATS launches food delivery service in the Spokane area
Aug. 1, 2017 Updated Tue., Aug. 1, 2017 at 10:28 a.m.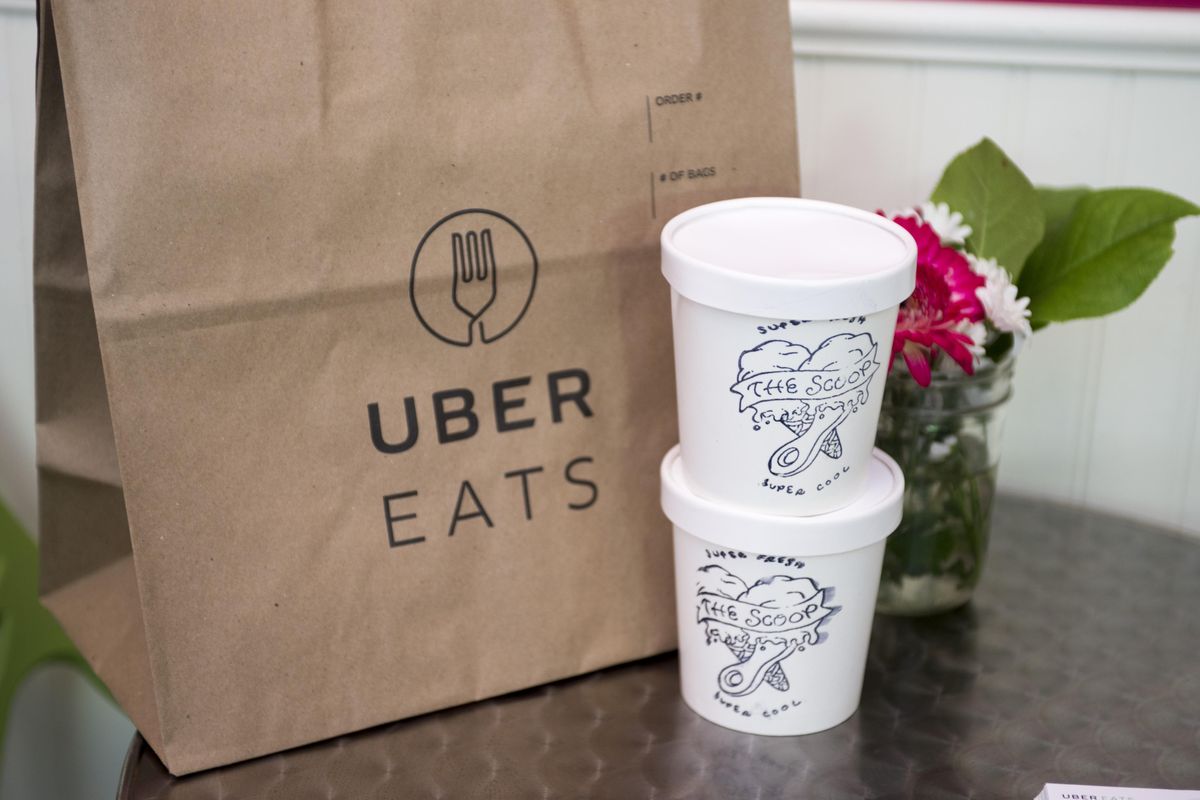 Jennifer Davis is preparing to launch UberEATS at her business, The Scoop, an ice cream coffee shop on Spokane's South Hill. Uber-branded bags will be filled with hand-packed ice cream pints when orders come in that integrate the ride-hailing service with internet sales of small batch ice cream. (Jesse Tinsley / JESSE TINSLEY/The Spokesman-Review)Buy a print of this photo
Hungry Spokane residents now have another option for restaurant delivery service.
Ride-booking giant Uber has partnered with nearly 100 local restaurants to launch its UberEATS service in the greater Spokane area. People can order meals through the UberEATS app, which tracks their order as it's prepared at the restaurant and handed off to a delivery driver.
Restaurants set the prices and customers pay a $4.99 fee for the service, which starts Tuesday.
"You saw what Uber did with the ride-sharing sector of the economy. Now, you're seeing them and other companies coming in with food delivery," said Jeremy Tangen, who is offering UberEATS at three of the four restaurants he owns – Gaslamp, Fast Eddie's and Borracho Tacos & Tequileria.
Fewer people are preparing home-cooked meals, but many of them still want to eat at home, Tangen said. "This fills that niche, especially for younger people."
UberEATS launched in Seattle two years ago and also operates in Tacoma, Bellingham, Olympia and Vancouver, Washington. The Spokane area is the service's first entry into the Eastern Washington market.
UberEATS is available across a broad area of Spokane County, including Liberty Lake to the east, Fairwood and Mead to the north, Airway Heights to the west and the South Hill and Glenrose neighborhoods to the south. Another online ordering and delivery service, GrubHub, also operates in the Spokane area.
Jennifer Davis, owner of The Scoop on Spokane's South Hill, saw UberEATS' entry into the local market as an opportunity to try out delivery service.
"I love testing out new technology and services," she said. "I researched it in other markets, and looked at Seattle to see how big it has gotten."
Davis will start UberEATS service by offering pints of ice cream and cones only. If orders take off, she'll consider adding other Scoop menu items, such as waffles and sandwiches, in the future.
Jeffrey Gates, who owns two Jersey Mike's sub sandwich shops in Spokane, has hired staff in anticipation of increased sales. "I'm expecting good things to come from UberEATS in Spokane," he said.
Three months ago, Gates started using UberEATS at his Puyallup store. Sales increased by $500 to $600 daily, and several UberEATS drivers now line up in the parking lot over the lunch hour, waiting for orders to come in.
Gates said he's worked to simplify Jersey Mike's online menu to reduce the risk of error in deliveries.
"You only get one chance to make a good first impression," he said. "We've got to make sure we get the order right."
One restaurant owner, who declined to be named, has mixed feelings about UberEATS' presence in the Spokane area.
"It's going to be popular with consumers, but it's not a great deal for restaurants," the owner said.
UberEATS collects 35 percent of each sale, which is a substantial fee in an industry that operates on thin margins, the restaurant owner said.
Restaurant owners are reviewing their menus for entrees that will travel well. One of the benefits of UberEATS is real-time customer feedback, said Kirby Pratt, corporate programs manager for Restaurants Unlimited, the Seattle-based owner of Clinkerdagger.
Similar to Uber's ride-booking rating program, "you can rate individual food items in the moment," she said.
Clinkerdagger will be the company's 32nd restaurant to offer UberEATS, Pratt said.
While food delivery is a growing trend, restaurants still appreciate in-person sales, said Gates, the Jersey Mike's franchise owner.
"We'd rather have them come in," he said. "We banter and have fun with the customers. We appreciate having the face-to-face interaction."
"I think it's an opportunity to gain new customers," said Tangen, the owner of Gaslamp, Fast Eddie's and Borracho Tacos & Tequileria. "People who aren't able to come in, or haven't come in yet, get an opportunity to try out our food."
Local journalism is essential.
Give directly to The Spokesman-Review's Northwest Passages community forums series -- which helps to offset the costs of several reporter and editor positions at the newspaper -- by using the easy options below. Gifts processed in this system are not tax deductible, but are predominately used to help meet the local financial requirements needed to receive national matching-grant funds.
Subscribe now to get breaking news alerts in your email inbox
Get breaking news delivered to your inbox as it happens.
---