Grip on Sports: Is a double-digit win total in the Cougars' immediate future? A GRIP ON SPORTS • It has been nearly a decade-and-a-half since the Washington State Cougars have won 10 games in a football season. Is this the year they get back to that magic number? Read on.
••••••••••
• Every college football team has question marks entering preseason camp. Yes, even Alabama and USC have them. But as you descend down the power rankings, the question marks begin to proliferate, until you get to the teams that have so many they are only outnumbered by the potential losses.
Washington State has been one of those teams many times since 2003, the last year the Cougars won 10 games.
In fact, since the turn of the century, WSU has lost 10 or more games as many times as it has earned double-digit wins.
So why should this Cougar team be different? That's easy. There are fewer question marks.
There are some, sure. How will the defensive line hold up, especially considering guru Joe Salave'a is now in Eugene (more on that below)? Who will become Luke Falk's go-to receiver on third down? Will the secondary mesh? Who fills out the offensive line?
But that's about it in the realm of important interrogatories. This Cougar group has fewer to answer than any team since about 2003.
Which is, no surprise, the last 10-win team.
That team, Bill Doba's first as head coach, was a defensive powerhouse with a secondary that included NFL players Jason David and Erik Coleman. This group has a different emphasis, of course, as different as Mike Leach and Doba's personalities.
The offense should be as prolific as any in the nation – if the receiving corps is as good as we've been led to believe.
Luke Falk is an accomplished fifth-year quarterback. The running backs are, as a group, as talented as ever been assembled in Pullman. The offensive line is big, strong and athletic. This Cougar team will light up the scoreboard.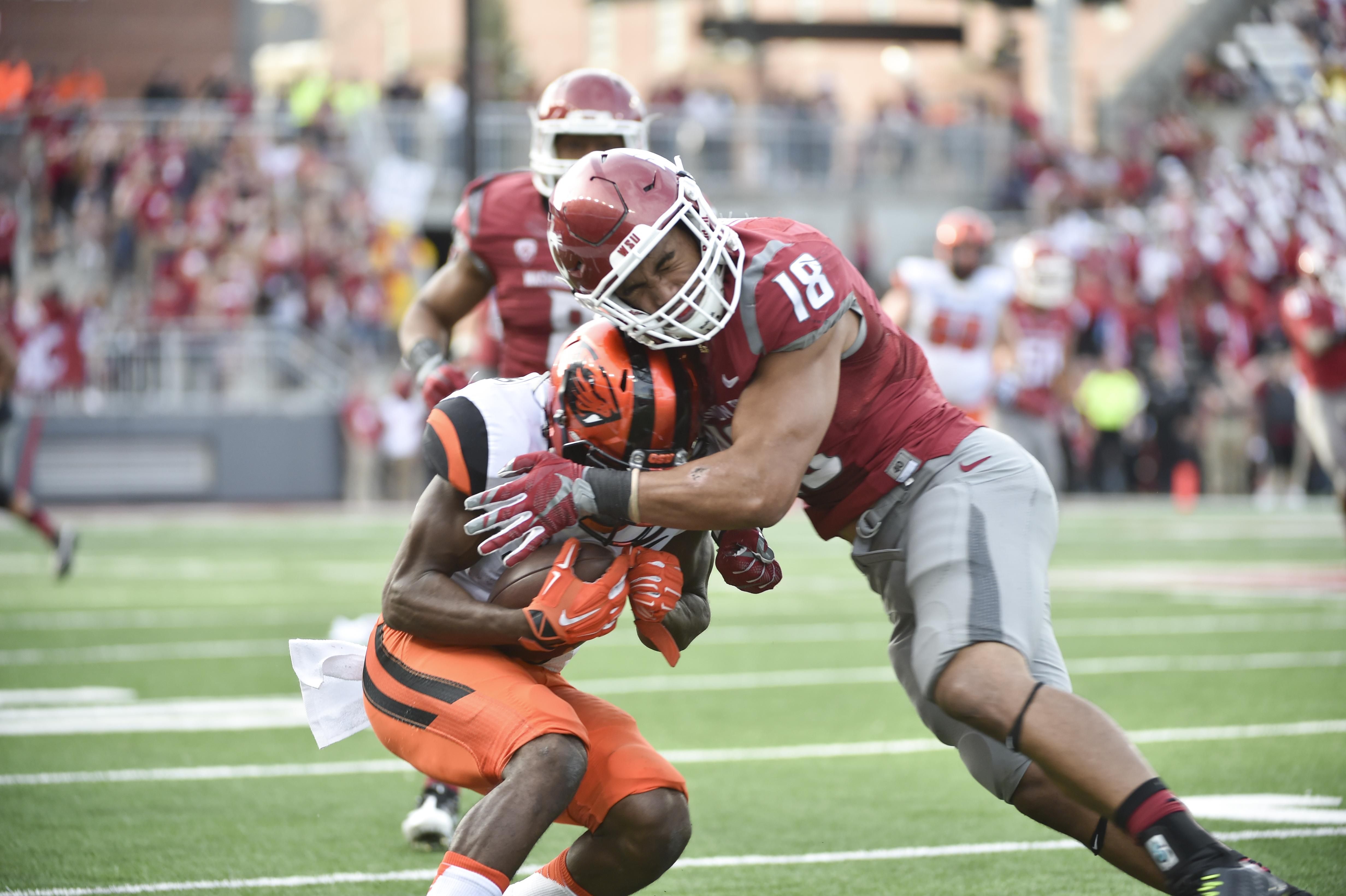 But the difference last season, especially when WSU was winning eight consecutive games, came on the other side of the ball. The defense bent at times but broke less often than anytime in recent memory, allowing just 26.4 points per game. And it forced turnovers, almost two a game.
Can that continue? Why not? Of last year's 10 leading tacklers, eight return, led by middle linebacker Peyton Pelluer.
One of those losses, however, was do-everything back Shalom Luani, the one guy on that side of the ball who will be tough to replace.
Make that two guys. Losing Salave'a is big as well. The defensive line coach was a presence on the sidelines in practice and games. If coordinator Alex Grinch was the brain of the defensive staff, then Salave'a was the heart. How do you replace such a figure?
You don't of course. You adjust. And the Cougars will – if they want to win. And win and win. Which is the goal, right? After the questions are answered.
•••
WSU: Preseason practice began yesterday in Pullman and Theo Lawson was there. (By the way, if you aren't following Theo on Twitter @TheoLawson_SR, you should start now.) He has a story on the competition – on-and-off the field – as well as four observations after the first day. … Around the Pac-12 yesterday, Jon Wilner looked at every team and what to follow during preseason camp. … UCLA opened training camp yesterday. … USC has a true Heisman Trophy candidate and another funny one. … Arizona State is battling throughout practice. … Arizona's defense has to improve one stop at a time. … Washington is strong at a key position, left tackle. And the Huskies have a defense that stands out as well, even if the smoke in the air makes everything hard to see. … Jake Luton hasn't won anything yet for Oregon State. At least that's how he sees it. … Oregon's special teams will include more than just backups. How about some running backs chipping in? … The passing game on both sides of the ball will be crucial for Utah.
Indians: Spokane is back at it tonight at Avista – the forecast is for hot and sunny – against Eugene, hoping to continue its hot start to the Northwest League's second half.
Preps: It's summertime, so Chuck Stewart's youth sports notebook has an appropriate softball emphasis.
Mariners: So the most over the .500 mark Seattle has been this year remains two games. The M's four-game winning streak was snapped last night in Texas, courtesy of the Rangers' power display vs. Ariel Miranda. … James Paxton is picking up awards left and right. … Is there another hard thrower about to make the jump to the bigs, a la Edwin Diaz last season? … Ben Gamel got a day off yesterday. The Mariners are in Kansas City for a crucial four-game set with the Royals, who they are chasing in the wild-card standings.
Seahawks: There was no practice yesterday, but in the past week we have seen C.J. Prosise show off a new look and John Schneider show off his prowess with contract extensions. … Macklemore knows how to fire up his fans in Seattle. … There was a roster move yesterday.
Sounders: Seattle picked up another midfielder for the stretch run. Victor Rodriguez says he can play anywhere in that part of the field.
•••       
• I have a pet peeve about football practice right now. It's something that I developed in my years in Pullman, though it came upon me slowly. Calling the practices in August "fall camp" gripes me. It isn't fall. It's still summer. Accuracy matters. So I don't use that term. I have come to adopt "preseason camp." It seems more to the point. The meat of the football season, the games, don't start for a month or so – still in summer, but not right away. And these workouts are preparatory to that season. So preseason seems to work better. Again, it's just me. I know others don't have a problem with it. And I know I'm a voice in the wilderness, but I'm not changing. Until later … 
---