News > Spokane
Parent of Red Lion Hotels moves corporate headquarters from Spokane to Denver
Aug. 3, 2017 Updated Thu., Aug. 3, 2017 at 10:16 p.m.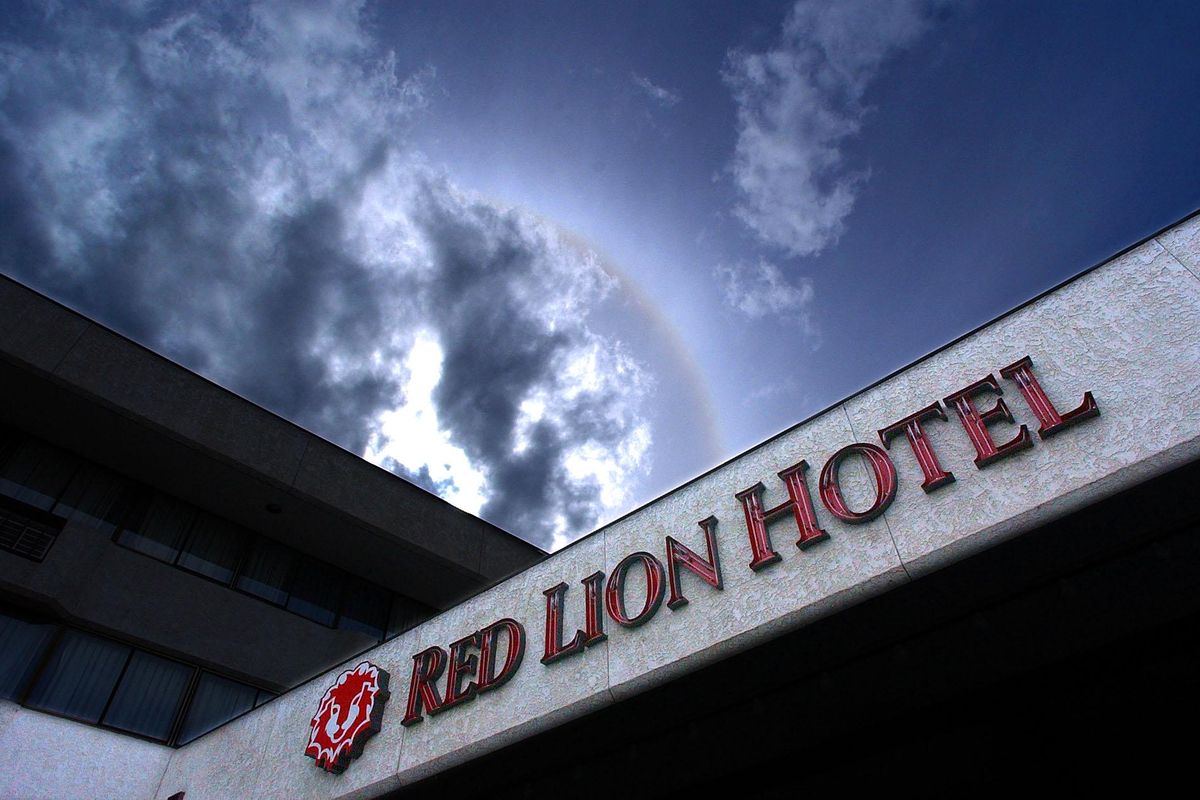 Red Lion Hotels Corp. is one of two companies with large presences in Spokane facing lawsuits from women who allege sexual harassment by male bosses. (Christopher Anderson / The Spokesman-Review)Buy a print of this photo
A hospitality company that started after Expo '74 has moved its corporate headquarters from Spokane to Denver.
The shortage of hotel rooms for people visiting the city during the World's Fair became the genesis for RLH Corp., the parent company of Red Lion Hotels. But after 43 years in Spokane, the company is giving up its executive offices in the Inland Northwest.
The move, effective Thursday, was announced when the company reported its second-quarter earnings.
RLH Corp. franchises hotels in the U.S. and Canada under the Red Lion brand. The company will benefit from having its headquarters in a central location in the U.S., with direct domestic and international flights available from Denver International Airport, said Greg T. Mount, RLH's president and chief executive.
Mount, already a resident of the Denver area, said the move will have a minimal effect on Spokane, where Red Lion Hotels will retain a regional office.
The company's Spokane roots date to 1976, when developer Don Barbieri of Goodale & Barbieri teamed up with Burlington Northern Railroad to build a hotel on the north bank of the Spokane River.
The hotel was the first in a chain that became Cavanaughs Hospitality Corp. The company eventually merged with Seattle-based WestCoast Hotels, assuming that name. It later purchased Red Lion Hotels from Hilton Hotels and Resorts, becoming RLH Corp.
The company also established a computerized event ticketing company, which became known as TicketsWest.
Barbieri retired as chairman of the board in late 2012. He and his partner, Sharon Smith, remain shareholders in RLH Corp. The Smith-Barbieri Progressive Fund, the charitable foundation they started, also is a shareholder.
"In general, we say we wish them well," Barbieri said during a phone interview.
"I was on the board for 43 years either as president or chairman. While we did a great job in building what I believe was a very wonderful company and I'm proud it was headquartered in Spokane. … Greg and his team now have developed a very different business model. I think they've done a phenomenal job in doing that," Barbieri said. "I'm not surprised they would seek a more central location."
When Mount took over leadership of RLH Corp. several years ago, most of the Red Lion -branded franchise properties were in the Northwest. At the time, Spokane was a logical location for the corporate headquarters, Mount said.
But as the company has expanded its brand of Red Lion hotels across the U.S. and Canada, Denver's direct flights to domestic and international cities provide better access for franchisees, vendors and hotel partners who need to visit the corporate office, Mount said. The Denver area also provides a bigger labor pool of prospective employees, he said.
Second-quarter report
RLH Corp. franchises hotels in the upscale, midscale and economy markets. The company closed on 44 franchise agreements during the second quarter and expects to execute between 100 and 120 franchise agreements this year.
The company reported a net loss for the second quarter of $100,000 on revenue of $48.5 million. The results compared to $200,000 in income during the second quarter of 2016.
RLH Corp. also is considering a sale of TicketsWest, the entertainment segment of the company's business.
"We're always looking for opportunities. If we got the right price, we would sell that asset," Mount said.
Entertainment revenue declined from $7 million to $2.7 million in year-over-year second quarter results. Strong sales from "The Book of Mormon" shows were included in last year's results, and they couldn't be replicated this year, company officials said.
Since TicketsWest doesn't have a direct link to the hotel franchise business, RLH may consider selling it, Mount said.
Barbieri said he hopes Red Lion keeps a strong presence in Spokane.
"I also hope they grow into a great family of employees," he said. "We always valued our associates."
Local journalism is essential.
Give directly to The Spokesman-Review's Northwest Passages community forums series -- which helps to offset the costs of several reporter and editor positions at the newspaper -- by using the easy options below. Gifts processed in this system are not tax deductible, but are predominately used to help meet the local financial requirements needed to receive national matching-grant funds.
Subscribe now to get breaking news alerts in your email inbox
Get breaking news delivered to your inbox as it happens.
---