News > Washington
A skateboarding bulldog: Meet George, a very good boy
Aug. 5, 2017 Updated Sat., Aug. 5, 2017 at 8:45 p.m.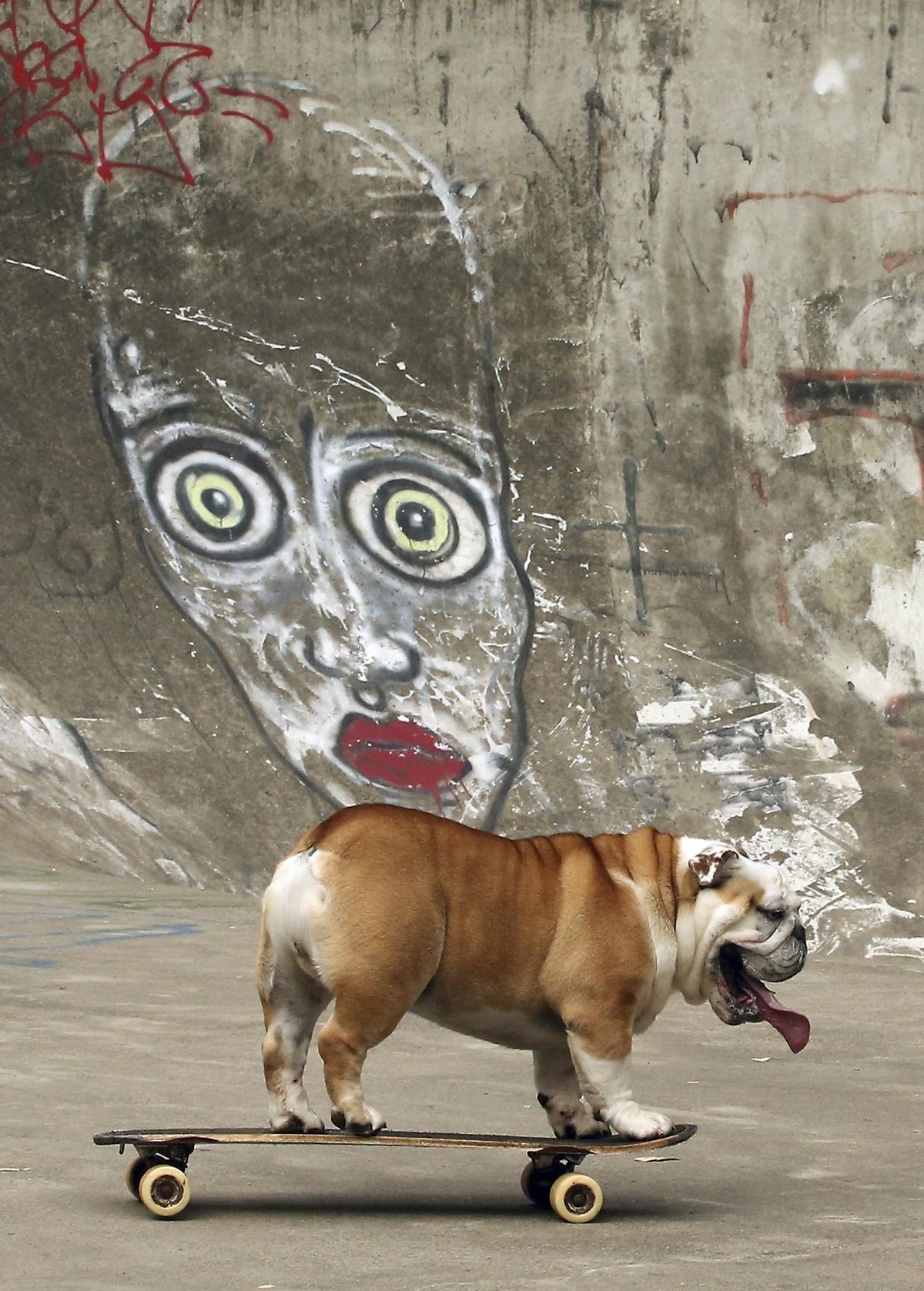 In this Friday, July 28, 2017, photo, George the bulldog rides a skateboard at Strawberry Hill Park on Bainbridge Island, Wash. Hes been skating since he was a puppy. (Meegan M. Reid / APKitsap Sun)
BAINBRIDGE ISLAND, Wash. – Unlike many dogs, George isn't partial to walks. His speedometer is used to a quicker pace, one with a touch more zip.
Tongue hanging out, slobber trailing from his maw, the 4-year-old bulldog gives a push with his hind legs, hops up onto his custom skateboard and begins to cruise. The wind in his hair, he boosts his roll with a single kick and coasts through the skate bowl at Strawberry Hill Park, in complete mastery of his board.
With a subtle lean, he makes a turn and rides up one of the bowl's slopes before gravity begins to pull him back. He steps off, turns around and quickly jumps back on as the board starts to roll in the opposite direction.
That's right, George is a skateboarding dog.
"He's obsessed," said Bainbridge's Marcus Singel, one of George's owners. "When we're done, we have to hide the board from him in the trunk of the car. It's not easy to get it away from him."
After the pup has skated for a bit, Marcus wrestles the board away from George, hangs it out of reach and encourages the dog to get a drink. A few minutes later George, now hydrated, returns and eyes the board eagerly, ready to shred again.
"It's his passion," said Marcus's wife Nadine, another of George's humans. "If he was a little boy, he'd be in the X Games. This is what he loves to do."
He's been skating since he was a puppy, Nadine said. He wasn't coaxed onto the board or encouraged to jump up there – he wasn't trained to skate at all, she said. He was first introduced to the idea when Nadine bought him a board that he'd push around.
"One time he saw a skater ride it and then he got up," she said. "And that was it. I've never given a single treat for him to do this."
George is a regular at Strawberry Hill and sometimes in one of the parking lots at Bainbridge High School. The bulldog often draws a crowd, and when he does, he makes sure to put on a performance.
"If it's just us, he rides, does his thing, but if other people come along, especially with little children, he kicks it up a notch," Marcus said. "He's like having a little kid. He knows the routine."
When his board flips over or rolls out of reach, George gallops after it, clamps his mouth on one of the wheels, tosses it upright and takes off again. While the saliva means the wheel bearings need to be changed regularly, George doesn't need much more help or encouragement to do what he loves.
"We've been watching him now for a few years," Marcus said, "and it still makes us smile every time we watch him."
Local journalism is essential.
Give directly to The Spokesman-Review's Northwest Passages community forums series -- which helps to offset the costs of several reporter and editor positions at the newspaper -- by using the easy options below. Gifts processed in this system are not tax deductible, but are predominately used to help meet the local financial requirements needed to receive national matching-grant funds.
Subscribe now to get breaking news alerts in your email inbox
Get breaking news delivered to your inbox as it happens.
---