News > Spokane
Then and Now: While Spokane burned, the city's water superintendent was in Coeur d'Alene doing boat repairs
Sun., Aug. 6, 2017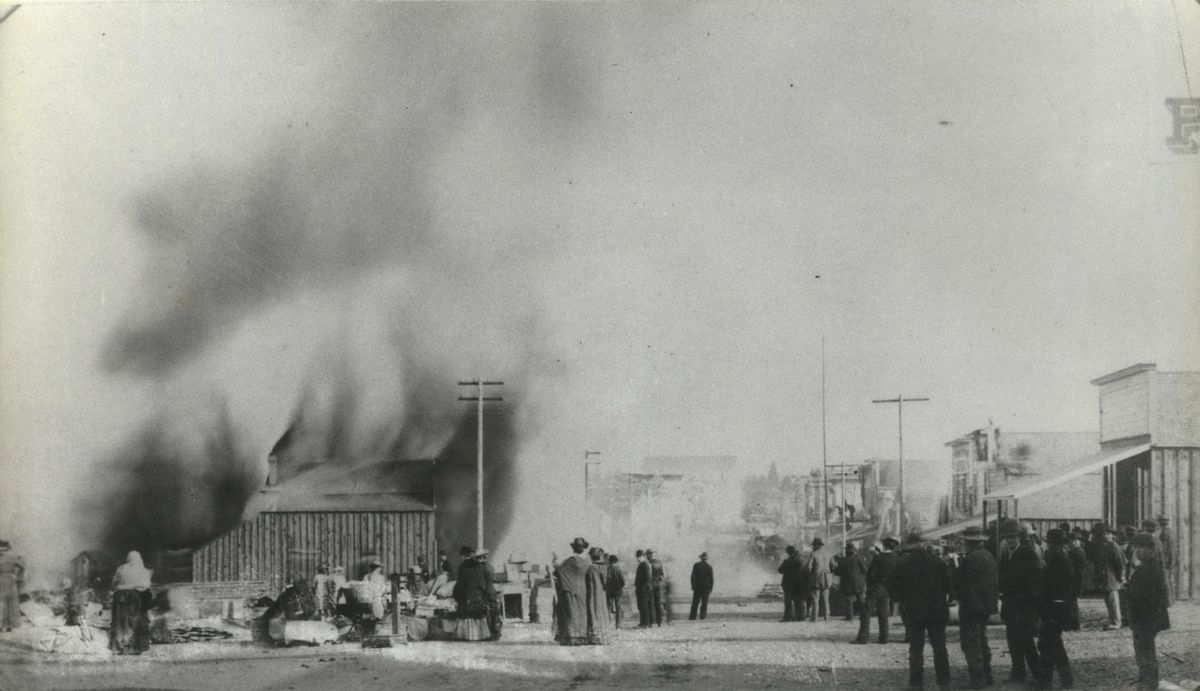 1889: This is one of the few photos in existence of the great Spokane fire of Aug. 4, 1889. This view looks north on Howard Street from Railroad Avenue, about one block east of where the fire started. The street was cluttered with furniture and goods that had evidently been cleared from the buildings that stood in the fire's path. Because water pressure was too low, people could only watch the flames engulf the city. (Eastern Washington State Historical Society / Eastern Washington State Historical Society)
The Northwest Museum of Arts and Culture used Twitter to tell the story of Spokane's great fire on the 127th anniversary of the conflagration that razed most of downtown Spokane on Aug. 4, 1889. Using the research of local historians, the tweets rolled out through the afternoon and into the night.
The first tweet mentions that Spokane's water superintendent, Rolla A. Jones, was in Coeur d'Alene doing repairs on his boat. Jones also ran a jewelry store.
Jones had built the first city waterworks plant the year before on Crystal Island, now called a Salish word for "salmon people" pronounced sin-HOO-men-huh, in the middle of the Spokane River. Before that, firefighting was little more than buckets and volunteers. The new waterworks incorporated a Holly Fire Protection System with a steam engine, pumps and hydrants.
Some thought that a bucket line could contain the blaze that started in a building on Railroad Avenue.
But the relentless flames hopped from building to building, devouring everything in its path, including the structure housing Jones' jewelry store. Some said that only Jones knew how to turn on the full pressure from the pumps. Businessman Charles Oudin wrote later, "everyone crying for water, no water."
The water pressure was so weak that, the Spokane Chronicle reported, "An ordinary garden hose would have been more effective in staying the flames." Jones resigned his post after the fire.
Despite the tragedy, he went on to build Upriver Dam for the city, which is still used today. Jones also operated a nursery at his home near the dam. Jones died in 1934.
The waterworks building was abandoned in 1896, when the city switched from river water to well water. The building deteriorated over the years and was removed for Expo '74.
In a 1989 recap of the big fire, Don Collin, grandson of Jones, said, "I don't think he should have been blamed. Was he supposed to be there 24 hours a day, seven days a week?"
Local journalism is essential.
Give directly to The Spokesman-Review's Northwest Passages community forums series -- which helps to offset the costs of several reporter and editor positions at the newspaper -- by using the easy options below. Gifts processed in this system are not tax deductible, but are predominately used to help meet the local financial requirements needed to receive national matching-grant funds.
Subscribe now to get breaking news alerts in your email inbox
Get breaking news delivered to your inbox as it happens.
---