Smoky skies persist as fires rage over a wide area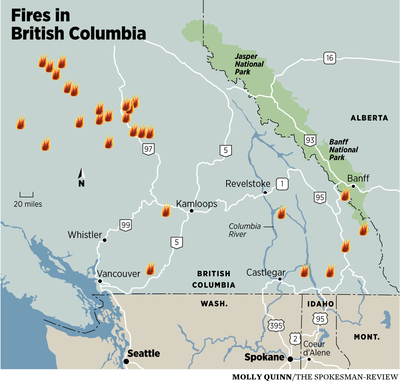 Wildfires raging across a wide area of the Pacific Northwest and British Columbia continued to keep skies smoky and polluted.
Air quality in Spokane got a little better Tuesday, but it was still in the category of unhealthy for sensitive persons.
The pollution on the air quality index went to 109 on Tuesday, down from the index reading of 152 on Monday, which was in the unhealthy for all category.
Air pollution in North Idaho was in the unhealthy for sensitive groups on Tuesday at several sites.
Ranil Dhammapala, of the Washington Department of Ecology, said that nine measuring sites in Washington have registered smoke pollution in the very unhealthy category, which starts at 200 on the air index.
Spokane so far peaked on Friday at 174 and Saturday at 171.
A northerly flow from Canada that began last week continued to pump smoke southward as a large and hot high pressure system bulged northward along the Pacific coast, officials said.
The weather pattern and hot weather are expected to hold through Saturday when skies may start to clear due to an advancing low pressure system and change in air direction.
"Eastern Washington will have to wait until about Saturday," said Dhammapala.
An air quality alert is in effect until then. Highs will continue mainly in the 90s until Sunday.
A weak disturbance over the Okanogan region Tuesday brought a thunderstorm and risk of heavy rain. The National Weather Service issued a flood advisory for an area east of Omak.
Thunderstorms are expected in the mountains each afternoon this week. Forecasters said they could trigger slides, especially in areas burned in recent years.
Twenty-six fires were burning in British Columbia on Tuesday. Nearly 1.5 million acres have burned in the province since April 2017 in 892 separate fires, according to CKNW radio.
There are an estimated 7,000 residents displaced by fire. Another 26,000 are on notice to leave.
Canadian firefighters were being joined by crews from four other countries, including the U.S., according to online report from the station.
Closer to home, Washington has seen a huge increase in fires with 699 occurring since April 1. Nearly 90 percent of the fires were human caused, more than the typical 50-50 split.
"We need people to be very careful out there," said Traci Weaver, of the U.S. Forest Service in a conference call with news reporters on Tuesday.
The Noisy Creek Fire at Sullivan Lake continued to burn, forcing a Level 1 evacuation order for a campground and residents northwest of the Noisy Creek Fire, which has overtaken much of the hilly, tree-filled area just east of Sullivan Lake in Pend Oreille County. The 3,120-acre fire began July 15, when rolling thunderstorms blanketed the region.
Some of the B.C. fires started with the same system, which only spit a few sprinkles in Spokane.
Fire crews are continuing to attack the fire on the northwest corner, which is closest to the lake's recreational areas. Kris Rietmann, spokeswoman, said teams will conduct "proactive burnout measures" Tuesday and construct additional fire lines.
"Today's operations will focus on that corner," she said Tuesday morning. "We're going to be doing some aerial burnout operations today as well."
Rietmann said the fire was 27-percent contained Tuesday.
There have been a total of six firefighter injuries, Rietmann said. Three have been struck by falling branches or snags; one was treated for dehydration; and two were unrelated medical issues.
There have been no injuries to citizens. No structures have been lost.
At the Diamond Creek Fire northwest of Winthrop, firefighters were having trouble gaining ground in difficult terrain with heavy fuels.
Smoke cleared enough for an ariel attack on Monday, but firefighters had to draw back on their containment area. They were concentrating on the north side of the fire, which was burning toward the Canadian border, Weaver said.
They were also trying to stop the fire from advancing on Winthrop.
Also, shade from the thick smoke was helping suppress the heat, giving firefighters some assistance, officials said.
The battles in Washington were also being aided by Type 1 federal fire teams, said Bob Johnson with the state Department Natural Resources.
Five active fires are burning in the Nez Perce and Clearwater national forests in Idaho.
Four fires are burning in the Kootenai and Lolo national forests of western Montana.
Ten federal forest fires are burning in Oregon, including a 52,000-acre fire near Burns and a 4,600-acre fire in Crater Lake National Park.
---