Sports
Cougars headed home early … and other observations from Day 8 of fall camp
Wed., Aug. 9, 2017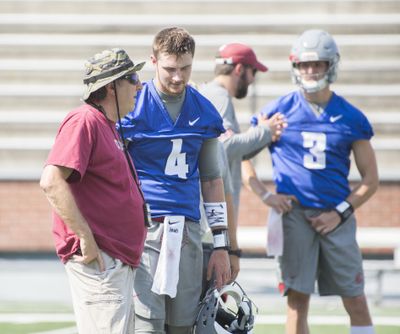 LEWISTON – The Washington State football schedule is frontloaded with home games this season – five of the seven are in the month of September – and Cougar coach Mike Leach wants to make sure his players get all the reps they can inside Martin Stadium before the Sept. 2 opener versus Montana State.
So the Cougars are returning to their home fort earlier than planned and rather than practice Friday afternoon at Lewiston's Sacajawea Junior High, they'll bus to Pullman and scrimmage at Martin Stadium Friday evening. The mock game will start at 7:30 p.m. and be open to the public.
"It's just a good transition time, middle of the day," Leach said Wednesday after the Cougars finished their eighth day of fall camp and their sixth day in Lewiston. "And then also we'll be playing on that surface for five straight games to start out, so that helps."
WSU will practice at Sacajawea for the final time Thursday at 2. It's generally been a productive week in the Lewiston Orchards for the Cougars. So Wednesday's workout, more lethargic than the rest, was something of an outlier.
"I thought we were sluggish," Leach said. "I thought overall we were sluggish. I thought the defense played better than the offense. … Not only did they win team (period), but I thought they won team by a bigger margin than our scoring system would suggest."
The Cougars may finally be feeling the effects of eight straight days of nonstop football – camp can be a grueling ordeal and the region's air quality isn't getting any better.
Here are some other notes and observations from Wednesday's full-pads practice…
– It feels like the battle at nickel between Kirkland Parker and Hunter Dale won't be won any time soon and I wouldn't be surprised if we see "Parker OR Dale" on the Game 1 depth chart. It seemed like Dale was spending more time with the first unit early in the week, but Parker got his run with the ones Tuesday and Wednesday. Tuesday, he picked off Tyler Hilinski during the one-on-one period, then stripped the ball from receiver Jamire Calvin during the red-zone portion of skeleton. Dale was beaten badly Wednesday by running back Jamal Morrow, who side-stepped the defender after catching a dumpoff from Hilinski. But I wouldn't read into any of that and still insist this duel goes down to the wire.
– Robert Lewis was back in the slot ater missing two days of practice with a lingering illness that also caused him to miss Saturday's practice. Lewis returned for Sunday's session, but sat out Monday and Tuesday. Anyway, he's back and some of the impressive catches he made Wednesday would lead me to believe he's fully healthy.
– As promised by Leach a few days ago, the Cougars are experimenting with the second-unit offensive line. The coach voiced frustrations with the group Monday, so there were new faces across the line Tuesday and Wednesday. Nilsson Gaisoa and Keenen King both saw snaps with the second team each of the last two days.
– Isaiah Johnson-Mack made enough highlight plays in two hours for an entire reel. First, the Floridian caught a tight, high spiral from Luke Falk during 7-on-7 with Zaire Webb practically hanging onto him. Johnson-Mack then made another tough catch on the far sideline during skeleton period, causing outside receivers coach Derek Sage to mutter "Kid plays his balls off." Johnson-Mack closed things out in the team period on a fade route that saw him make an over-the-shoulder touchdown catch with corner Josh Talbott guarding tightly. Life in the post-Gabe Marks era might not be so bad after all.
–The offensive line didn't provide great protection during team period, letting Daniel Ekuale slip through the cracks for a sack on Hilinski on the first drive. Then starting right guard B.J. Salmonson gave defensive end Hercules Mata'afa a lane to Falk for an easy sack later on.
– Keith Harrington took a 25-yard screen pass from Hilinski to the house after Tavares Martin Jr. broke him loose with a superb block on the left sideline.
Local journalism is essential.
Give directly to The Spokesman-Review's Northwest Passages community forums series -- which helps to offset the costs of several reporter and editor positions at the newspaper -- by using the easy options below. Gifts processed in this system are not tax deductible, but are predominately used to help meet the local financial requirements needed to receive national matching-grant funds.
Subscribe to the sports newsletter
Get the day's top sports headlines and breaking news delivered to your inbox by subscribing here.
---