Health care, Trump, North Korea feature prominently at McMorris Rodgers' town hall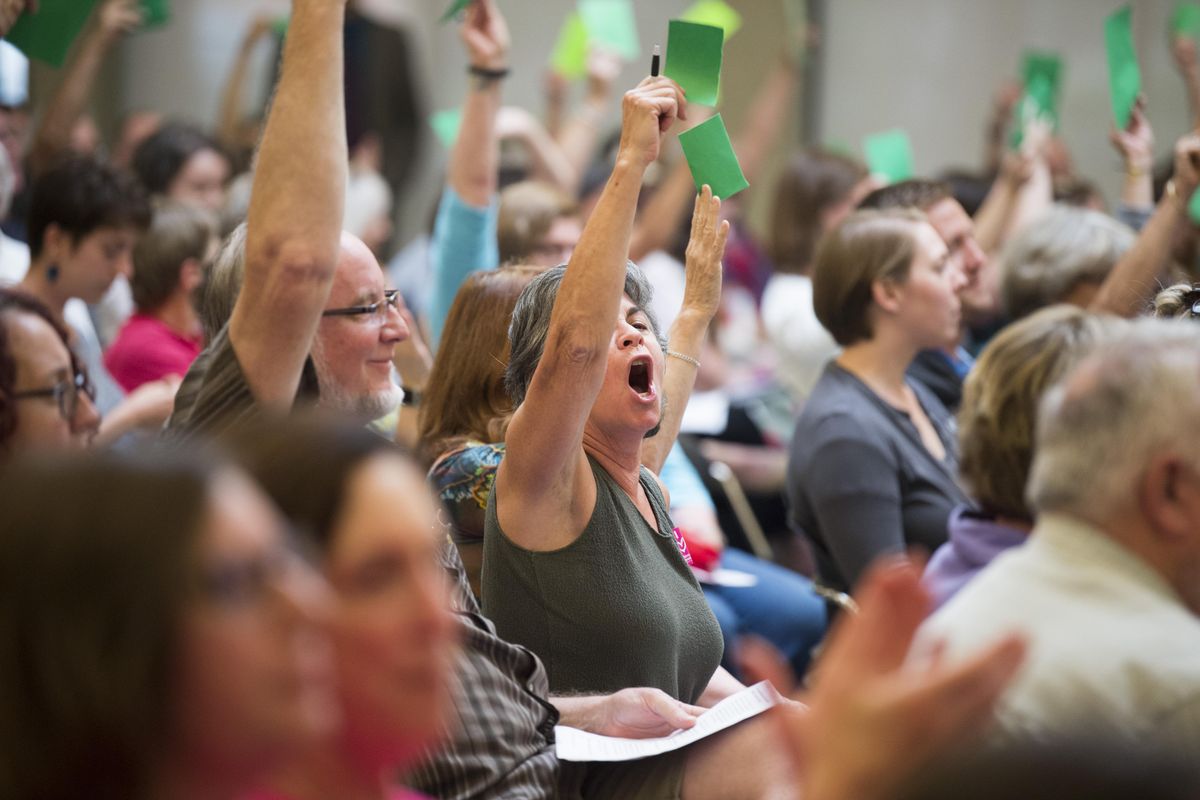 Those attending Rep. Cathy McMorris Rodgers' first town hall since the 2016 election may have had to preregister, but that didn't deaden the crowd's skepticism.
The fourth-ranking Republican in the U.S. House of Representatives faced pointed questions about her support for the GOP health care bill, President Donald Trump and the threat posed by North Korea from a crowd that frequently interjected and implored the congresswoman to directly answer the questions posed.
Before the 90-minute affair began, McMorris Rodgers said she expected disagreement.
"I think, at the end of the day, we need to remember we're all human beings," she said. "We all care about America. We care about our community, and we care about each other."
Many of those who stepped up to the microphone during the event, which took place before a crowd of several hundred in Cataldo Hall at Gonzaga University, accused Republicans of being uncaring in their passage of a health care law they said would leave the poor and older Americans without coverage.
"Why did you vote for a health care plan that does not vote for the same health care benefits that you get?" asked Deb Briggs, a South Hill resident who posed the first question to the congresswoman amid cheers from the largely partisan crowd. "There is no choice if just one American cannot afford it."
McMorris Rodgers said the GOP plan, which passed the House of Representatives on a strictly party-line vote but has yet to see a companion bill passed in the U.S. Senate, would address rising premium costs for Washington residents. She also said the existing health care law "wasn't working."
"I also believe programs like Medicaid are very important," McMorris Rodgers said. "It breaks my heart when people say we want to take Medicaid away from you."
The American Health Care Act, the bill McMorris Rodgers voted for, reduces Medicaid spending by $834 billion over the next 10 years below levels set by provisions in the Affordable Care Act, according to the nonpartisan Congressional Budget Office. In response to a question after the town hall about Medicaid spending, McMorris Rodgers said it would continue to increase if the law were passed, which is true, but spending would rise at a much lesser rate than under current law.
"People that were put on Medicaid, because they had no other option, should be given a choice to go into the individual market and find an affordable health care plan," she said.
But the bill gives states latitude to enact policies that could cause premiums to rise for older, poorer Americans, according to the CBO, which would lead to as many as 23 million people not being able to afford coverage by 2026. Some Republicans have disputed that number.
Some of the largest jeers of the night came when McMorris Rodgers discussed Trump, a president she has criticized on occasion but largely supported on major issues such as health care, the climate and foreign policy.
"I support Donald Trump because he's a disruptor," McMorris Rodgers said before being cut off by a man in the audience who swore loudly before being led from the room by security.
"We need to rethink our federal government from top to bottom," McMorris Rodgers finished.
Later, a woman asked if the congresswoman believed Trump was "mentally stable."
"Donald Trump was elected president," McMorris Rodgers responded, drawing both boos and cheers.
Outside the town hall, about a hundred protesters lined Sharp Avenue with signs and bullhorns, and remained throughout the event in the smoky, August twilight.
Signs held by the protesters expressed support for science and health care, and urged people to "Repeal and Replace Cathy." Many cars driving down the road honked as they went by.
Lamont Worden, a retired emergency room doctor and Air Force veteran, said he was there because he's concerned about health care.
"I feel like Cathy McMorris Rodgers doesn't represent us anymore," he said. " She's a clone of Trump and (House Speaker Paul) Ryan."
Worden said he's an independent, but will work to see that McMorris Rodgers does not get re-elected. "I think we have a chance this time," he said. "I'm going to do anything I can to get her out of office."
Grant Peterson, a member of the Stevens County Republican Party attending the town hall from Chewelah, asked McMorris Rodgers what she would do to ensure the United States was prepared to respond to the threat from North Korea.
"We passed a major defense bill out of the House that really is a down payment on rebuilding our military," the congresswoman said, referring to a $696 billion package that passed in July with the support of 117 Democrats.
McMorris Rodgers said the United States should explore diplomacy first with North Korea, referring to another House vote to impose strict sanctions on the country.
"If we go down that path, the loss of life is going to be catastrophic," she said of military force. "We've got to stay focused on doing everything we possibly can to deliver the message and implement the sanctions."
Earlier, McMorris Rodgers had praised Trump "taking very seriously" the North Korea threat.
Peterson said he appreciated the congresswoman's answer, and praised her poise in front of a partisan crowd Thursday night.
"I thought, overall, most people were respectful and restrained themselves," Peterson said.
McMorris Rodgers said after the events she'll continue to hold town halls in the district, something other members of party leadership in the House of Representatives have said they won't do because they're not constructive.
"I'm encouraged with the crowd, the people that came out," she said. "We covered a lot of different issues."
Staff writer Nina Culver contributed to this report.
---