Sports > Outdoors
Trio stands up to paddle Spokane River's 112-miles in four days
Aug. 10, 2017 Updated Thu., Aug. 10, 2017 at 6:59 a.m.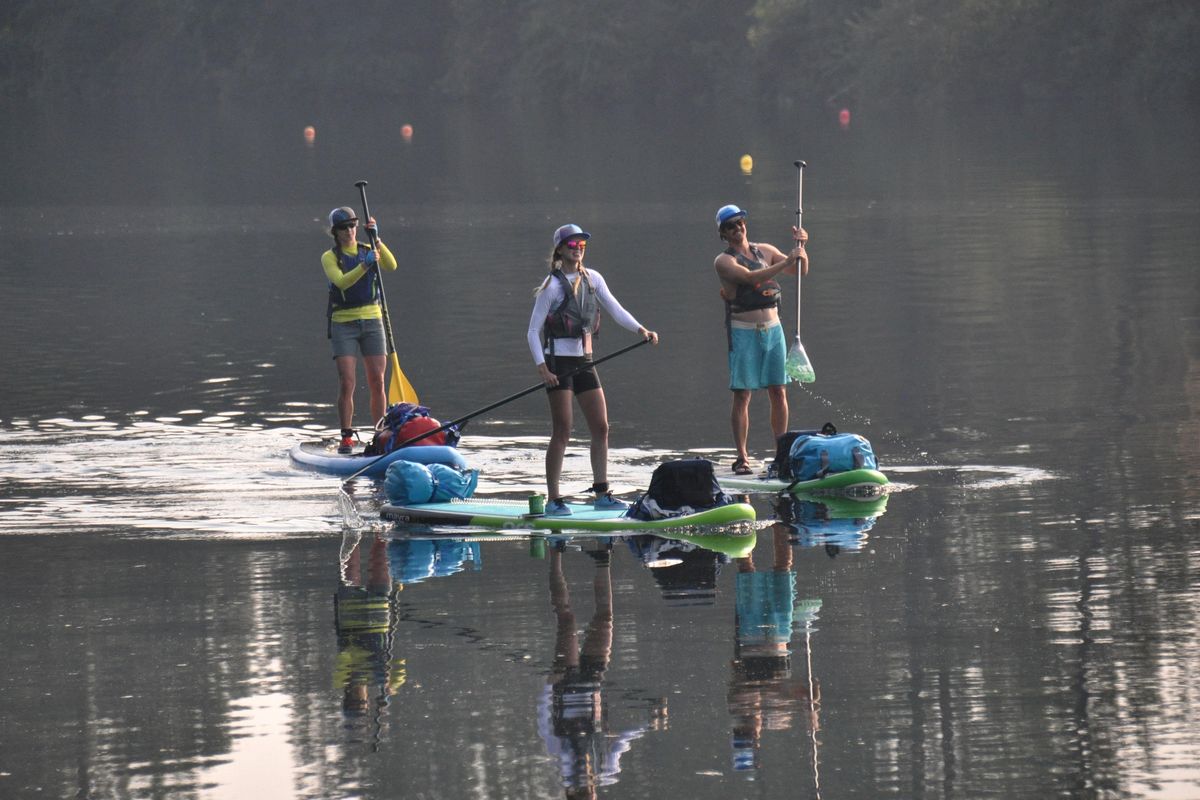 Grace Robison, Allison Roskelley and Jed Conklin navigate their SUPs on a flatwater stretch of the Spokane River on Aug. 5, 2017, during a four-day trip to paddle the entire 112 miles of the river. (Rich Landers / The Spokesman-Review)
Allison Roskelley's ankles were swollen from standing on a water-borne "plank" 12 to 15 hours per day, four days in a row. Jed Conklin was suffering occasional spasms in his back. Grace Robison's left knee was scabbed with scratches from a thorny vine she'd snagged while trying to avoid a lush patch of poison ivy.
But the 112 miles of paddling, portages, glee and suffering was behind them Monday evening as they cheered and raised their paddles to the sky in blistered hands at the confluence with the Columbia River.
The trio had become, as far as they know, the first adventurers to run the entire length of the Spokane River on stand-up paddleboards.
"We had a discussion today on how we might have made this more fun," Conklin said, recounting the seven portages, including six hydropower projects. "Six days instead of four would be more leisurely."
They might have gone in late July before the skies were choked with wildfire smoke, before daytime temperatures spiked into the 90s, and while the river had more water to cover the boulder gardens.
But standing up to all the facets of the river was never going to be easy.
Former Spokane Parks outdoor program manager Mike Aho and his friend John Robinson paddled kayaks the length of the river in 2004 over the course of eight days, hitting some stretches through town in free time before or after work.
The SUPers would do the 112 miles in four days on inflatable boards that required standing up like a sail into headwinds and teetering like a totter as they high-centered in boulder-strewn riffles.
"When I first came up with the idea for this trip, I tried to figure out how many miles I could go per day," said Conklin, 40, a Spokane photographer and property manager. The deciding factor: "One of my good buddy's house is 28 miles from our start at the City Beach in Coeur d'Alene, and another buddy was exactly 28 miles down the river on Long Lake (Lake Spokane). It worked out perfectly!"
Conklin cached food and gear at both of those houses before the trip and the paddlers carried overnight essentials on their boards, plus sleeping bags and freeze-dried food they needed for one or possibly two nights on the Spokane Arm of Lake Roosevelt.
But they moved down the river smoothly, making 29 miles the third day, camping on the Spokane Arm of Lake Roosevelt and paddling 27 miles the fourth day to the confluence of the Spokane and Columbia rivers near Fort Spokane.
Conklin was joined by two fit partners up to the challenge: Robison, 24, of Coeur d'Alene, a former SUP instructor and a dental assistant aspiring to be a firefighter; and Roskelley, 30, a marketing specialist and fitness center bike spinning coach.
Although they were fresh, the first day on the river was the hardest, they agreed. The portage around Post Falls Dam wasn't that bad, but they were buffeted by headwinds and stressed by numerous tedious stretches of skinny water full of board-grabbing rocks.
It as after 7 p.m. when they floated under the Barker Road Bridge and entered Flora Rapids where it was impossible to avoid bumping boulders. They picked their way through, sometimes stepping off onto a boulder with one foot and pushing forward as though the SUP was a scooter.
The Spokane Valley portion of the River is heavily used by floaters seeking refuge from summer heat. "Between Barker and Sullivan roads, I saw a plethora of full beer cans on the river bottom, indicating some costly capsizes, I suspect," Conklin said.
After skirting Sullivan Rapids and getting under Sullivan Road Bridge, the technical test of the day was mostly over and the rest came down to endurance.
Using headlamps, they paddled under the Argonne Road Bridge in the dark and beached at a friend's house shortly before 10 p.m. "Cheeseburger, beer, crash," Conklin said.
Day 2 started on the peaceful morning flatwater over the reservoir backed up behind Upriver Dam.
Roskelley was on a wider, longer, heavier SUP. "It's made for stability and doing yoga," she said. "It tracked well on flatwater but sometimes it was hard to maneuver through the rocks."
Robison's board was shorter and more maneuverable. "It was good in the boulders on the flowing water, but being a foot shorter that Allison's, I struggled a little to keep up on the flatwater," she said.
Conklin's board covered the middle ground, shorter than Roskelley's and longer than Robison's. His NRS Thrive, at 10-feet, 3-inches and 25 pounds is designed as an all-around board.
"It worked as well as you can expect," he said. "But anything is a compromise somewhere, sometime on the Spokane River."
They portaged around Upriver Dam, up through thorn bushes and down through tricky rip-rap boulders swaddled in poison ivy. Then they had to negotiate a 4-foot wide channel to reach the full flow of the river downstream of the hydropower facility before heading into the industrial stretch of the stream.
They saw some vagrant camps and rubble in the river from the era of using the river as a dump.
"We made a pit stop at No-Li Brewhouse just when they opened at 11 a.m.," Conklin said. "It's one of the pleasures of paddling through the city. I used my cell phone to call in our order so we could just pull our boards up from the river, have brunch on their deck – nachos, wings and a beer – and then we kept moving."
They paddled a total of 28 miles on Day 2, with rapids and four portages.
A friend met them at Division Street with a vehicle for the portage around Riverfront Park to a Peaceful Valley put-in below Spokane Falls.
"This was our favorite stretch all the way down to Nine Mile Dam," Conklin said.
"You're right in the city, but it feels natural," Roskelley said. "We met a lot of nice people using the river and had some interesting water. The time flew by.
"People we'd meet would ask where we started and where we were going. The reaction was always some variation of 'What? No way!' "
The first good dose of pucker factor came at the Bowl and Pitcher area of Riverside State Park, where they had to drift under the swinging footbridge and paddle through the swift but shallow rocky riffles of the Devil's Punchbowl. Technically challenging, but no problem. They all rode through standing up.
Downstream, Conklin scouted Devil's Toenail Rapid and determined it was too rocky and dangerous on an SUP. They climbed up the slope through poison ivy, hauling their boards into the pines. The sun was beating down and the temp was 94 degrees.
Lugging her pack on her back and putting the board on her head, Roskelley focused like a tennis champ preparing to make a serve before taking the fist step on a dangerous slope of rocks.
With a deep breath, she said, "OK, let's do this." And they did.
"What's funny," she said later, "is that we dropped our guard after packing around Devil's Toenail and had a train wreck at the next little rapid just downstream," she said. "Grace and I both flipped. My gear was strapped on the board, so all I had to do was turn it over and get on again."
Nine Mile Dam was their last portage of the day, made with the help of another friend and a vehicle-assist. "We appreciated the lift on the paved roads, but there's no easy way down to the river right below the dam," Conklin said. "You have to take it easy, be careful, and we were tired."
They finished Day 2 in near darkness, leaving the flowing river behind and paddling through the lily pads to a friend's house near the top end of Lake Spokane.
"One of the many things that impressed me about the river was the different moods it has," Roskelley said. "For instance, the water is super creepy below the dams. The water boils and looks rather tame from a distance but up close the hydraulics are incredibly powerful and moving in all directions.
"I've been across a lot of country and climbed mountains, but water has another mind of its own."
Day 3 started on the other end of the spectrum with a mentally challenging flatwater paddle down Lake Spokane to Long Lake Dam.
"This might have been the hardest part of the trip for me," Roskelley said. "We had to work at breaking the monotony. There was the in-your-face wind, and every time we went around a bend, there was another bend."
"I started thinking about fishing," Conklin said. "I missed my fishing rod all through the trip. I saw some good trout fishing spots upstream and a huge, I mean HUGE northern pike near the Mission Bridge."
They could have camped at one of the boat-in campsites along the reservoir, but they pressed on.
"(Lake Spokane) became our 24-mile suffer fest," Roskelley said, noting that the ordeal would only get worse at Long Lake Dam, where a monster uphill portage to the road awaited them.
When they saw people in the cove before the dam they decided to give a shot at hitchhiking.
"They were, shall we say, enthusiastic partiers," Roskelley said. "The woman said she was headed to the smoke shop (on the Spokane Indian Reservation) anyway, so she agreed to give us a lift.
"It was pretty scary and we questioned our decision. They had clearly partied hard, but the man looked like he'd partied less hard and he got in the driver's seat.
"The lady got in and said, 'I've got a pistol if you guys try anything.' "
"It went OK and they saved us a three-hour grunt," Conklin said. "We gave them $20 to spend at the smoke shop and a big thanks."
Mention of the four-mile stretch of mostly flatwater from Long Lake Dam to Little Falls Dam brought a smile to Robison's face.
"Sweet," she said.
"Like another world," Roskelley said. "Another place I'd want to show friend."
But they had paddled 25 miles into the evening when they arrived at Little Falls Dam, the last big challenge of the day.
"The portage sucked," Conklin said. "But we felt a big sense of relief when we got around it. That was the last portage of the trip. We were in the home stretch – just 29 miles to go!"
They paddled a few miles before pulling out to camp on a small, sandy beach on the Spokane Arm of Lake Roosevelt. They boiled water for their freeze-dried meals. Under the smokey orange full moon they savored cold beers Conklin had cached near the dam in an ice-packed soft cooler before they started the trip.
Using the inflatable SUPs as mattresses, they slept hard after three long days of paddling.
"The planet could have burned up around me and I wouldn't have woken," Roskelley said.
Day 4 was an unknown as the river widened into a reservoir. A wind might hammer their pace to a crawl and force them to camp out another night.
"We just got after it, keeping our spirits up," Conklin said.
"Jed coached us on bird identification," Roskelley said. "We saw bald and golden eagles, grebes, mallards, great blue herons."
"I saw things on this trip I've never seen in all my time outdoors," Conklin said. "I've seen osprey dive before, but one osprey on this trip dove into rocky rapids 10 yards in front of my board and came up out of frothing whitewater with a fish. I don't know how the bird didn't break its neck."
On the Spokane arm, the paddlers saw a half dozen mergansers work together to herd a ball of baitfish into a shallow area for a feeding frenzy. "The teamwork was incredible," he said.
The day on the Spokane Arm went smoothly and they voted to power through an upstream breeze that was relatively mild in force but acting like a slow-cooking convection oven in temperatures that soared to nearly 100 degrees.
They whooped with joy when they could look down the last stretch to see the SR25 bridge across the mouth of the Spokane River.
From there it was a short paddle out to the confluence with the Columbia, where they celebrated on the familiar inflatable platforms that had become extensions of their feet. Then they paddled back to their take-out at Two Rivers Marina.
The trio emphasized that having a good blend of personalities helped them power through the misery sections of the Spokane River trip. "Jed was the motivator who kept things moving and we all stayed positive and looked out for each other," Roskelley said.
They said their trip likely will generate a buzz that will get other people thinking about the river that flows from Coeur d'Alene through Spokane and on to the Columbia.
"People have a reluctance or even a fear of trying new things," Roskelley said, noting that the Spokane River from beginning to end was certainly new to her, and that she puckered up more than once along the way.
"But when you get yourself out there into something new, your suffer bucket just gets bigger. You find yourself being more confident and dreaming of other possibilities and even bigger things."
Roskelley's husband is an accomplished climber, and her father-in-law, John Roskelley has been hailed as one of the best in the world in the 70s and 80s.
"When I got into this Roskelley family, I couldn't quite understand how Jess would come back from an expedition completely wrung out, skinny with weight loss and then in a week or so he'd be excited about what he'd done and even more stoked about what he was going to do next.
"Now I know what that's all about. I'm swollen and starved, I have blisters, and I'm so stoked for the next one, whatever it is, and adding new people and places to our adventures."
But she's not over this Spokane River trip quite yet.
"When I was in the shower with my eyes closed washing my hair this morning, I felt myself being on the board rocking with the waves."
Local journalism is essential.
Give directly to The Spokesman-Review's Northwest Passages community forums series -- which helps to offset the costs of several reporter and editor positions at the newspaper -- by using the easy options below. Gifts processed in this system are not tax deductible, but are predominately used to help meet the local financial requirements needed to receive national matching-grant funds.
Subscribe to the sports newsletter
Get the day's top sports headlines and breaking news delivered to your inbox by subscribing here.
---