News > Idaho
Idaho think tank defends conservative speaker, GOP distances
Aug. 18, 2017 Updated Fri., Aug. 18, 2017 at 2:14 p.m.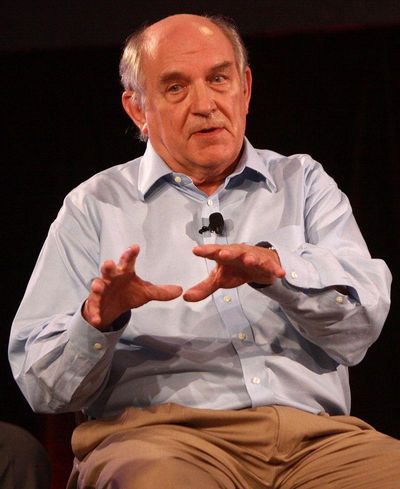 BOISE – A libertarian think tank with ties to Idaho's top Republicans is defending its decision to invite a conservative author criticized for what some have called racist views linking intelligence to class and race.
Social scientist Charles Murray has long been labeled a white nationalist by the Southern Poverty Law Center after the release of a book he co-authored in 1994, "The Bell Curve: Intelligence and Class Structure in American Life."
The Idaho Freedom Foundation booked Murray as their keynote speaker for their Aug. 26 banquet. Foundation Director Wayne Hoffman says Murray's a great man who rejects the SPLC's description.
"Racism is evil, and deserves to be called out. But so is intimidation – cloaked as "activism"– that seeks to shut down free speech and marginalize and malign anyone with the slightest divergence of opinion," Hoffman wrote in a Friday column. "Just because a person is white and talks about or studies race doesn't make him or her racist or a white nationalist."
In the wake of the deadly white-nationalist rally last weekend in Virginia, the foundation was forced to find a new location after a Boise hotel declined to host the banquet because of Murray. A speech by Murray earlier this year at Vermont's Middlebury College was shouted down by angry protesters. Sixty-seven students were sanctioned after the protest.
Murray has been criticized for nearly two decades over The Bell Curve's core assertions – that IQ levels adequately measure human intelligence, that heredity largely determines intelligence and that government programs can do little to improve the IQ-impaired.
However, the book also includes large sections of factual data points not in dispute. For example, social scientists agree that blacks have consistently scored lower than whites on IQ tests and that intelligence can be influenced by both environmental upbringing and heredity. It's the interpretation of the data that has caused the main source of contention.
The Idaho event is expected to draw statewide GOP candidates, including congressional and gubernatorial candidates who are all vying for the coveted base the Freedom Foundation attracts.
Yet many of the candidates who plan on attending the event were quick to point out they support the foundation's work but had no influence in choosing the speaker when contacted by The Associated Press on Friday.
"Congressman Razl Labrador has always supported the Idaho Freedom Foundation's mission to promote fairness, individual freedom, and free-market solutions to Idaho's biggest challenges, which is why Razl has consistently supported this annual event," said China Gum, Labrador's campaign manager.
Boise businessman Tommy Ahlquist, a first time GOP gubernatorial candidate, bought a table at the event but won't attend because he'll be at his daughter's wedding reception, said David Johnston, campaign manager.
Johnston added that Ahlquist absolutely rejects white supremacy and racism of any kind – specifically condemning the violence that recently took place in Charlottesville – but said Ahlquist is not familiar with Murray's writings.
Lt. Gov. Brad Little also won't be attendance due to a scheduling conflict. Campaign manager Zack Hauge said the Republican candidate wouldn't comment on the speakers private organizations invite, but added that Little does not support the idea that certain races are predisposed to lower or higher IQs.
Meanwhile, campaign officials with Republican Congressional candidate Dave Leroy said that Leroy absolutely disagrees with Murray's claims that members of certain races may be genetically predisposed toward lower IQ scores.
Leroy's opponent Russ Fulcher's campaign came out in support of the Freedom Foundation.
"Russ strongly believes that any individual can succeed in life regardless of their background or circumstances. Russ does not support the claim that people are genetically predisposed toward success or failure," said Steve Ackerman, Fulcher's campaign manager.
Both Fulcher and Leroy plan on attending the banquet.
Local journalism is essential.
Give directly to The Spokesman-Review's Northwest Passages community forums series -- which helps to offset the costs of several reporter and editor positions at the newspaper -- by using the easy options below. Gifts processed in this system are not tax deductible, but are predominately used to help meet the local financial requirements needed to receive national matching-grant funds.
Subscribe now to get breaking news alerts in your email inbox
Get breaking news delivered to your inbox as it happens.
---