News > Spokane
Veterans of Spokane region's civil rights confrontations wary of resurgent racism
Aug. 18, 2017 Updated Fri., Aug. 18, 2017 at 10:13 p.m.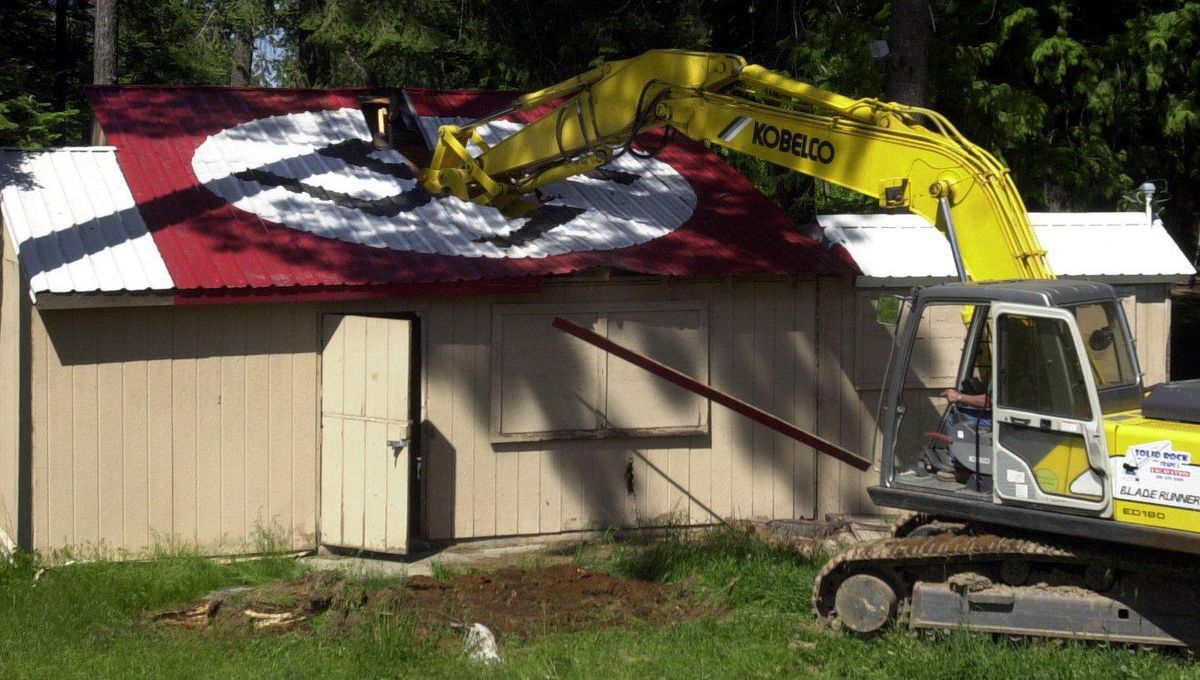 An excavator digs into a dilapidated cook shack which had a swastika on the roof at the Aryan Nations compound in Garwood Wednesday, May 24, 2001. (Jesse Tinsley/Spokesman-Review File Photo)
James Wilburn wasn't surprised to see white supremacists converge on Charlottesville last weekend. He wasn't surprised the rally – nominally a protest against the removal of a statue – turned violent. Then deadly.
He wasn't surprised because he sees the shadow of that hatred every day.
"All you have to do is ask the African-American students in our schools how many times they've been called the N-word," Wilburn said.
Wilburn, a former president of of the Spokane chapter of the NAACP, works for Spokane Public Schools, connecting and helping struggling students. Usually those he assists are students of color.
"All of the dark spots that have been hiding are coming to the forefront now because it has national support from the top," he said.
Longtime activists who have spent decades fighting hate and discrimination in the Spokane region expressed a mixture of anger and caution this week, but all were united on one point: the embers of rage that flared into violence last week have been smoldering below the nation's surface for a long time.
On another point, too, the response of most activists was unified: White supremacy, they said, should not be met with violence.
"Antifa. It's very scary," said local activist Rusty Nelson, citing the emergence of left-wing groups that have begun to appear at white nationalist counterprotests, often resulting in clashes. "(The group) doesn't have any nonviolent guidance."
Nelson, a longtime director of the Peace and Justice Action League of Spokane, said in the past outbursts of hate, or neo-Nazi ideation, seemed contained to a specific geographic area.
That's not the case anymore, he said, describing what he called a "nationwide phenomenon."
In the wake of Charlottesville, Nelson said, he's concerned that much of the response to the violence has encouraged or led to more violence.
"It's basically a new generation of responders, and you know, God bless them," he said. "I want them to be engaged but they can really miss some opportunities if they insist on going in there with an eye-for-an-eye mentality."
The tactics of antifa, whose name is a contraction of the word anti-fascist, diverge sharply from the methods of nonviolence employed by organizers like Dr. Martin Luther King Jr. and his supporters.
Spokane resident Cameron Kjeldgaard, who describes himself as ideologically aligned with antifa, broke with that philosophy. Confrontation and even violence, he said, can be an occasional necessity.
"It's about having a diversity of approaches," he said. "It's appropriate to approach those things in more than one way."
Tony Stewart, the co-founder of the Kootenai County Task Force on Human Relations, said the violence and unrest sweeping the nation has yet to metastasize in Idaho.
"Today in our locality it is the most peaceful that it has been in a long time," he said.
Stewart remembers the violence white supremacist Richard Butler and his followers perpetrated in the Hayden area in the 1970s and 1980s. There were bombings, intimidating rallies and death threats.
In response, Stewart and others created a robust organization that nonviolently monitored and stood up to the Aryan Nations' campaigns. Locally he thinks the network may be keeping the overt hatred at bay.
Keeping an eye on hate groups is key, Stewart said. He also emphasized the importance of working with law enforcement and the legal system.
"Make it very clear that if you commit any acts in that community, you're going to go to court," he said.
Part of what makes the current situation unique, Stewart said, is that there isn't a centralized place where white supremacists are meeting. Much of the conversation and organization is happening online.
That makes it easier for groups to swoop into communities for a rally or protest, blindsiding local organizations.
Former Washington State University College Republicans President James Allsup, for instance, has become a semicelebrity in so called "alt-right" circles, with influence that extends to his 15,000 Twitter followers and roughly 150,000 YouTube followers. Last week he attended the Charlottesville rally, capturing footage that was later uploaded to YouTube.
Liz Moore, the director of the Peace and Justice Action League of Spokane, sees the events of the last six months as a sort of wake-up call.
"It's really, really clear that total, overt, totally clear bias is absolutely a factor," she said.
Like Wilburn, Moore believes President Donald Trump has empowered white nationalists and and neo-Nazis, a segment of the population she believes was hidden for years.
"The silence that our dominant culture imposes and tries to maintain around racism and politics is a big part of the problem," she said.
She urged people to push their comfort zones. If able, Moore recommended engaging friends and relatives in discussion about racism and politics.
And, perhaps the most important thing, she said, is get involved politically.
Sandra Williams, the Eastern Washington representative of the Commission on African American Affairs, echoed Wilburn and Moore. The underlying issues of implicit bias and racism never left, she said. But she had hoped the culture had moved beyond large-scale, overt racism.
"It feels eerily similar to me," Williams said. "I thought we had gotten past this place. I certainly didn't believe it was gone in terms of the overt violence."
And that, she believes, can partly explain antifa's acceptance of more confrontational, or even violent, acts.
"I think when soft voices of reason are not listened to, then the voices get louder," she said. "So I see them as stepping into a void because the country is not dealing with racial issues."
Local journalism is essential.
Give directly to The Spokesman-Review's Northwest Passages community forums series -- which helps to offset the costs of several reporter and editor positions at the newspaper -- by using the easy options below. Gifts processed in this system are not tax deductible, but are predominately used to help meet the local financial requirements needed to receive national matching-grant funds.
Subscribe now to get breaking news alerts in your email inbox
Get breaking news delivered to your inbox as it happens.
---