News > Education
WSU's Elson S. Floyd College of Medicine welcomes inaugural class
Fri., Aug. 18, 2017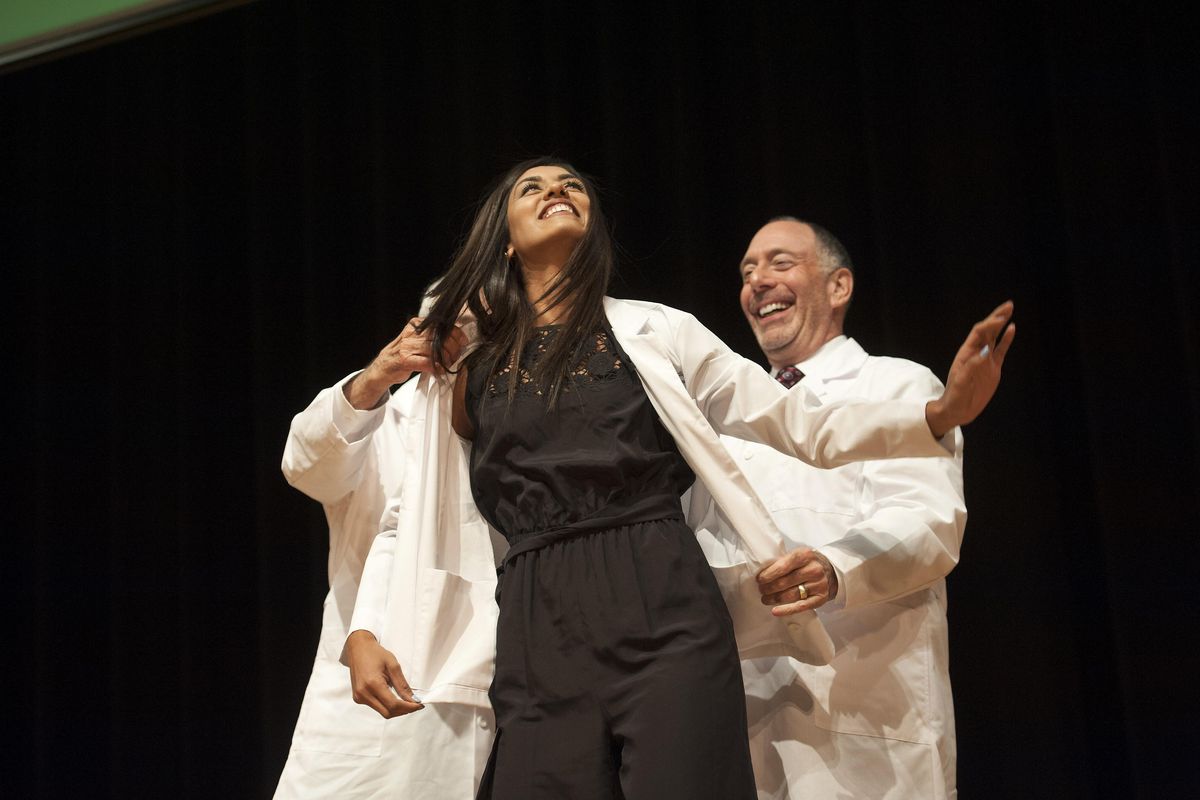 Ekra Rai smiles as she accepts the white coat from Dr. Larry Schecter, left, and Dr. Steven Grossman, right, during the Inaugural White Coat Ceremony of Washington State University's Elson S. Floyd College of Medicine at The Fox Theater on Friday, Aug. 18, 2017. (Kathy Plonka / The Spokesman-Review)
More than a dozen Washington State University deans, faculty and guests helped welcome the Elson S. Floyd College of Medicine's inaugural class at a ceremony Friday, where the 60 doctors-to-be donned white coats embroidered with the crimson cougar.
But the spirit of the event was best captured by Carmento Floyd, the widow of the former WSU President for whom the medical school is named.
"You are and will be the most important class, because you were first," she said, moments after graciously receiving a symbolic white coat through tears. "We expect greatness from you, and you must expect greatness from yourselves." Her remarks were met with a long standing ovation.
The event, which nearly filled the ground floor of the Martin Woldson Theater at The Fox, was much more than a celebration for future physicians. It was a recognition of the advocacy, persistence and vision from Floyd and others that led to WSU receiving approval to start the school in 2015.
"This is a moment I've been waiting for for a long time," Dean John Tomkowiak said.
The incoming class of 60 students are all from Washington, something touted repeatedly by college administrators.
"We don't even have an out-of-state tuition rate," WSU President Kirk Schultz said.
The hope is for the college to make a dent in the areas of Washington considered medically underserved – a list that includes some portion of nearly every county east of the Cascades. And not only rural areas; the list, according to the Washington Department of Health, includes all of Yakima and Franklin counties.
"We see a lot of things out there about the need for more physicians in our state, and this is a tangible step toward that goal," Schultz said.
He added that the university is lucky to be in a state where there's bipartisan support for investing in higher education.
At a time when many states are cutting funds from state universities, Washington taxpayers are funding about $66,000 of the $100,000 it takes to educate a single medical student for a year, Tomkowiak told students at an orientation ceremony Wednesday.
"The state, those 7.1 million stakeholders, are putting in $2 for every $1 that you are," he said.
It's a commitment the students have taken to heart. Following orientation on Wednesday, many members of the class said they wanted to attend WSU in part because of its focus on providing care to underserved parts of their home state.
"We wanted to be able to give back to the people of our state," said Christie Kirkpatrick, who's from Longview, Washington. "It's really cool to be around people who all care about the same things."
Following speeches Friday afternoon, each students walked across the stage to be cloaked in their own white coat. A display overhead broadcast an individual oath for each student about their commitment to becoming a doctor and the reasons for choosing the profession.
"It is a privilege to be trained in eastern Washington, where I plan to serve," wrote student Christina Eglin. Advocating for patients, treating others with compassion and giving back to a home community were common themes.
One student, Sye Jabbouri, wrote about the care shown to his Assyrian Iraqi family by strangers as they fled war at home, and said he wanted to bring that same care to his patients.
Washington poet laureate Tod Marshall read a poem he wrote for the occasion, which focused on the symbolism of a white coat as a honor to be earned.
"Today is beautiful plumage and honor. Tomorrow, your gentle actions, the music of your listening will bear out the honor of a coat's threads," he recited.
Local journalism is essential.
Give directly to The Spokesman-Review's Northwest Passages community forums series -- which helps to offset the costs of several reporter and editor positions at the newspaper -- by using the easy options below. Gifts processed in this system are not tax deductible, but are predominately used to help meet the local financial requirements needed to receive national matching-grant funds.
Subscribe now to get breaking news alerts in your email inbox
Get breaking news delivered to your inbox as it happens.
---