A&E > Food
Chill out with some of Spokane's best salads
Aug. 23, 2017 Updated Wed., Aug. 23, 2017 at 3:22 p.m.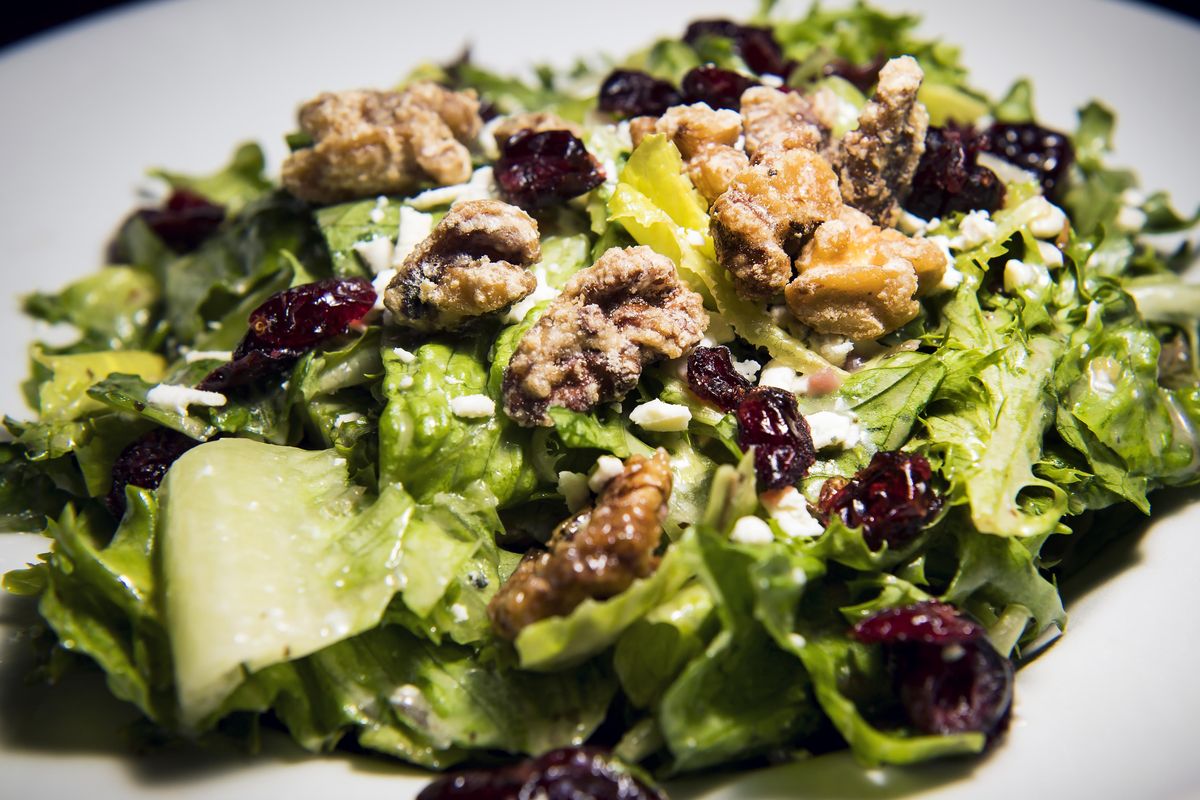 Twigs Insalada Mista House Salad. A blend of romaine and baby spring greens tossed with Gorgonzola crumbles, candied walnuts and dried cranberries in a red wine vinaigrette. (Colin Mulvany / The Spokesman-Review)
Salads in summer just make sense.
Refreshing and light yet also filling, they satisfy without weighing down, offering cooling cuisine for sultry summer days and nights. Fresh leafy greens and crunchy veggies are – at once – snappy and bright and totally chill.
Here are 12 signature salads to help you get through the last sweltering days of summer.
Sesame-Crusted Seared Ahi Salad at Mizuna
This salad, inspired by Asian flavors, features medium-rare ahi that cuts like butter. The chunks are rolled in black sesame seeds and sit atop a bed of baby spinach with shredded carrots, cucumber rounds, pickled ginger and a miso-sesame vinaigrette. This combination is refreshing and filling but not too heavy. It comes in whole or half orders on both the lunch and dinner menus. The dining room offers high ceilings, dim lighting and exposed brick walls. From May through September, choose to sit at one of the tables set up in the adjacent lovely little alleyway, set off with wrought iron gates and illuminated with romantic strings of lights. 214 N. Howard St. (509) 747-2004. mizuna.com
Seafood Cobb Salad at Hay J's Bistro
This little gem of a restaurant is set in a rather unlikely location – a gas-station strip mall in Liberty Lake – but don't let that stop you from enjoying its array of gourmet salads, including the popular seafood Cobb. It features grilled gulf prawns, langoustine and blackened ahi atop a bed of mixed greens with bacon, avocado, Gorgonzola, cucumber, tomato and hard-boiled egg dressed with Gorgonzola vinaigrette. And it isn't the only excellent salad offering at the bistro, named in honor of the chef's two children, Haley and Jackson. The Ladieu features wild greens, candied pecans, red grapes, red onion, goat cheese and huckleberry vinaigrette. The Rocket features arugula, Dijon vinaigrette, hard-cooked egg, bacon, scallion, Parmesan and pepitas. Dinner reservations are recommended. 21706 E. Mission Ave., Liberty Lake. (509) 926-2310. hayjsbistro.com
Chicken Panzanella Salad at Downriver Grill
Cubed bread adds heft and texture to this vibrant Italian-inspired offering, forever linked to the Old Country's thrifty practice of using up leftovers. Traditionally, panzanella was made with day-old or stale bread. Here, grilled bread is used – along with butter lettuce, tomato, fresh mozzarella, roasted red peppers, kalamata olives and portobello mushrooms. They're all tossed with a house-made lemon-feta-avocado vinaigrette that lends a zesty creaminess to this popular dish. Located along the main thoroughfare in Spokane's Audubon neighborhood, Downriver Grill is contemporary upscale eatery focused on seasonal, local offerings. 3315 W. Northwest Blvd. (509) 323 1600. downrivergrillspokane.com
Brussels Sprout and Kale Salad at Steelhead Bar and Grille
The enormous offering of leafy greens and sliced Brussels sprouts is tossed with apple cider vinaigrette, apples, candied walnuts and blue cheese. Whole and half orders are available. And chicken, shrimp or smoked steelhead can be added for another $5. Go for the namesake and add the smoked steelhead, making this hearty, crunchy salad even more filling. The dining room at this downtown Spokane restaurant features exposed red brick walls, high ceilings and a casual and comfortable atmosphere. During warmer months, opt to sit in the alley that the Steelhead shares with Mizuna. 218 N. Howard St. (509) 747-1303. steelheadbarandgrille.com
Crab Louis at the Palm Court Grill
The Historic Davenport Hotel in the heart of downtown Spokane claims the Crab Louis salad as its own creation. The hotel has been serving the Louis, also spelled Louie, since it opened in 1914. According to the menu, its signature salad was "created and made famous a century ago for Louis Davenport by Chef Edward Mathieu." In his book "The Life of a Chef," Mathieu includes a recipe for his special Louis dressing, made with mayonnaise, horseradish, ketchup and Worcestershire sauce. The salad features lettuce, tomatoes, hard-boiled eggs, crab, lemon and the special dressing. It's "loaded with tender Dungeness crab and still served according to the original recipe – with a dash of contemporary spice," the menu says. Its exact origins are actually uncertain, according to a quick Google search. The Wikipedia page for Crab Louis notes both Spokane and San Francisco as the possible birthplace. Either way, the Palm Court Grill – with seating in the hotel's gilded atrium that doubles as the lobby – is one of the most romantic restaurants around town. 10 S. Post St. (509) 789-6848. davenporthotelcollection.com
Broadway Pea Salad at Clinkerdagger
This signature salad is as much as a Spokane institution as the restaurant itself. Clink's has been a Spokane favorite for more than 40 years. And during those decades this dish has gained somewhat of a cult following. It's creamy, with a hint of white pepper, but water chestnuts provide crunch. The vegetal flavor of the peas comes through. And so does, of course, the salty smokiness of the bacon. Customers can make it at home if they like; Clink's has shared the recipe with The Spokesman-Review. When the weather's warm, enjoy the refreshing salad on the patio. Clink's has one of the best Spokane River views around. 621 W. Mallon St. (509) 328-5965. clinkerdagger.com
Roasted Corn Pasta Salad at The Elk
People come to The Elk for the roasted corn pasta salad, which is served as a side with sandwiches and other entrees. But the way folks rave about it, you'd think the Reuben – or Smash burger or Santa Fe chicken, pulled pork or lamb sandwich – was the side and roasted corn pasta salad was the main. It's creamy and tangy and, of course, offers the sweet and smoky flavor of roasted corn – which tastes a little like a summer picnic all year round. Wash it all down with one of the many brews on tap at this casual, comfy and cool neighborhood eatery in the heart of historic Browne's Addition. 1931 W. Pacific Ave. (509) 363-1973. wedonthaveone.com
Kale and Brussels Sprout Salad at Geno's Traditional Food and Ales
The signature salad at this casual University District pub features kale in a more manageable state than most. Instead of larger pieces of torn leaves, it's thinly sliced along with the Brussels sprouts, making for a verdant, crunchy and easy-to-eat entree. There's a creaminess to it, too. This comes from a classic vinaigrette dressing paired with Parmesan and almonds. So it somehow feels both healthful and decadent. And it comes in whole and half sizes. Geno's, part of the same local family of restaurants that includes The Elk – you can get that famed roasted corn pasta salad on the side here, too – aims to keep prices affordable for the neighborhood crowd, which includes lots of students from nearby Gonzaga University. 1414 N. Hamilton St. (509) 368-9087. wedonthaveone.com
Wild Sage Salad at Wild Sage American Bistro
The signature salad at this downtown Spokane staple features sweet organic lettuce and fresh goat cheese crumbles along with toasted Oregon hazelnuts. Of course, one of the Inland Northwest's iconic ingredients is featured, too – the vinaigrette is a huckleberry-balsamic. Reservations are recommended at Wild Sage, which bills itself as "comfortable fine dining" – and lives up to that claim. Try not to fill up on the complimentary – and completely wonderful – mini popovers with honey-lavender butter. And save room for the legendary coconut cake. 916 W. Second Ave. (509) 456-7575. wildsagebistro.com
Power Greens at Boots Bakery and Lounge
This casual and eclectic cafe, coffee shop and bar offers an array of vegan and gluten-free dishes and baked goods along with espresso drinks and craft cocktails. Order at the walk-up counter in front, then take a seat in a booth fashioned from vintage doors. The vibe is funky, mellow and whimsical. The Power Greens – earthy, bitter, spicy – are a mix of mustard, kale and chard. The salad is straightforward and zesty with a little crunch. In addition to leafy greens, seeds – sunflower and pumpkin – add texture. But the real magic is in the creamy, tangy dressing. The secret ingredient is nutritional yeast, which lends a cheesy texture and flavor, giving the vegan dressing an unexpected creaminess. Additional zing comes from lemon juice as well as granulated garlic. 24 W. Main Ave. (509) 703-7223. bootsbakery.com
Insalada Mista at Twigs Bistro and Martini Bar
This popular salad features romaine and baby spring greens tossed with sweet and crunchy candied walnuts, dried cranberries and a red wine vinaigrette. Gorgonzola crumbles add a salty tang and creamy texture. This salad comes in whole and half sizes. Twigs, a locally based chain, has multiple locations including the Wandermere restaurant with an expansive patio overlooking a water feature and the downtown restaurant on the second floor of River Park Square with views of the shopping center's atrium as well as downtown core. twigsbistro.com
Marinated Melon and Cucumber at Clover
This super-refreshing combination won't stay on the menu forever. New fall offerings are expected in early October. Meantime, this salad captures the essence of the summer. Gently sweet cubes of watermelon make up the base of this bright dish, topped with fresh basil. Chili and lime offer zing and tang – with just a little bit of heat. Feta lends a salty richness. Avocado adds a creamy texture. And pepitas give it a nice crunch. Clover, opened in 2012, is located in a Craftsman-style bungalow near the Gonzaga University campus. 913 E. Sharp Ave. (509) 487-2937. cloverspokane.com
Local journalism is essential.
Give directly to The Spokesman-Review's Northwest Passages community forums series -- which helps to offset the costs of several reporter and editor positions at the newspaper -- by using the easy options below. Gifts processed in this system are not tax deductible, but are predominately used to help meet the local financial requirements needed to receive national matching-grant funds.
Subscribe to the Spokane7 email newsletter
Get the day's top entertainment headlines delivered to your inbox every morning.
---