Prosecutor vows 3rd trial for two in Bundy ranch standoff case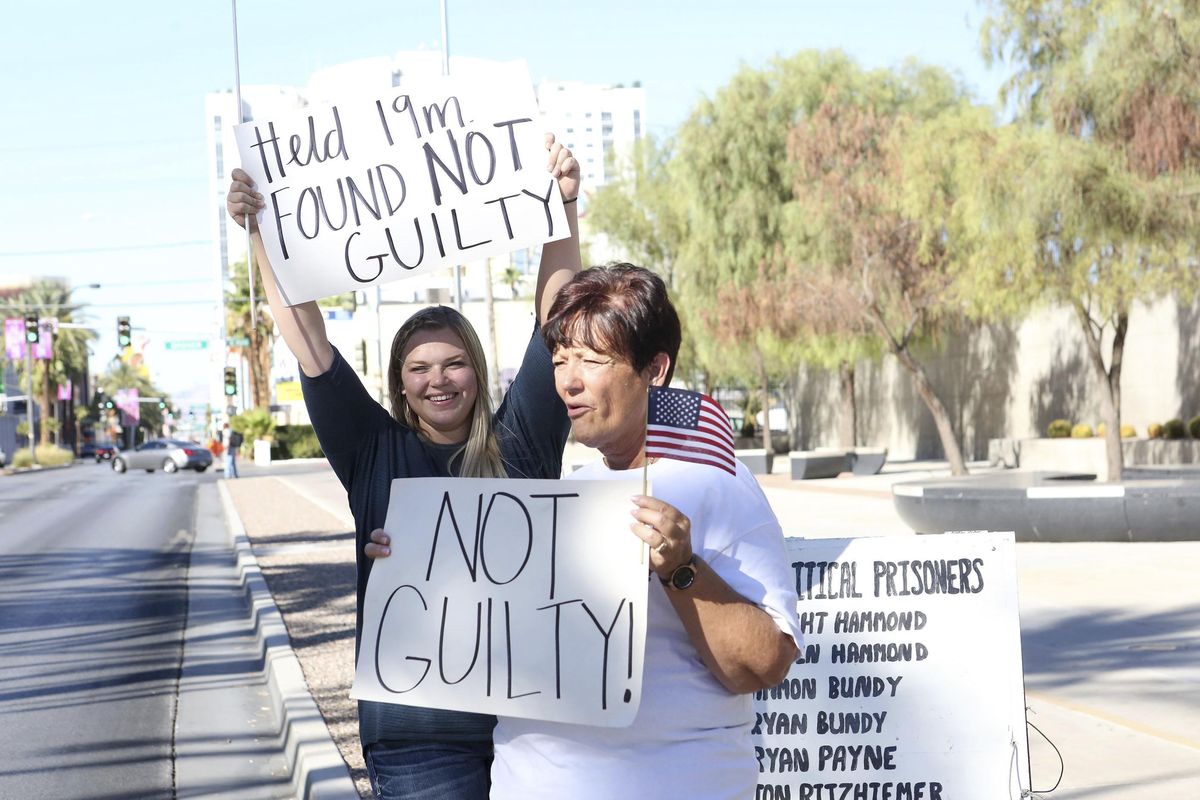 LAS VEGAS – The top federal prosecutor in Nevada vowed a third trial Wednesday for two men accused of armed assault on a federal officer in a 2014 standoff that stopped a cattle roundup near the ranch of states' rights figure Cliven Bundy.
"There's no question about us proceeding forward. Just so the record's clear," Acting U.S. Attorney Steven Myhre told Chief U.S. District Judge Gloria Navarro a day after a jury acquitted two defendants of all 10 charges but failed to reach verdicts on four charges against Eric Parker and two counts against Scott Drexler.
"Raising a firearm against a federal law enforcement officer, or any law enforcement officer, is a crime," Myhre declared as he lost a bid to keep the two men in federal custody until the next trial. "That's why we brought (Parker) to trial and … intend to try him a third time."
Parker and Drexler were photographed during the standoff on a high Interstate 15 freeway overpass near Bunkerville pointing rifles through concrete sidewall barriers toward heavily armed federal agents in a dry riverbed below. The agents were guarding corrals of rounded-up cattle and facing flag-waving unarmed men, women and children.
Navarro ruled that Parker, 34, of Hailey, Idaho, and Drexler, 46, of Challis, Idaho, can return to their home state to await trial, which she scheduled Sept. 25. She also scheduled an Aug. 31 hearing to determine if the date will stand.
Keeping the September date for the two men would mean another delay starting trial for Bundy, four of his sons and six other defendants who have been in federal custody since their arrests in early 2016 despite invoking their rights to a speedy trial.
The judge had set a schedule to begin trial this year for Cliven Bundy, sons Ammon and Ryan Bundy, and co-defendants Ryan Payne and Peter Santilli. Another trial for the remaining six defendants would be held next year.
"I just never expected they'd try them a third time," Bret Whipple, Cliven Bundy's lawyer, said Wednesday when he learned of Myhre's comments. "It's such a waste of taxpayer dollars, especially when they were so close to acquittal."
In all, the jury of six men and six women reached not-guilty verdicts on 34 of 40 counts. Ricky Lovelien of Westville, Oklahoma, and Steven Stewart of Hailey, Idaho, were acquitted of all charges, even though jurors saw photos of them with weapons as well.
No verdicts were returned on assault on a federal officer, threatening a federal officer and two related of use of a firearm counts against Parker, and assault on a federal officer and brandishing a firearm charges against Drexler.
Parker's attorney, Jess Marchese, said Wednesday that a juror who remained at the courthouse on Tuesday told him that votes were 11-1 for acquittal on the six hung charges.
No defendants were found guilty of a key conspiracy charge alleging that they plotted with Bundy family members to create a self-styled militia and prevent federal Bureau of Land Management agents from enforcing court orders to remove Bundy cattle from arid desert rangeland in what is now Gold Butte National Monument.
Bundy says he doesn't recognize federal authority over public land where he said his family grazed cattle since the early 1900s. His dispute echoes a nearly half-century fight over public lands involving ranchers in Nevada and the West, where the federal government controls vast expanses of land.
Lovelien and Stewart were in the crowded courtroom gallery Wednesday when Myhre recalled the tense April 2014 standoff. Bundy backers in the audience gasped as the prosecutor described Parker's actions as cowardly.
"He slithered behind the Jersey barrier to hide," Myhre said, invoking a lesson he said he learned during his service in the U.S. Marine Corps.
"There's nothing more dangerous than a coward with a weapon," Myhre said. "That's what we have here."
---