News > Crime/Public Safety
Shirtless BNSF coal train rider ticketed in Cheney
Aug. 23, 2017 Updated Wed., Aug. 23, 2017 at 10:37 p.m.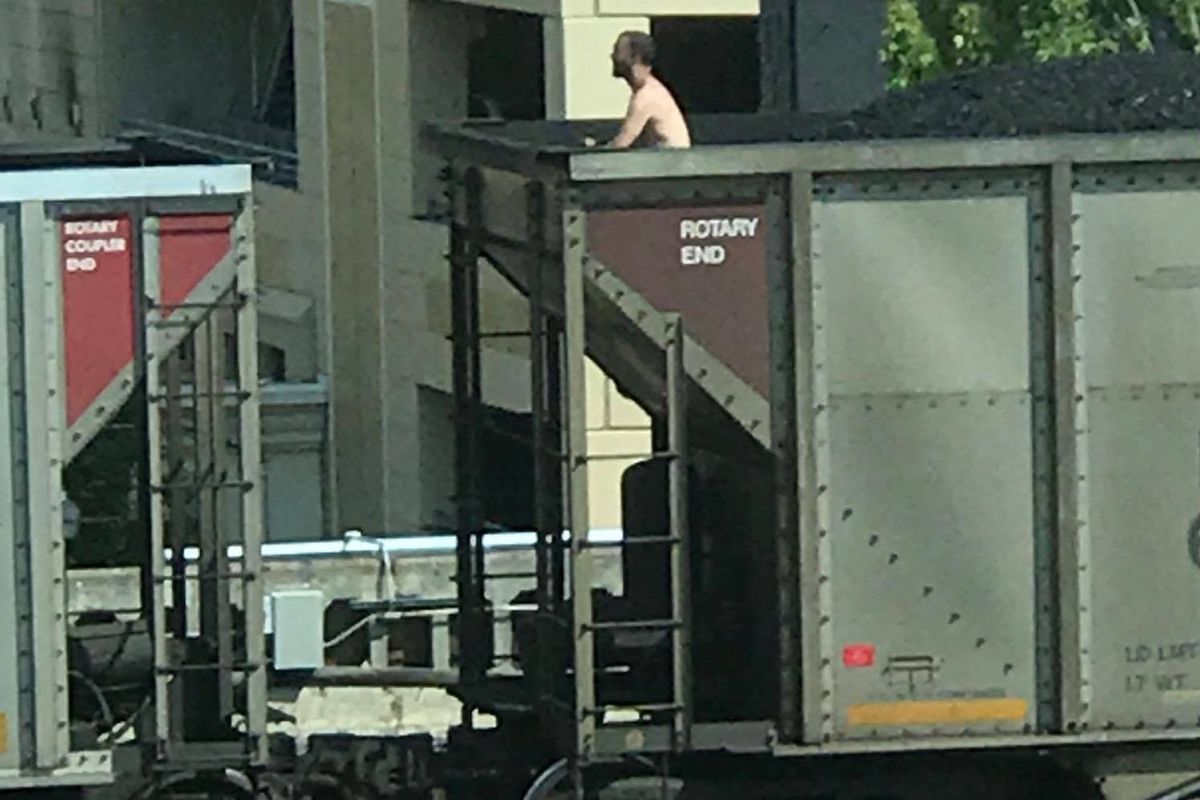 (Reader courtesy photo)
He was a sight to see Wednesday morning, sitting shirtless astride an open coal train car and riding it like a stagecoach teamster through downtown Spokane.
As he headed west, his free – and not to mention completely illegal – ride through the heart of downtown made him a piece of gossip on social media. Where was he going? Where was his shirt? How great will his view be when the train crosses High Bridge?
Gus Melonas, a spokesman with BNSF Railway Corp., said the unknown man's ride is no laughing matter.
"Trespassing is illegal. It's a criminal offense. It's extremely dangerous," Melonas said. "We've had 14 trespassing fatals in Washington this year" on BNSF tracks.
Melonas said "train hopping" is relatively rare in modern times, especially after the terrorist attacks of Sept. 11, 2001, when rail companies cracked down on trespassers. Throughout the Great Depression in the mid-20th century, such flagrant, vagrant migrants were more common and rail personnel turned a blind eye to them.
"In the olden days, railroaders turned their head. That doesn't happen anymore," Melonas said. "We've been regularly issuing citations since the late '80s when we started removing hobo camps, what were called hobo camps, or hobo jungles, even in Spokane."
The railway is strict on checking cars for unwanted passengers. Commissioned officers, K-9s and cameras are used to ferret out the freeloaders, but a citation is about as bad as the punishment gets. Melonas declined to say how many citations are given out by BNSF for the offense.
Melonas argued against romanticizing the guy on the train, and said the lives of people who hop on freight cars are nothing like the lyrics to "King of the Road" by Roger Miller.
"We've seen everyone from college professors to photographers to joy riders" ride the trains, Melonas said. "Subaru is glamorizing young kids riding in a boxcar. It's dangerous. Big trains can't stop. It's heavy equipment. The loads can shift. I've seen people that get their legs crushed."
The man with no shirt made it just a few miles Wednesday morning, unharmed.
"We stopped the train at Cheney," Melonas said. "The individual was removed by BNSF personnel from the train and issued a citation."
Next time he wants to ride a train, Melonas recommended Amtrak.
Local journalism is essential.
Give directly to The Spokesman-Review's Northwest Passages community forums series -- which helps to offset the costs of several reporter and editor positions at the newspaper -- by using the easy options below. Gifts processed in this system are not tax deductible, but are predominately used to help meet the local financial requirements needed to receive national matching-grant funds.
Subscribe now to get breaking news alerts in your email inbox
Get breaking news delivered to your inbox as it happens.
---