News > Religion
Slavic churches bring traveling Bible exhibit to Spokane
Sat., Aug. 26, 2017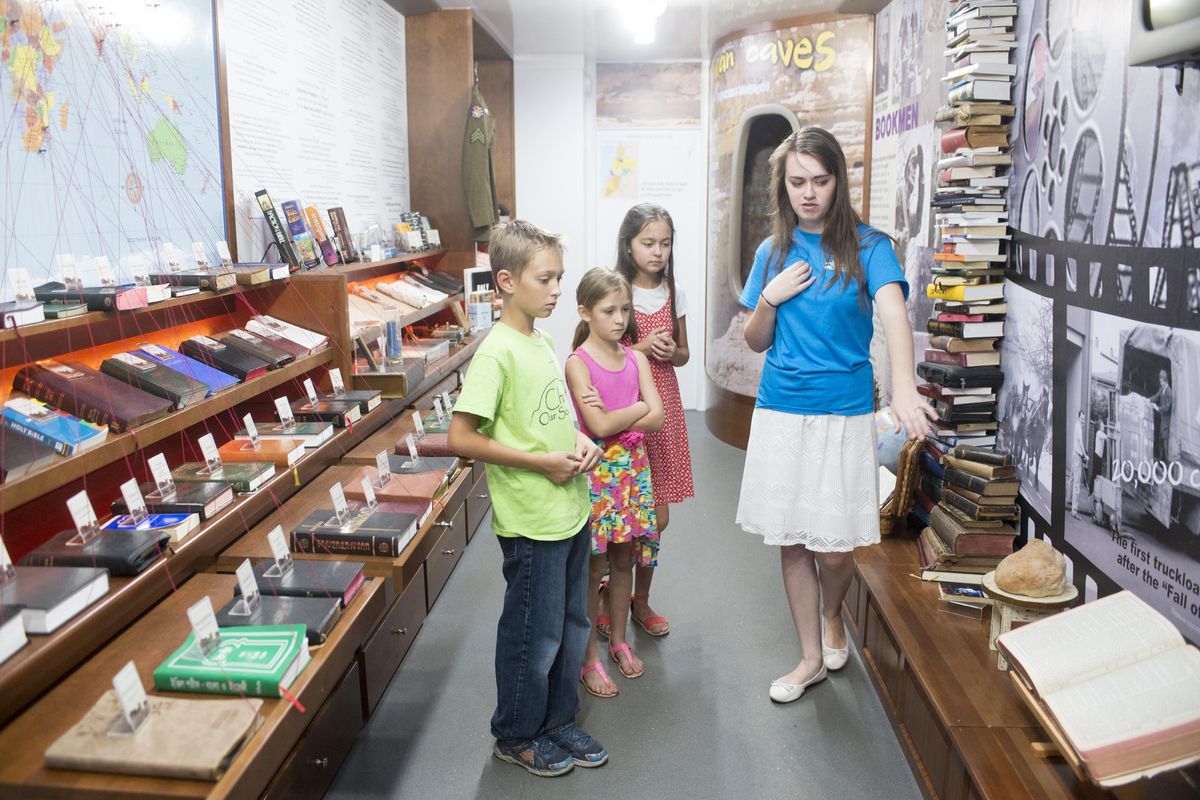 Oksana Krutikov, right, gives a group of children a tour through the traveling exhibit that explains the history of the Bible Friday, Aug. 25, 2017 at the Light of the Gospel Church in Spokane Valley. (Jesse Tinsley / The Spokesman-Review)
During the Soviet era, Christians went to great lengths to protect their Bibles from the Communist governments that cracked down on all religious activities, said Vladimir Kronin.
The Spokane Pilgrim Slavic Baptist Church pastor said he knows stories of Bibles baked into bread and hidden in gas tanks – stories that are still reality for Christians living in several parts of the world today.
But now that the American Slavic Christian community can proudly display and teach their faith, they're bringing the Bible Truck to town.
The Bible Truck is a 53-foot-long semitruck trailer converted into a mobile exhibition on the Bible, complete with educational posters, stories of persecution and "a clear gospel message that's embedded into the very core of this project," according to the installation's website.
With coordination from the city's Slavic community, the truck is spending about three weeks in Spokane and Spokane Valley, after which it will head to Wenatchee and Seattle.
Put together by the Minnesota-based Bible Mission Slavic, the Bible Truck intends to tour North and South America to spread the word of God – and about 30,000 people have gotten to see it so far, Kronin said. The truck has already been on the road for nearly a year, he said.
But before that could happen, Bible Mission Slavic needed to find the funds to put it all together. So two men, church leader Konstantin Andreyevskiy and videographer Denis Dolzhanskiy, turned to their community.
"In the Slavic community, we all kind of know each other," Kronin said.
Over the course of a couple of years, Bible Mission Slavic collected donations from churches like Kronin's until they finally had enough to start spreading its message.
Buzz about the truck's arrival in Spokane has been building since local Slavic churches printed 12,000 flyers, engaging their youth groups to distribute them throughout the city this past Sunday, Kronin said. However, even casual conversation has helped engage the community via word-of-mouth, Kronin said.
"I was talking to a cashier at Costco and I told them about the event," he said. "They said they wanted to bring their grandson. People get excited, they want to know the history there."
By showing exhibits detailing how the Bible came together, Kronin, who reads the Bible every day, said he hopes it will bring the Spokane community together to praise God.
John Repsold, the senior pastor at the Mosaic Fellowship in downtown Spokane, said he thinks the truck's exhibits will help fill in the knowledge gaps people may have about the Bible. He hopes seeing the exhibit will help reawaken people's spiritual interest in the book and what it teaches, and can present an opportunity for families to whom the Bible is special to share it with others.
"Learning the history can show how this book is different from all others," Repsold, whose church will host the truck in its parking lot, said. "Some people put it on the shelf like any other book. … (With the truck) they can see why people are willing to die for it."
Local journalism is essential.
Give directly to The Spokesman-Review's Northwest Passages community forums series -- which helps to offset the costs of several reporter and editor positions at the newspaper -- by using the easy options below. Gifts processed in this system are not tax deductible, but are predominately used to help meet the local financial requirements needed to receive national matching-grant funds.
Subscribe now to get breaking news alerts in your email inbox
Get breaking news delivered to your inbox as it happens.
---