News > Spokane
Main Avenue 'road diet' downtown gets City Council nod, traffic questions remain
Mon., Aug. 28, 2017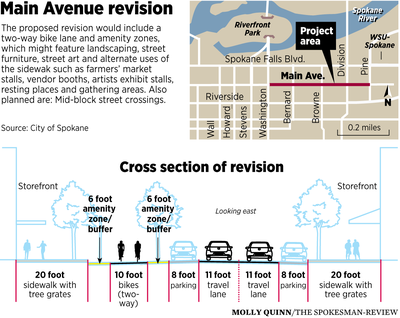 A "road diet" project through downtown's eastern core earned the full backing of the Spokane City Council on Monday night, though questions remain about which way – or ways – traffic will flow.
The panel unanimously approved a study calling for two lanes of vehicle traffic along Main Avenue that would feature the city's first separated bike lane and expanded sidewalk areas for events. Jointly funded by the Spokane City Council and developer Jim Frank, the plan will need to be incorporated into Spokane's downtown planning process and is still several years from becoming a reality.
Frank, who pitched the idea to the council Monday night, said after the vote that transforming the street would bring more housing downtown.
"There's a market for people who want to live in an urban environment," Frank, whose firm Greenstone Corp. is responsible for the Kendall Yards development, said. "There's not a product for them."
Several council members said they supported the idea, which supporters say will link the thriving University District with downtown, but would prefer to see one lane of traffic each way on Main. That preference was echoed by several property and business owners along the stretch, including John Waite, who owns two businesses on Main – Merlyn's Comic Books and More and Auntie's Bookstore.
"The consensus was, it would be a great idea to do the two-way," Waite said.
Centennial Real Estate, owners of River Park Square mall and the firm in charge of the $65 million project reinventing the old Macy's building as "The M," a mixed-use retail and housing high-rise, sent a letter to city officials in July requesting Main remain a one-way street. Centennial is a subsidiary of the Cowles Co., which also publishes The Spokesman-Review.
"There was a commitment when River Park Square was redeveloped that Spokane Falls and Main would remain one-way streets with at least three lanes of traffic. With more than two thirds of the retail core customers arriving by car, that need has not changed," wrote Betsy Cowles, president of Centennial Real Estate Investments, in the letter sent July 11.
Changing Main Avenue's traffic direction would leave only one eastbound lane heading out of downtown. Spokane Transit Authority's planned Central City Line will run along the stretch of road, with two stops planned within the improvement area.
City Council President Ben Stuckart, who worked with Frank in soliciting a design firm and pitching the street plan, said concerns about lane configuration shouldn't derail the project, and that they'd be sorted out following traffic studies that would occur as part of updating Spokane's downtown plan over the coming year.
"You can't let the perfect become the enemy of the good," Stuckart said. "This situation applies to that."
Frank agreed.
"I don't think it matters, in terms of what we're trying to do," Frank said. "Leave it one-way for now, and let it happen."
It's not yet known how much the project could cost, or when it would be built. Stuckart said those calculations will occur if the project moves forward in the planning process.
Local journalism is essential.
Give directly to The Spokesman-Review's Northwest Passages community forums series -- which helps to offset the costs of several reporter and editor positions at the newspaper -- by using the easy options below. Gifts processed in this system are not tax deductible, but are predominately used to help meet the local financial requirements needed to receive national matching-grant funds.
Subscribe to the Coronavirus newsletter
Get the day's latest Coronavirus news delivered to your inbox by subscribing to our newsletter.
---