News > ID Government
Otter names 5th District Judge Richard Bevan to Idaho Supreme Court
UPDATED: Tue., Aug. 29, 2017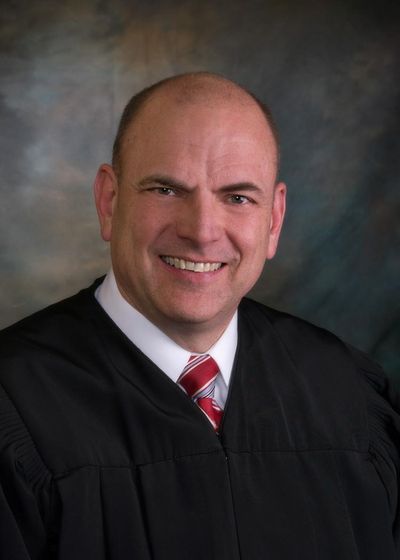 BOISE – Idaho Gov. Butch Otter has named 5th District Judge Richard Bevan of Twin Falls to the Idaho Supreme Court to succeed retiring Justice Daniel Eismann.
Bevan, 58, was among four finalists for the position submitted to Otter by the Idaho Judicial Council. The others were 2nd District Judge John Stegner of Moscow, 7th District Judge Greg Moeller of Rexburg, and Boise attorney Rebecca Rainey.
Eismann's retirement is effective Aug. 31, which is this Thursday.
Otter praised Bevan's "judicial demeanor, his sound and well-reasoned decisions, and his impressive knowledge and understanding of the legal issues that are most consequential to the citizens he serves on the bench."
"(Bevan) has consistently tackled tough, socially significant issues with an open mind and a determination to find solutions that protect both the community and the individuals who appear before him," Otter said.
Bevan, a native of Twin Falls, holds both bachelor's and law degrees from Brigham Young University. His bachelor's degree was in business management and finance. He has served as a 5th District judge since 2003, and currently is the administrative judge for the district.
He previously practiced law in Twin Falls as a partner in Hollifield & Bevan PA. He also served as Twin Falls County prosecutor.
As a judge, he helped establish and presided over the 5th District's mental health court for felony defendants with severe and persistent mental illness, and also presided over a Veterans Treatment Court established in 2015.
"I am honored and humbled to be chosen as Idaho's next Supreme Court justice," Bevan said in a statement. "I appreciate the confidence placed in me throughout this process. I pledge to act with all the power that I possess to be a faithful servant of the United States and Idaho constitutions, to the rule of law and to the people of the state of Idaho."
Bevan and his wife Pamela have five grown children.
Bevan was among those considered by Idaho Sens. Mike Crapo and Jim Risch for nomination as a federal district judge. That nomination ended up going to 6th District Judge David Nye of Pocatello.
The Idaho Supreme Court opening was much sought-after: applicants included six sitting district judges, one current Idaho Court of Appeals judge and six attorneys from around the state. Bevan will serve out the remainder of Eismann's term before standing for election in 2018 for a full six-year term.
When the 13 prospective justices were publicly interviewed by the Idaho Judicial Council last month, longtime council member Phil Reberger told Bevan his application was "the best I've read in a long time."
Chief Justice Roger Burdick, who chairs the council, told Bevan that when the council asks applicants for 5th District judgeships about role models they'd like to emulate, "Your name comes up 100 percent of the time."
"What do you think is the secret of being a good trial judge?" Burdick asked Bevan.
Bevan responded that he's always approached the role keeping in mind what it was like to be on the other side of the bench and to offer respect to those appearing before him in court. "That courtesy goes so far," he said. Plus, he said, "I take the time to lay out the rationale, the reasoning for why I'm ruling the way that I am."
That transparency, he said, helps instill confidence in the courts and their decisions.
Idaho's Supreme Court has five justices.
Local journalism is essential.
Give directly to The Spokesman-Review's Northwest Passages community forums series -- which helps to offset the costs of several reporter and editor positions at the newspaper -- by using the easy options below. Gifts processed in this system are not tax deductible, but are predominately used to help meet the local financial requirements needed to receive national matching-grant funds.
Subscribe now to get breaking news alerts in your email inbox
Get breaking news delivered to your inbox as it happens.
---