A&E > Food
Our picks for Pig Out: 10 booths worth visiting at Spokane's annual food festival
Tue., Aug. 29, 2017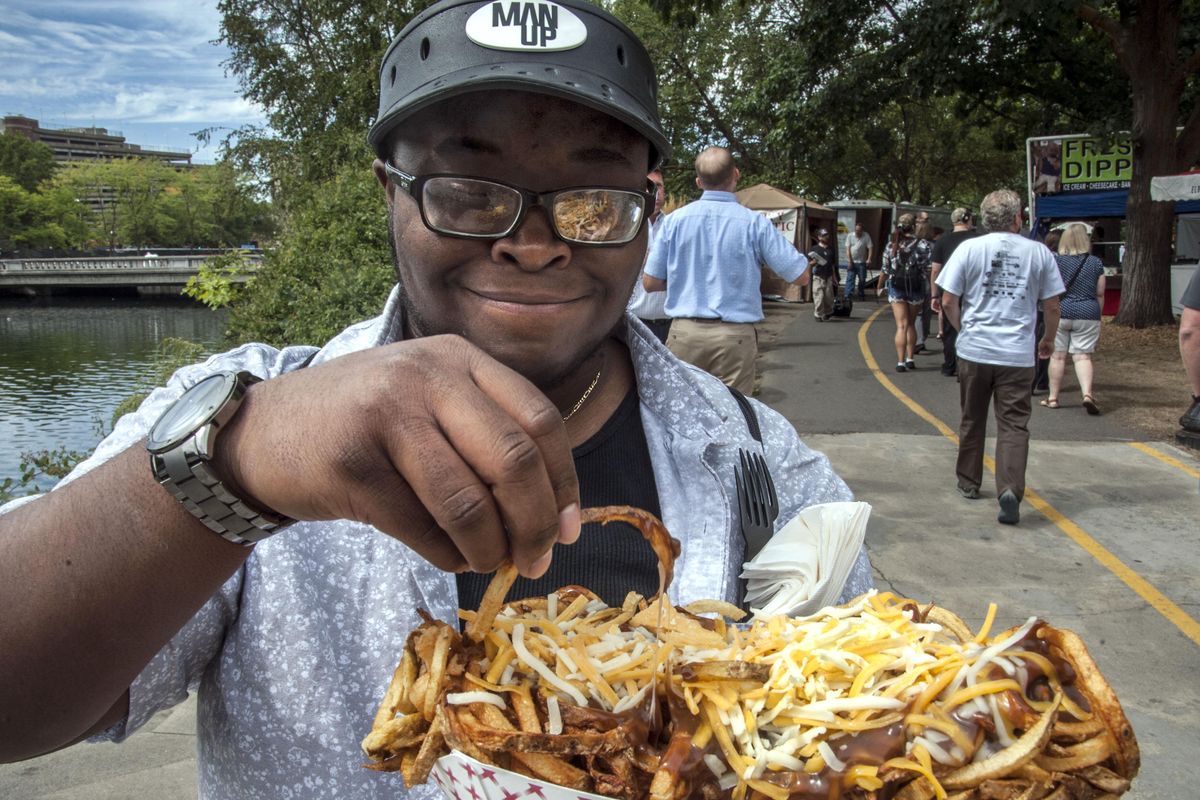 Avery Monroe delights in a giant serving of Canadian fries at last year's Pig Out in the Park. (Dan Pelle / The Spokesman-Review)
Pig Out is a party.
The six-day shebang celebrates the end of summer in Spokane with a frenzy of deep-fried foods – pickles, lasagna and macaroni and cheese to candy bars, caramel apples, Oreos and Twinkies – as well as barbecue and bacon-wrapped this and bacon-wrapped that. Why put bacon in a burger when you can wrap it around one?
There's all kinds of stuff on a stick, Nutella pizza and chocolate-dipped cheesecake – or, for a lighter option, berries or bananas.
At its best and at its worst, Pig Out in the Park is an excuse to overindulge. It's an Inland Northwest tradition, too, one of the region's most popular festivals – food or otherwise – for nearly 40 years.
When the 38th annual Pig Out in the Park takes over Riverfront Park in downtown Spokane from Wednesday through Monday, fest-goers can Pig Out a little – small bites are $4 this year, up a buck from last year – or Pig Out a lot, ordering full-size menu items from a variety of vendors. With no fewer than 44 food booths, 225 menu items and three adult beverage gardens, it can be difficult to choose.
Note that small bites are only available during certain periods, like happy hour, from 3 to 5 and 9 to 10 p.m. Regular menu items cost under $10.
Note, also, that in addition to all of the eats, Pig Out offers prime people-watching. The six-day smorgasbord – why not add another day and make it a full week? – attracts some 200,000 people.
Here are 10 highlights.
Azar's
This Greek and Middle Eastern restaurant on North Monroe Street is a Spokane staple. It's been around since 1980. Its founders, Najeeb and Najla Azar, came to Spokane from Jordan in 1973. He is originally from Lebanon. She came from Palestine. Today, the restaurant is owned by their daughter, Katy Azar, who learned to cook from her mother. The menu is extensive, offering combinations of baba ghanoush, falafel, kebabs, spanokopita and more. To Pig Out, Azar's brings a few signature items: gyros with lightly seasoned ground and marinated lamb and beef or chicken, house-made hummus with garlic and tahini, and baklava.
Bloem Flowers, Chocolates, Paperie
This booth is a tradition as much as Pig Out itself. Bloem celebrated its 40th anniversary this month, and it's participated in Pig Out as long as the event has been around. It offers ice cream bars, cheesecake and frozen bananas – all freshly dipped in melted chocolate. Its caramel apples are another popular staple.
JB's Gourmet Grilled Cheese
Since 2013, this North Idaho-based food truck has made the rounds at local fairs and festivals in Eastern Washington and North Idaho. JB is owner Janet Bonser, who aims to – according to her company slogan – "make happy sandwiches." They're made on sourdough bread and served with a dill pickle. Look for a grilled triple-cheese sandwich, grilled ham-and-cheese sandwich and grilled turkey-and-cheese sandwich.
Leonardo's Bistro
Salmon is the star at this booth, influenced largely by the flavors of Caribbean cuisine. Fresh fish is blackened with sugar, red pepper and a melange of green herbs, then grilled and steamed. Get it in a salad or wrap or on a plate with rice and beans.
Longhorn Barbecue
This small chain of casual barbecue eateries originated in Texas in 1945. It was founded by two brothers, who moved to Spokane after 10 years in business. Today, Longhorn has two locations in Spokane and another in Auburn. Baby back ribs, burgers, sandwiches and chili are menu highlights. At Pig Out, look for a beef sandwich with potato salad, pork sandwich with barbecued beans and barbecued rib tips.
Mary Lou's
Mary Lou's makes its own ice cream and regularly keeps 16 flavors in the case at Mary Lou's Milk Bottle on Garland Avenue. Huckleberry is a top-seller. In addition to its signature ice creams, Mary Lou's Pig Out booth offers elephant ears and caramel apple pie. Look, also, for root beer floats.
Mixed Plate Food Truck and Catering
This local food truck offers dishes inspired by the flavors of Pacific Islands and Asia. It's run by Tony Epefanio and Nat Vargas, a native of Thailand who spent half of her adult life on Guam, where her parents ran their own restaurant. Look for bulgogi tacos, a bulgogi rice bowl and an island chicken rice bowl.
Nitro Shack
This booth, part of a Texas-based, fourth-generation food-service company called Jeremy Westmoreland Concessions, is offering a novelty snack that will make consumers "breathe like a dragon." The fruity frozen cereal balls – "We call ours Nitro Puffs," said the company's Tri-Cities-based spokeswoman Tracy Pennington – are flash frozen using liquid nitrogen. "The warmth of your mouth causes the dragon-breath effect." The snack puffs come in a 12-ounce cup for $6 and include a mix of colors and flavors: lemon-lime, strawberry, orange and banana. They're topped with powdered sugar and come with a strawberry dipping sauce and a skewer "in case you don't want to touch them. They're very cold." Liquid nitrogen freezes at minus 321 degrees. (So don't touch or drink it.) "We completely drain it off, and it evaporates very, very quickly," Pennington said. "It's kind of the newest trend in snack foods." The rainbow-colored, frozen cereal balls are inspired by a similar snack from South Korea. "It's really popular right now," Pennington said. "You just pop them in and chew them right up. They're really refreshing. They have kind of a rice-puff consistency. It's fun."
Porteus BBQ
This Montana-based catering-and-concessions company specializes in pork and brisket, providing barbecued meats for weddings and business and other events. It was founded in 1989 by Jim and Dutch Porteus and is now owned by Randy and Sherry Toavs. Look for a pulled pork sandwich, huckleberry-smoked brisket sandwich, pork ribs, beans and coleslaw.
Taste of India
This North Division Street restaurant is known for its lunch buffet. And it brings several staples to Pig Out, including chicken tikka masala, or pieces of boneless chicken cooked in creamy sauce with spices, and chicken korma, or pieces of boneless chicken cooked in creamy, nutty sauce with golden raisins. This is a go-to booth for vegetarians; chana masala is a garbanzo bean dish with onions, tomatoes, spices and fresh cilantro. Look, also, for samosas, naan and rice pudding.
Local journalism is essential.
Give directly to The Spokesman-Review's Northwest Passages community forums series -- which helps to offset the costs of several reporter and editor positions at the newspaper -- by using the easy options below. Gifts processed in this system are not tax deductible, but are predominately used to help meet the local financial requirements needed to receive national matching-grant funds.
Subscribe to the Spokane7 email newsletter
Get the day's top entertainment headlines delivered to your inbox every morning.
---