News > Spokane
Forgotten remains of Washington veterans arrive in Medical Lake with motorcycle escort
Aug. 30, 2017 Updated Wed., Aug. 30, 2017 at 9:37 p.m.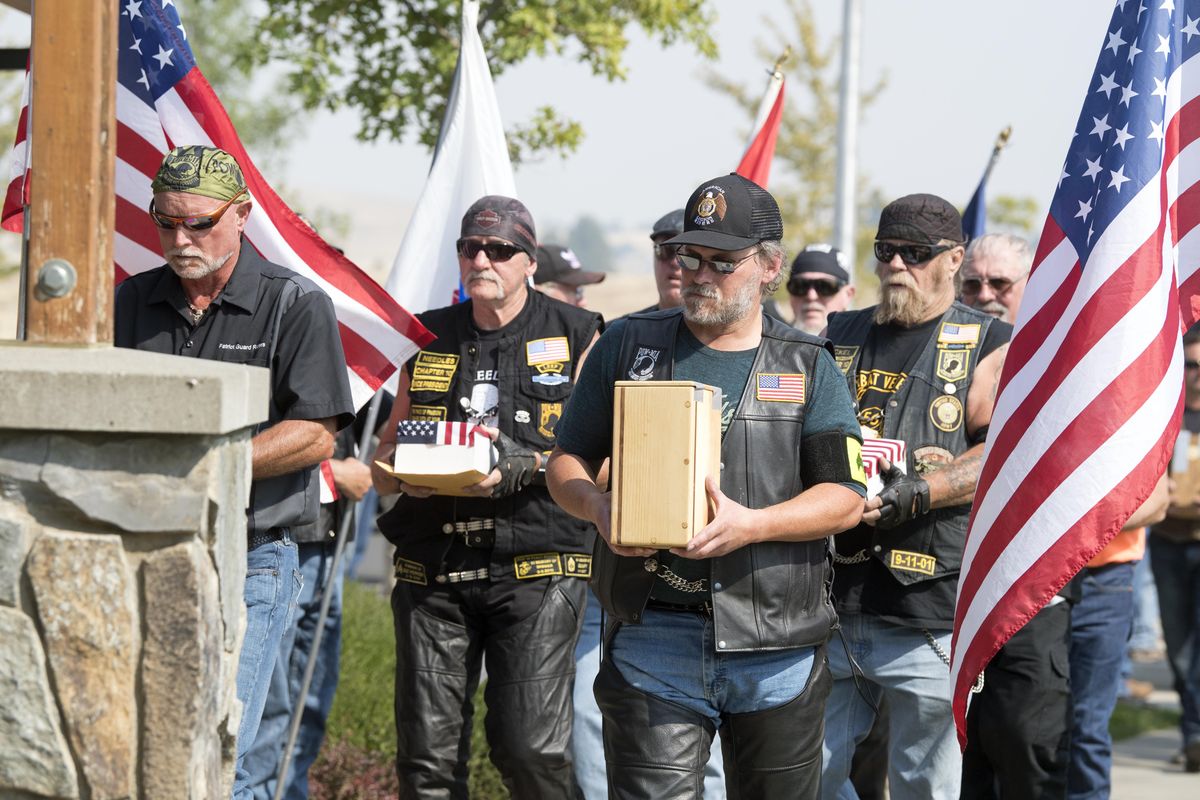 Veterans walk in procession to deliver the ashes of more than 20 deceased veterans from the west side of Washington state after delivering them by motorcycle, Wednesday, Aug. 30, 2017, at the Washington State Veterans Cemetery in Medical Lake, Wash. With the establishment of the Medical Lake cemetery, funeral homes and veteran volunteers seek out the unclaimed ashes of deceased veterans and, after research to establish their service, bring the ashes to Medical Lake for eventual interment. (Jesse Tinsley / The Spokesman-Review)
A crescendo of thundering engines announced the arrival Wednesday of the remains of 28 military veterans and their family members on the West Plains.
A group of nearly 70 volunteer motorcyclists from all over the state delivered urns of various shapes and sizes to the Washington State Veterans Cemetery at Medical Lake ahead of a planned interment ceremony this fall. The remains were discovered by the Missing in America Project, a nonprofit that works with funeral homes to identify forgotten remains of former service members and their families to receive a formal military burial.
"It's kind of sad when you think about it," said Dennis Ochs, a district captain of the Patriot Guard Riders of Washington, a group of motorcycle riders who provide support during funeral services for fallen military members.
Wednesday's ride ended with a procession, under the American flag and the flags of the five military branches, into the administration building at the cemetery, where they will await interment in niches built this summer to increase the facility's capacity. The cemetery now hosts 3,680 chambers where cremated remains may be interred.
The facility received a $2.18 million grant for the expansion of the niche area, as well as other improvements on the 120-acre site that opened in 2010.
The original niches are "at 93-94 percent capacity," said Rudy Lopez, director of the cemetery. "So this federal grant really came at the perfect time for us."
Construction of the new niches will likely delay the interment ceremony, which will include the remains of additional service members brought from Seattle, Yakima and the Tri-Cities. One of those service members will be Army Capt. John Kinzie, an 1872 graduate of West Point who was briefly stationed at Fort Spokane during early American settlement of the region, said John Hundahl, coordinator for the Missing in America Project in Washington state.
Capt. Kinzie's remains were discovered during construction at East Lake Cemetery in Seattle, where he died in 1914, Hundahl said.
"He was one of the remains that they didn't know what to do with, so they brought in Missing in America," Hundahl said. The organization looked for any surviving relatives before authorizing his transport to Medical Lake.
The remains that arrived Wednesday belonged to veterans who had served in almost every major conflict since World War II, Lopez said.
Friends Jim Lothrop and Frank Stafford, both veterans of the Air Force from the Tri-Cities area, were among the riders who escorted the remains by motorcycle on Wednesday. It was Lothrop's first ride with the Missing in America project, though he's done charity rides with the 50 Calibers, a local motorcycle group that rides to support cancer research.
"This is a pretty neat deal, just to be a part of this," Lothrop said.
Stafford, a Kennewick resident, first rode to the Washington State Veterans Cemetery several years ago to deliver the remains of his friend, Michael Fayard. He said it was a privilege to escort the service members Wednesday.
"I'm highly supportive of this," Stafford said. "It's an honor. To me, it's an honor."
Local journalism is essential.
Give directly to The Spokesman-Review's Northwest Passages community forums series -- which helps to offset the costs of several reporter and editor positions at the newspaper -- by using the easy options below. Gifts processed in this system are not tax deductible, but are predominately used to help meet the local financial requirements needed to receive national matching-grant funds.
Subscribe now to get breaking news alerts in your email inbox
Get breaking news delivered to your inbox as it happens.
---