City lays boulders beneath I-90 in downtown Spokane to shift homeless to shelters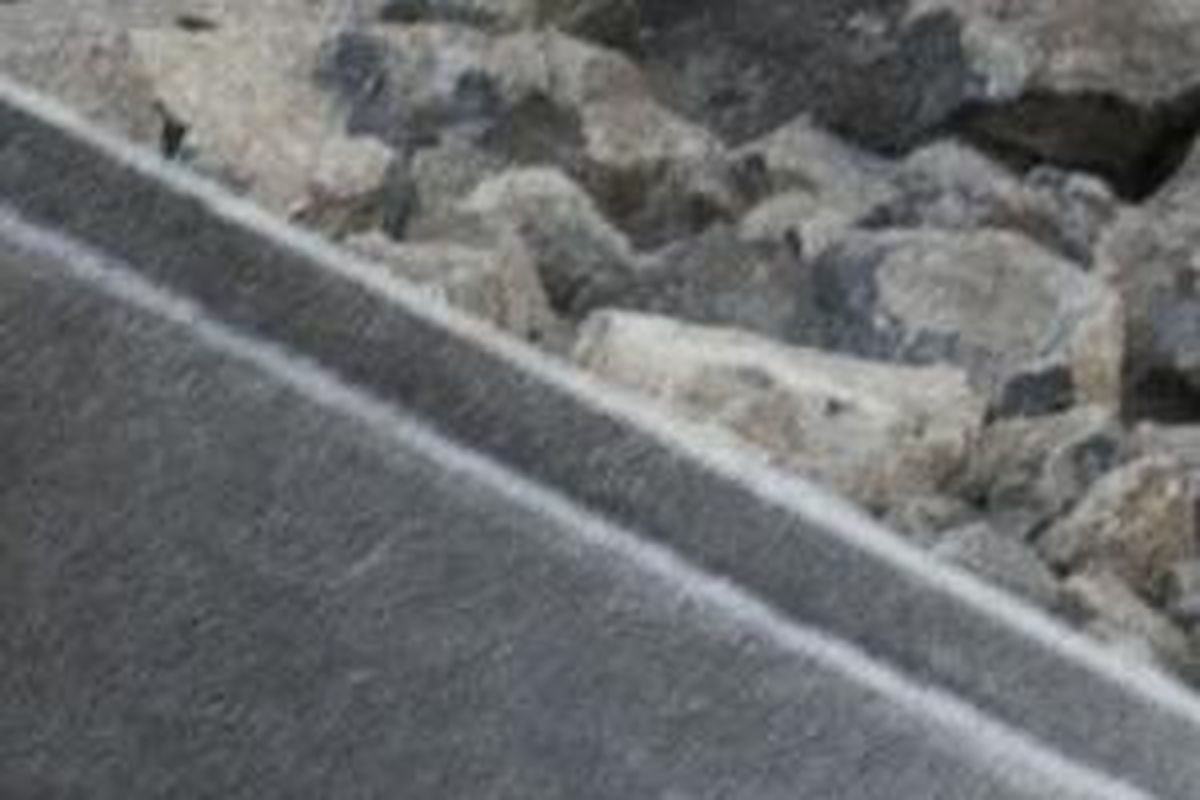 Tons of basalt boulders are being dumped below I-90 in an effort to stop homeless people from camping in downtown Spokane.
The rocks were dropped for a cost of $150,000, and city leaders say it's just one of many steps Spokane is taking to get people off the streets and into the shelter system, which is open 24 hours a day, seven days a week, due in part to city funding.
City Council President Ben Stuckart said he supports the boulder placement as part of a larger project to get homeless people to take advantage of homeless services. He added that the homeless people below I-90 have raised concerns among nearby business owners.
"I've been hearing from Divine, from the owner of the Taco Time property and the principal at LC," Stuckart said, referring to Lewis and Clark High School. "But you can't move people along. That's anti-homeless. We're purposely funding 24/7 shelters to give people a place. We want to point people to the resources, but at the same time we don't want them disrupting private business."
In May, the City Council approved spending $510,000 to keep House of Charity open around the clock. The city has also committed to spending $1.1 million in 2018 to keep the entire shelter system, which includes day and night shelter for families with children, single women and teens, operating.
Beginning next week, the city will launch a multipronged strategy spreading the word to the homeless community about what services are available to them, including signs below the freeway informing homeless people of how to access food, shelter and healthcare.
Stuckart said he believes the number of homeless people has not only risen in Spokane, but also in other American cities he has visited recently, including Seattle, Portland, Boise and Salt Lake City. He blamed income inequality.
"Things are continuing to get worse," Stuckart said. "We're trying to balance, make sure we're providing and increasing the services while providing an environment that protects everybody."
The idea to use boulders is a tactic of law enforcement and urban design that uses environmental design to deter criminal behavior. Better lighting and visibility, designing streets for more pedestrian and bicycle traffic as a form of "natural surveillance" and creating more open and visible public spaces are other ways to deter crime.
Using design to drive homeless people away from certain areas is used by many cities, and Spokane isn't new to the use of homeless-deterrent planning.
Benches with vertical slats, large armrests or bucket seats are used in many cities to keep people from lying down or even sitting for too long. In large part, downtown Spokane doesn't have benches, except for in Riverfront Park and near the transit plaza.
Notably, in 2013 city leaders banned sitting or lying on downtown sidewalks. Advocates say the law was intended to "clean up" downtown and was not aimed at homeless people. The police department said nuisance crime dropped after the law passed, but the majority of people cited under the law in its first years were homeless.
This time, Stuckart and others are clear: the rocks are aimed at homeless campers.
A short video produced by the city's new in-house reporter, former KXLY police reporter Jeff Humphrey, said the boulders came after "the city council decided it was time to dislodge homeless people camping under the interstate."
Humphrey made another short film in mid-August that gave a "point-blank look at Spokane's homeless." The clip, which looks like it was produced for TV news, talked about a clean-up crew from Geiger Corrections Center picking up the "stuff that even transients don't want anymore." The city pays Spokane County Detention Services $120,000 a year for the work, "costing taxpayers a lot more money than you might think."
Steve Allen, executive director of Family Promise of Spokane, said he had nothing but praise for the city of Spokane's work for the homeless, even though he suggested the boulder-laying work might not seem that praise-worthy at first glance.
"If this forces families and homeless people into what the city's invested in, the shelters, then those are vehicles to help them get off the streets and into homes," Allen said. "The services are there. There's no need to sleep under the bridge anymore."
On Thursday afternoon, homeless people watched as earthmovers put the rocks in place between Bernard and McClellan streets.
Jeremy Hinricks, 46, has been homeless a year. He doesn't mind the new basalt.
"It looks nicer than a bunch of dirt and scraggily trees," he said. "But it won't stop us. We'll just find somewhere else to camp."
Hinricks said he hasn't slept at a shelter because they're "nasty," but he goes there to shower. With winter coming, he's considering giving the shelter a shot.
"I sleep where it's safe," he said.
---