News > Spokane
Hate not welcome here: Locals mobilize after spate of racist incidents
Sat., Dec. 2, 2017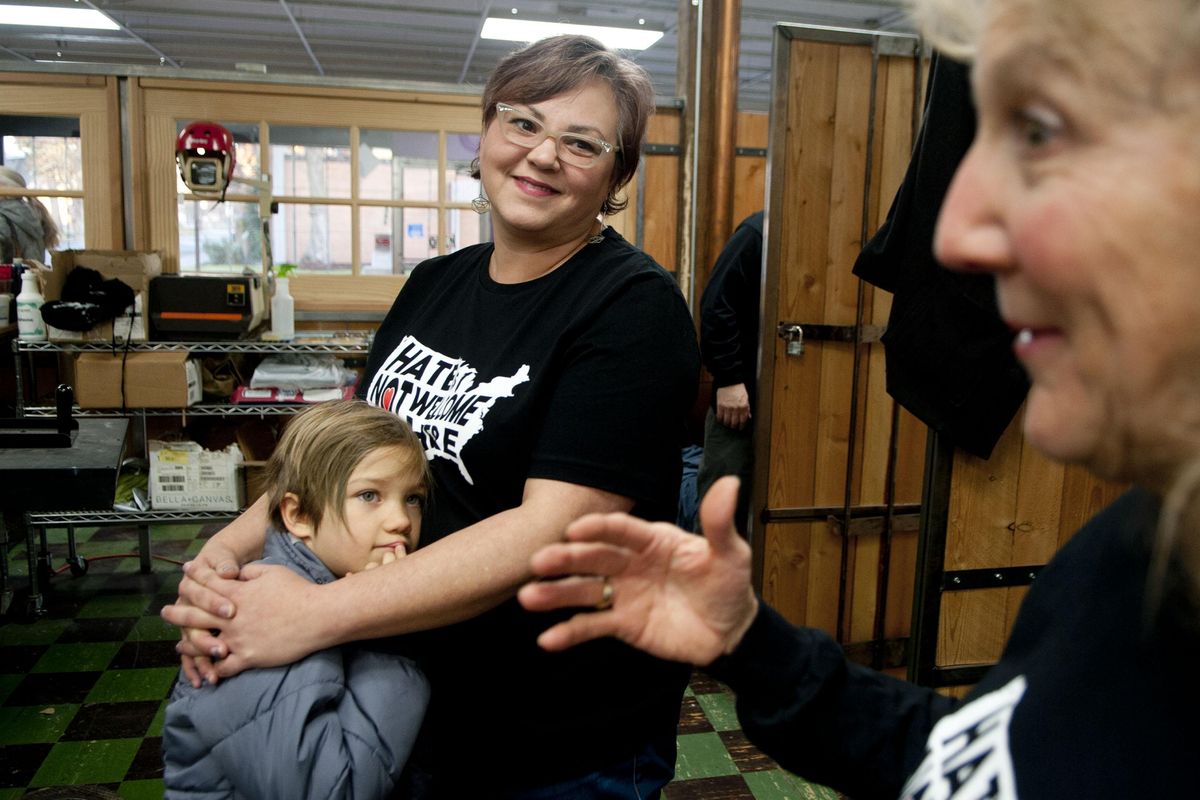 Randi Madison holds her daughter, Scarlett Jacobs, 7, as she listens to her former EWU professor, Barb Brock, talk about their "Hate Is Not Welcome Here" merchandise at Ammonite Ink, in Spokane, on Wednesday, Nov. 29, 2017. The merchandise is in response to crimes against Norris Colley, a black man who was called racial slurs, threatened, and then shot at while at his home. (Kathy Plonka / The Spokesman-Review)
Barbara Brock never really considered herself an activist.
Sure, she'd volunteer at the Needle Exchange and Outreach Center when she could, and donate socks to help the homeless. She'd vote. But until last year, she never took the next step in campaigning for social and political change. She wanted to, but never did.
Then, in November 2016, Donald Trump was elected president, campaigning on a platform charged with nativist rhetoric. A few days later, a racial slur was spray-painted onto the Martin Luther King Jr. Family Outreach Center in Spokane.
In response to both incidents, later that month she attended a political rally near the Spokane County Courthouse, where she was challenged by local activist Robert Lloyd to keep the political conversation going.
Now she's an activist, too.
"It's just time," the 63-year-old retired Eastern Washington University professor said. "Those who stand up will be the only way something happens. Ordinary people out of their shells."
Earlier this month, and a few weeks after two men – one with the word "skinhead" tattooed on his leg – were alleged to have assaulted Norris Cooley, an elderly black man, reportedly berating him with racial slurs and shoving a gun in his face, Brock came to her weekly coffee group with an idea.
Rather than sit idly by while the two defendants, Jason Cooper and Donald Prichard, make their way through the court system on charges of hate crime and assault, Brock said she'd like to be there to protest every step of the way.
She was there at their arraignment, when they pleaded not guilty, and she plans to be there for trial, which was scheduled for December but will likely be moved back, defense attorneys confirmed.
Beyond her physical presence, she'd also like Spokane to know hate is not welcome here. How? With T-shirts, buttons, yard signs and window clings saying as much. She wants others to join in as well.
"The point is to not address this as a political issue at all, but to address the issue that, in Spokane, we want to be a city of compassion and love and not hate," she said.
The merchandise was designed and created by Ammonite Ink, a local screen-printing company based out of West Central. Randi Madison, who co-owns the company with her husband, Jeff Jacobs, is donating all of the revenue from the "Hate is Not Welcome Here" campaign to the Center for Justice, a local group that describes its mission as advocacy on behalf vulnerable citizens.
Rick Eichstaedt, the center's executive director, said he's grateful for the extra funds, but even more enthused over the community reaction.
"This time of year we're supposed to think about things like justice and goodwill towards other humans," he said. "I think it's a positive effort."
Madison and Brock first met a few weeks ago through Madison's sister-in-law, when word spread that Brock was looking for a designer. Through talking, the two realized Brock was actually a former professor of Madison's.
Designs were kicked back and forth until one was settled upon. The result is a map of the United States filled in with the words "Hate is Not Welcome Here." On the back it says "Stand Together for Justice."
The two fronted the first order of 100 buttons, signs and 125 clings out-of-pocket so people don't have to wait on their orders. The rest of the items, including the shirts, will be sold to order through the company's website. Madison said to expect a few business days before they arrive at your door.
So far, they've sold about a dozen items, not counting the handful of shirts worn by her two children, ages 7 and 9. By year's end, the two hope to see a sign on every street corner and a shirt on every torso, including small kids and toddlers.
And while it's likely the public defenders representing Cooper and Prichard will file motions barring overt acts of protest during trial – such as shirts and pins – as to not sway the jury, Madison and Brock remain undeterred.
The point of the campaign, they say, is not only to support Cooley through the trial, but to also remind Spokane that hate crimes have no place in partisan politics.
"This is just an outlet to get the message out that, me as a person, I don't have to speak my politics or jump on a party line or subscribe to any ideology, to say 'I'm not cool with hate crimes,' " Madison said, standing next to a screen-printing apparatus in her shop Wednesday afternoon. "It just doesn't subscribe to anything except for hate."
Local journalism is essential.
Give directly to The Spokesman-Review's Northwest Passages community forums series -- which helps to offset the costs of several reporter and editor positions at the newspaper -- by using the easy options below. Gifts processed in this system are not tax deductible, but are predominately used to help meet the local financial requirements needed to receive national matching-grant funds.
Subscribe now to get breaking news alerts in your email inbox
Get breaking news delivered to your inbox as it happens.
---