Sports
Max Holloway beats Jose Aldo again, keeps UFC featherweight belt
Sat., Dec. 2, 2017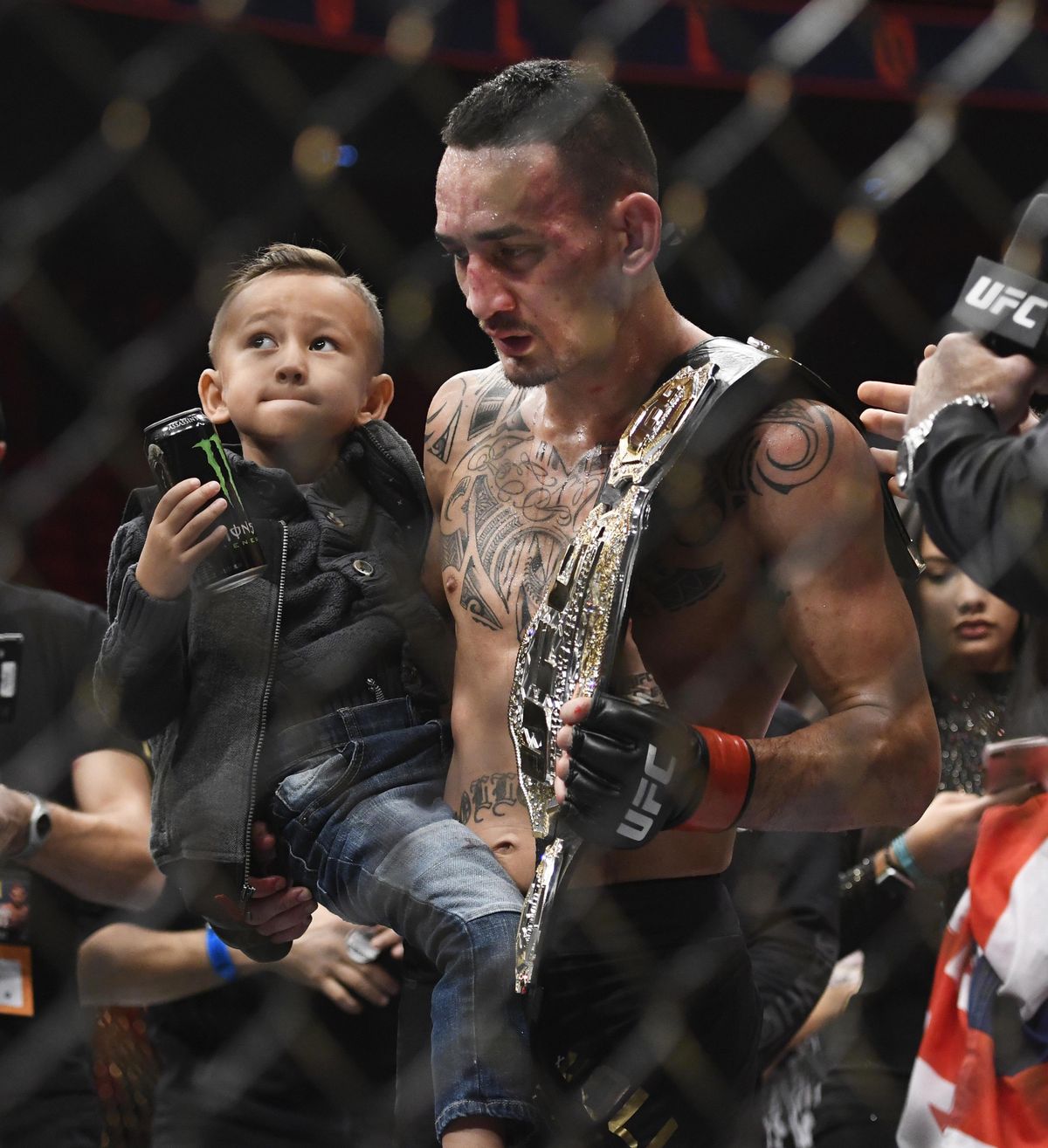 Max Holloway holds his son Rush, after Holloway defeated Jose Aldo, of Brazil, during a UFC 218 featherweight mixed martial arts bout, early Sunday, Dec. 3, 2017, in Detroit. (Jose Juarez / Associated Press)
DETROIT – Max Holloway defended his UFC featherweight title by beating Jose Aldo in a rematch, winning his 12th straight fight with a TKO late in the third round Saturday night.
Holloway (19-3) beat Aldo in his native Brazil in June, rallying from a slow start to win with a TKO in the third.
The Hawaiian was in control throughout the bout in Detroit, but Aldo (26-4) landed his fair share of punches and kicks.
Holloway's last loss was to Conor McGregor in 2013, and no one is sure when McGregor is going to compete again in the UFC.
Frankie Edgar was supposed to fight Holloway, but broke an orbital bone a few weeks ago while training and Aldo was asked to fight two weeks earlier than he was scheduled.
One-punch KO
Heavyweight Francis Ngannou knocked out Alistair Overeem (43-16) with a left hook and as the division's top contender lay on his back motionless on his back, a right fist made sure he was finished for the night.
Ngannou (11-1) likely set himself up to get a shot against champion Stipe Miocic.
"I'm ready for that," he said. "Ready as ever."
Violent, as advertised
Eddie Alvarez dropped Justin Gaethje in the middle of the octagon by thrusting his right knee into his opponent's chin in the third round for a TKO, ending a lightweight matchup that lived up to the billing of being very violent.
The former champion took his share of blows, leaving him with a jaw so swollen it looked like he had a tennis ball and wobbly legs.
Alvarez (29-5) gave Gaethje (18-1) his first loss, staying upright against the former Northern Colorado All-American wrestler and hitting him with a flurry of punches that drew blood about his right eye to affect his vision.
Businesslike victory
U.S. Olympic champion Henry Cejudo, who won wrestling gold in 2008, beat Sergio Pettis with a unanimous decision in a flyweight bout. Cejudo (12-2) was in control throughout the bout against Pettis (16-3) by grappling on the ground, drawing boos from fans wanting to see more punching and kicking.
Ladies first
Tecia Torres (10-1) started the main card by beating Michelle Waterson (14-6) with a unanimous decision, putting herself closer to a potential opportunity to fight women's strawweight champion Rose Namajunas.
Local journalism is essential.
Give directly to The Spokesman-Review's Northwest Passages community forums series -- which helps to offset the costs of several reporter and editor positions at the newspaper -- by using the easy options below. Gifts processed in this system are not tax deductible, but are predominately used to help meet the local financial requirements needed to receive national matching-grant funds.
Subscribe to the sports newsletter
Get the day's top sports headlines and breaking news delivered to your inbox by subscribing here.
---