News > Spokane
Safety hazard in Wandermere Estates followed years of concerns about land erosion
Sat., Dec. 2, 2017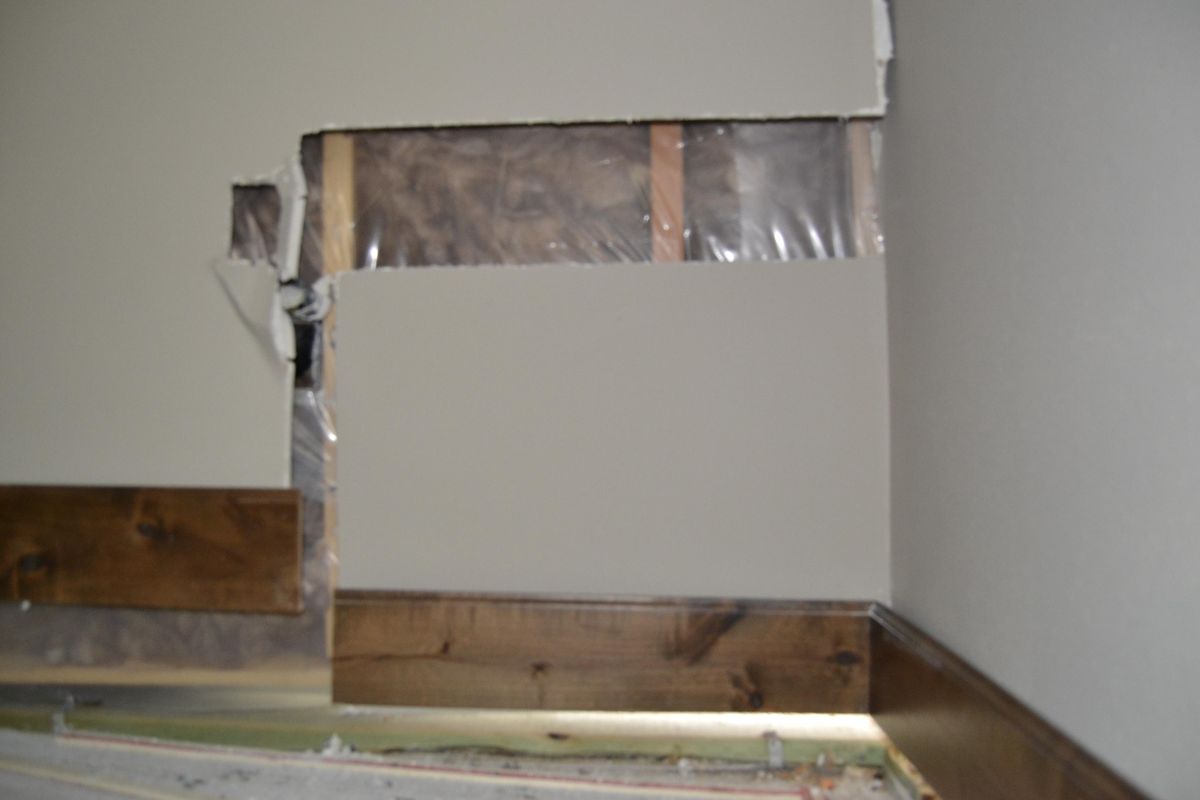 Interior damage to a home at 13811 Wandermere Estates Lane, which was torn down in October. Earth movement caused the foundation to settle, tearing apart the walls and floorboards. (Courtesy of Rick Wetmore)
As the ground shifted and the foundation cracked, a home in the upscale Wandermere Estates neighborhood seemed perilously close to sliding off its perch into the golf course below.
A ridge of soil formed behind the house in a matter of weeks, and light poured inside through unwanted gaps in the walls and floorboards.
"It was just incredible," said Rick Wetmore, an attorney who specializes in construction and real estate disputes. "I have never seen a settling case like this."
The home, which was part of a gated community overlooking the Wandermere Golf Course north of Spokane, drew concern in March when signs were posted around the property screaming, "Danger! Do not enter the area! Unstable ground and falling debris."
The house was torn down in October. Wetmore, who represented the homeowners, Daniel and Donna Berger, said they were awarded more than $500,000 from the insurance companies representing the homebuilder, the developer, the real estate company and a geotechnical engineer who had surveyed the land. Ownership of the Bergers' land was transferred back to Wandermere Estates LLC, a company owned by developer Dick Vandervert.
The house next door, at 13803 Wandermere Estates Lane, is still standing, but it remains condemned due to safety concerns.
Dr. Joel McCullough, the former chief medical officer for the Spokane Regional Health District, purchased that house in January 2016. Less than three months later, a notice appeared on his front door, declaring the structure uninhabitable.
McCullough briefly lived in a rental in Spokane and recently moved out of state. His attorneys, Ryan Yahne and Whitny Norton, are still eyeing a potential lawsuit against McCullough's home insurer, USAA.
Yahne said the company almost immediately denied McCullough's claim because earth movement was not explicitly covered under his policy. Even if that's true, Yahne said, Washington law compels insurers to complete a thorough investigation before denying a claim.
"No matter what claim is submitted," he said, "they have a duty to fully investigate the claim."
Yahne said USAA sent someone to do a visual inspection of McCullough's property, but no one from the company conducted a geotechnical analysis involving soil core samples.
He added that case law requires insurers to consider the "efficient proximate cause" of any event that damages a home. A landslide, for example, may not be covered under a given policy. But if the underlying cause of that landslide was, say, an underground water leak, "then there is some possible coverage there," he said.
Rich Johnson, a USAA spokesman, said the company cannot legally comment on matters involving specific clients.
The two affected homes were built in 2014. McCullough's lot, and the lot that belonged to the Bergers, were both part of a larger parcel that was subdivided in 2006. That same year, Vandervert's construction company hired an engineering firm to evaluate the stability of the land, which sits atop a steep retaining wall made of stacked boulders.
The firm, Spokane-based GeoEngineers, found "no evidence of deep-seated slope instability" but noted a loose layer of a topsoil in its report. GeoEngineers determined a single-family home could safely be built on the site if certain improvements were made, including better water drainage. (A more recent engineering report noted this year's unusually wet winter and fall, suggesting groundwater was a problem.)
Other records describe a history of concerns about water-related erosion.
"There's been mini landslides out there," Norton said. "There's a history of the earth moving out there."
Yahne added, "Somebody missed something."
In 2007, Vandervert's company filed an appeal to contest the county's assessed value of the third-acre lots. In March 2008, an appraiser revalued each lot at just $100, practically eliminating the accompanying property tax burden.
The land that would eventually be sold to the Bergers was "unbuildable … per water conditions that eroded the buildable portion of the lot," the appraiser wrote in notes kept on file by the assessor's office.
Wetmore, the Bergers' attorney, gave a copy of the notes to The Spokesman-Review. The entries span seven years and were written by multiple unnamed appraisers.
In 2009, a building permit for a home was canceled because of problems with the site. An appraiser repeated that the land was "unbuildable" in January 2011, and later that year, an appraiser wrote that another retaining wall would need to be built.
Wetmore said no such wall was built before the county issued building permits to Ted Miller Construction in 2014. In March of that year, an appraiser wrote, ambiguously: "sale of lot … was for $70,000, so it is buildable."
Officials from the assessor's office and the county's Building and Planning Department offered little explanation about the apparent safety implications in the appraisers' notes.
"Internal notes in our appraisal system are related to the valuation of the property, not a declaration the property is buildable from a legal or engineering standpoint," Byron Hodgson, the county's chief deputy assessor, said in an email. "The assessor's office doesn't issue building permits or provide any input in that process."
Randy Vissia, the director of the Building and Planning Department, said he knew nothing about the reports from the assessor's office.
"Building and Planning does not deem properties 'unbuildable,' " Vissia wrote in an email. "Generally, the developer, contractor, or property owner will employ the services of licensed design professionals to address the conditions of the site based on the proposed structure."
The homebuilder, Ted Miller, also lives in the Wandermere Estates neighborhood. In a phone call, he said he wasn't made aware of land stability concerns when Vandervert's company sold him the two lots in 2013.
Hank Swift, a geotechnical engineer who surveyed the properties before Miller began building, declined to comment, citing the potential for further legal action.
Vandervert's office said he had no comment for this story.
Local journalism is essential.
Give directly to The Spokesman-Review's Northwest Passages community forums series -- which helps to offset the costs of several reporter and editor positions at the newspaper -- by using the easy options below. Gifts processed in this system are not tax deductible, but are predominately used to help meet the local financial requirements needed to receive national matching-grant funds.
Subscribe now to get breaking news alerts in your email inbox
Get breaking news delivered to your inbox as it happens.
---