Sports
Women's Top 25 Capsules: Sabally scores 22 points, No. 10 Oregon routs Weber State
Sat., Dec. 2, 2017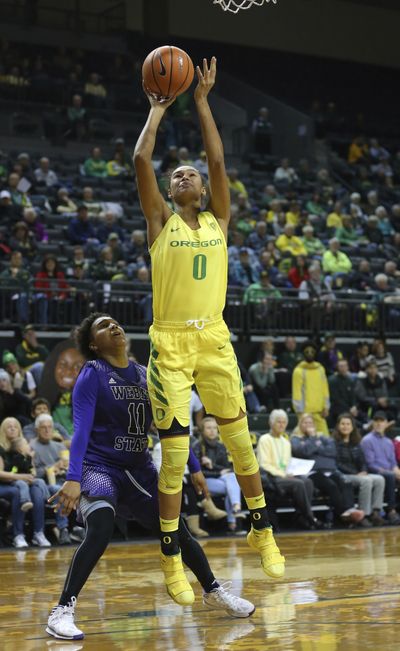 EUGENE, Ore. – Satou Sabally scored 22 points and Sabrina Ionescu had 21 points and a career-high 14 assists to help No. 10 Oregon rout Weber State 114-87 on Saturday.
Sabally, a 6-foot-4 German freshman making her first start, was 8 of 11 from the field and made three 3-pointers for the Ducks (7-1). Oregon has won four straight.
The teams were nearly even from beyond the arc, with Oregon hitting 17 of 33 and the Wildcats (5-2) making 17 of 34. Lexi Bando had five 3s in the second quarter for the Ducks and finished with 19 points.
Larryn Brooks was 5 of 9 from long range and led Weber State with 25 points. Jaiamoni Welch-Coleman added 16 points, and Kailie Quinn had 12.
No. 15 Maryland 75, Akron 54
AKRON, Ohio – Kaila Charles had 23 points and 14 rebounds, Kristen Confroy hit five 3-pointers and also scored 23 points, and Maryland beat Akron for its fifth straight victory.
Confroy, who grew up in Solon, Ohio, about 30 miles from the Akron campus, was 5 of 7 from 3-point range to help set a season high in points. Charles reached the 500-point mark in her 44th career game.
Brianna Fraser added eight points, seven rebounds and five assists for Maryland (7-2) Shaunay Edmonds led Akron (3-3) with 17 points.
No. 17 South Florida 83, George Washington 78
WASHINGTON – Kitija Laksa scored 27 points, and Maria Jespersen had 25 for South Florida.
Laura Ferreira added 11 points, five rebounds, five assists and two steals for the Bulls (7-1). Laksa knocked down five 3-pointers, giving her 35 on the season for second in the country, and Jespersen went 11 of 15 from the field and had 13 rebounds for her fourth double-double of the season.
Brianna Cummings had a career-high 23 points for the Colonials (3-5).
No. 22 Michigan 86, Liu Brooklyn 49
NEW YORK – Hallie Thome scored 19 points and Katelynn Flaherty and Nicole Munger added 16 apiece to help Michigan beat LIU Brooklyn.
The Wolverines (5-2) are starting a busy part of their schedule with five games in 11 days. They host No. 23 Marquette on Thursday night as the only ranked team in the stretch.
Drew Winter scored 13 points for the Blackbirds (3-4).
Green Bay 63, No. 23 Marquette 55
GREEN BAY, Wis. – Jessica Lindstrom scored 15 points and Green Bay beat Marquette for its second victory over a Top 25 team this season.
Allie LeClaire added 13 points for the Phoenix (6-1). They were playing their third ranked team in a row. They beat Arizona State before losing to Mississippi State.
Amani Wilborn had 18 points for the Golden Eagles (3-3).
No. 24 California 79, Santa Clara 41
SANTA CLARA, Calif. – Kristine Anigwe scored 17 points on 7-of-9 shooting for California.
The Golden Bears (5-2) dominated from the start. Kiana Smith opened the game with back-to-back 3-pointers and Anigwe had six straight points in a 16-0 run.
Ashlyn Herlihy had 10 points for Santa Clara (2-5).
Local journalism is essential.
Give directly to The Spokesman-Review's Northwest Passages community forums series -- which helps to offset the costs of several reporter and editor positions at the newspaper -- by using the easy options below. Gifts processed in this system are not tax deductible, but are predominately used to help meet the local financial requirements needed to receive national matching-grant funds.
Subscribe to the sports newsletter
Get the day's top sports headlines and breaking news delivered to your inbox by subscribing here.
---