News > Spokane
After the passing of its patriarch, Bergman's Christmas Tree Farm to close in Spokane Valley
Mon., Dec. 4, 2017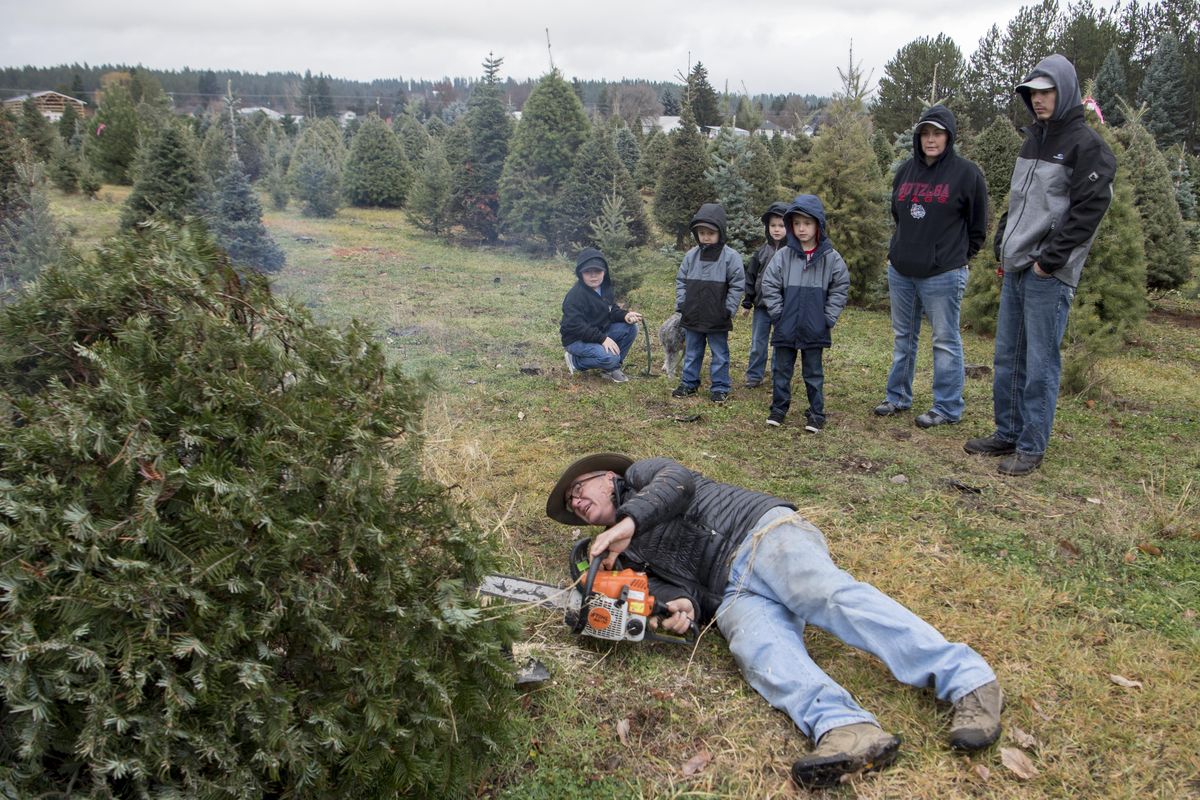 Doug Bergman, left, cuts down a chosen tree while Beckett Ough, 6, Christopher Ough, 4, Brier Ough, 5, Terry Ough, 7, Crystal Ough and Joey Ough watch, Sunday, Dec. 3, 2017, at Bergman Tree Farm in Spokane Valley. The family-owned tree farm will shut down after this season. Doug Bergman's father, who owned and ran the tree farm, died a year ago and it's the last year for the farm. It's been sold to a developer. (Jesse Tinsley / The Spokesman-Review)
Dog leash in one hand, chain saw in the other, Doug Bergman slowly trailed the family of six as they led him toward the newest addition to their living room.
"This is Max," Doug said to the group of four boys, aged 4 to 7. "Who wants to hold him?
"Me!" they all shouted, before one set of outstretched arms took the reins of the 11-year-old miniature Schnauzer.
With a pull of a string, a gulp of oil and gas and a whiff of oxygen, the saw came roaring to life. Doug tucked under the canopy, angled the saw flat, and tore through the inches-wide base.
Tim-ber.
The tree, like the others surrounding it in acres of neat rows, is the last of its kind – at least around these parts. For years, it sat anchored at Bergman's Tree Farm in Spokane Valley, gathering sunlight and nutrients, growing branch by branch, needle by needle, until the Ough family picked it out.
Soon it would be covered in ornaments and wrapped in lights, and would stand vigil over a cascade of colorful presents. Its aroma would waft through the halls.
At the end of the season, sometime between Christmas and New Year's Eve (if the Oughs are diligent enough), its life would come to an end.
And, for the first time since 1983, so too would the farm it grew up on.
"With Dad's passing, there really wasn't any way for us to keep this up," Doug said Sunday morning. "It's sad."
At the end of the holidays – sometime between the weekend before Christmas, which falls on a Monday this year – Bergman's Christmas Tree Farm won't just close for the season. It'll close for good.
It was sold to a developer just a few days ago, a decision the five Bergman siblings never wanted to make but which fell to them by necessity due to the lack of time and money needed for the farm's upkeep, they say.
Soon the garage will be demolished, their father's home used as a staging house, and the unsold trees replaced by plots of homes, according to the family's best guess.
"That's the sad part," Doug said. "But it is what it is."
The farm's lineage began in 1969, when Donald, a master sergeant in the Washington Army National Guard, and Nelda Bergman moved four girls and one boy to Spokane.
It started as a modest 30-acre vegetable plot. Then in 1979, the older Bergman got the idea to convert about 20 acres into a tree farm. He and two of his daughters planted the saplings, then waited for them to grow.
By the mid '80s, it was an established Spokane Valley treasure. Families would return each year, eager to chat with Don and his helpful network of children-turned-holiday-workers.
As the years wore on, patrons would grow old, get married, have kids. Their kids would follow suit and have youngsters of their own. Many would eventually find their way to Bergman's, just as their parents did.
Don, meanwhile, would battle prostate cancer, and win. Then throat cancer. He beat that, too. His kids would have kids of their own. And they'd all come around Grandpa's and Grandma's at 2819 S. Adams Road around Christmas to help out.
That all came to a close last year. Don lost his bout with cancer in the third round, eventually succumbing to tumors in his lungs at the age of 80, on Dec. 7, 2016.
In a Spokesman-Review story from 2006, Don, known as the "old cowboy," tells a reporter he's going to keep selling trees until he "keels over."
"I don't know what else I'd do," he said.
Ask his children, and they'll say that's exactly what happened. Until the very end, the patriarch of the tree farm could be seen pruning and planting, just as he did in his younger years.
"He was the hardest working man I've ever known," said Doug, who a few weeks ago transported 40 trees a mile and a half away to the Pines Cemetery, including a couple for his father's, mother's and late wife's graves. "That's for sure."
While the elder Bergman's family took the news hardest, the heartache didn't stop there. Generations of customers had looked forward to seeing Don each year, and many learned the harsh news when they returned Sunday for a new tree.
Rob and Christy Peck pulled in with their large pickup truck and were greeted by Doug. They didn't know his father passed until they were told, even though they spoke to him last year. The couple were Bergman regulars, having returned annually for the past 7 or 8 years.
"I'll miss coming here for sure," Rob Peck said.
An event announcing the farm's final season was created by the family and shared on Facebook. Doug said the first few weekends of December are usually the busiest, but these past two days have been different. He said it seemed like there were more new customers than normal.
It could be because they knew the farm was closing. Or it could be because the Douglas, Fraser and grand firs – the Serbian spruces masquerading as blue spruces – were a cut above the ordinary Christmas varieties.
Whatever the case, it's bittersweet. But some are a little glad they got to share one more season in Don's honor.
"It's been a tough year trying to fight it," said Doug's son Brian Bergman, who's helped his father and grandfather prune, trim and cut trees for Christmas since he was 8. "But you gotta move on."
Local journalism is essential.
Give directly to The Spokesman-Review's Northwest Passages community forums series -- which helps to offset the costs of several reporter and editor positions at the newspaper -- by using the easy options below. Gifts processed in this system are not tax deductible, but are predominately used to help meet the local financial requirements needed to receive national matching-grant funds.
Subscribe now to get breaking news alerts in your email inbox
Get breaking news delivered to your inbox as it happens.
---