News > Spokane
City Hall weighing Perry District parking solutions
Mon., Dec. 4, 2017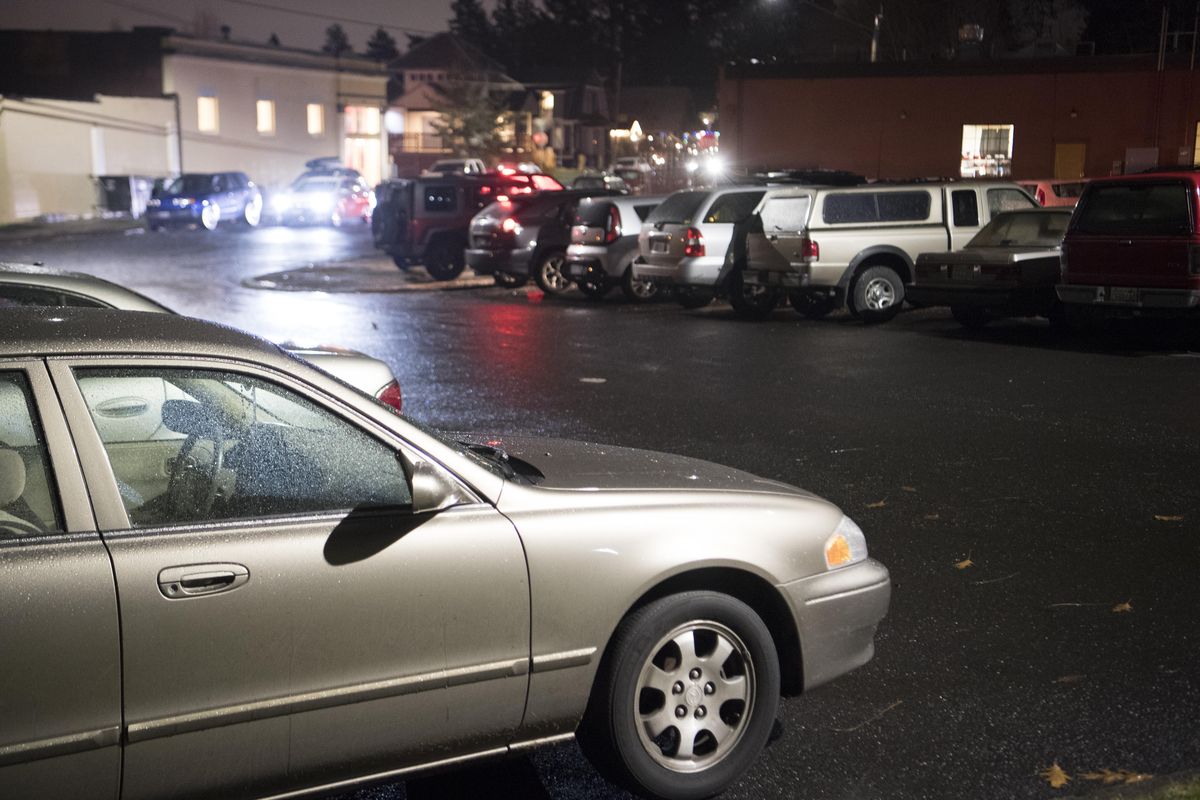 The parking lot next to Grant Park and behind the Perry Street strip will be expanded. (Jesse Tinsley / The Spokesman-Review)
What do you do get when your neighborhood becomes one of the most popular destinations in town?
In the case of the trendy South Perry District, you get a new parking lot where once there was park.
Spokane City Hall is floating three concepts to bring more parking to the popular part of town.
Garrett Jones, planning and development manager for the Spokane Parks Department, said the concepts – which are unfunded and not on any construction schedule – came from a City Hall team that identified as a priority "the lack of public parking and needs for parking in the district."
"That existing parking lot today is pretty inefficient, the way it's set up," Jones said, noting that any changes are far off. "There's no funding identified. There's no scope or schedule. We're just looking at seeing what the options are."
One idea adds 23 stalls of angled parking along 11th Avenue. Another doubles the size of the existing lot on the east side of Grant Park near the intersection of 10th Avenue and Perry.
The third, largest and surely most controversial idea would triple the size of the lot, eat into the park and require relocation of the baseball diamond.
As Jones said, parking has become an issue on Perry. Ten years ago, if you had predicted that Perry would become so popular with restaurants, retail and a regular schedule of things to do that parking in South Perry would be an issue, you might have been asked what you were smoking. And this was before recreational marijuana was legalized.
It goes something like this: South Perry Street was once a bustling neighborhood center serviced by a streetcar. Automobiles came, streetcars went and an interstate was built a few blocks away. To make up for the decimation of Liberty Park by highway planners, South Perry's Grant Park was expanded, from three acres to more than 12.
As the decades passed and the personal automobile allowed people to drive anywhere they wanted to shop, the neighborhood lost many of the stores that once carried everyday staples. By the year 2000, the street had turned shabby.
But there was hope. The street had been ushered into the city's nascent Centers and Corridors project, which aimed at revitalizing promising, if decaying, parts of town that had "a compact mix of retail, business and residential activity (that) makes it easier to walk or bicycle to shops and services." The city opened up access to grant money, and eased zoning and parking rules, to achieve this vision.
Mark Camp, now known for his work bringing downtown's Washington Cracker Co. Building back to life, had just opened a coffee kiosk in an old auto shop and saw the potential of Perry. He led the effort to reinvigorate Perry, first with four years of streetscape improvements worth about a million dollars, funded by federal grants, community development block grants and STA funds. Trees plantings followed, as did the installation of vintage-looking streetlights.
In 2009, the first sign of a revitalized business district appeared with the opening of the Lantern Taphouse, a tiny hole-in-the-wall beer hall with about seven seats. The little Lantern started a conflagration, and now the street boasts South Perry Pizza, Perry Street Brewing, Casper Fry and Title Nine. New buildings went up. The Perry Street Thursday Market is insanely popular, and the Perry Street Shakedown jammed the streets with revelers in 2015 thanks to a raucous set from Sir Mix-A-Lot.
And all that has led Perry to where it is now. The little neighborhood that could. While its success is generally considered a good thing, the plan for more parking has mixed reviews.
Pat Williams, co-manager of the Windfall Thrift Store that has been on Perry since 1961, "absolutely" welcomed more parking.
"With the changes in the neighborhood, we have so many more driving costumers as opposed to walking customers," Williams said. "There is simply just not enough parking."
Jon Coyne, manager of South Perry Pizza, disagreed, with a blunt assessment.
"Don't put a parking lot in," he said. "Who wants to pave a park for a parking lot?"
A year and a half ago, Coyne was against a plan to put a parking lot behind his restaurant, an idea that died on the vine only after two houses were demolished. The dirt parcels, which were to be leased to the city and become a pay-to-park lot, now sit empty.
Coyne said he was unhappy with how the city's dealt with the growth on Perry: "Why don't they put in a bike lane?"
As Williams and Coyne suggest, the district's popularity is a matter of transportation. And the city must contend with the beast it helped create through its Centers and Corridors program. Adding more parking to a center or corridor flies afoul of that program's goals, which aim to promote "transportation alternatives, including transit, carpooling, bicycling, pedestrian-oriented environments."
How does expanding a surface parking lot into a park reach this goal?
Jeremiah Johnson, who now owns The Shop with his wife, Yvonne Archer, said it was a matter of business. His own parking lot is regularly overloaded, a situation only partly relieved in the summer when school is out and motorists can park in the Grant Elementary School lot usually reserved for teachers and other school staffers.
"I only see Perry Street growing," Johnson said. "If we say 'no' to more parking, I can see us regretting that decision five years from now."
Still, Jones, with the parks department, said nothing may happen at all.
"It may not. It really depends on the feedback we get and that feedback could include other alternatives," he said. "If you don't like these three and you still feel there's a need, what's your idea?"
To see and weigh in on the plans, visit my.spokanecity.org.
Got a transportation question you want answered? Write nickd@spokesman.com.
New traffic cameras
Some of us like to drive. Others like to just see what a road looks like from the comfort of our computer.
New traffic cameras and weather stations have been installed on state Route 26 in Eastern Washington, and the camera feeds are now available on the Washington State Department of Transportation traffic and cameras website. Links to the weather station data should be available soon.
One weather and camera station is located on SR 26 in Washtucna at the intersection SR 261. Another unit is in Dusty where SR 127 connects with SR 26.
According WSDOT, SR 26 is a rural, two-lane highway with traffic volumes averaging between 1,200 to 2,300 vehicles a day.
Riverfront Park work to affect pedestrians, cyclists
The fence at Spokane Falls Boulevard and Post Street will come down this week as the Skate Ribbon prepares to open Friday.
The area near the U.S. Pavilion and the promenade between Havermale Island and the north bank will close for construction mid-December. Pedestrians, cyclists and parking in Riverfront Park will be affected.
Browne's residents: Move your cars
Leaf pickup is coming to Browne's Addition on Tuesday and Wednesday. Vehicles must be moved off of streets heading north and south on Tuesday. Cars must be off of east-west streets on Wednesday.
Vehicles parked on the street when the trucks arrive may be towed.
The work starts at 9 a.m.
Indian Trail and Five Mile together at last
Though right next to each other, the Spokane neighborhoods of Indian Trail and Five Mile have always had a gulf between them: There are very few routes up the hill other than Five Mile Road from the South.
Until now. With the recently completed extension of Barnes Road between Phoebe Drive and Strong Road, residents can easily shuttle between the northern districts.
The new road, which officially opened last week, is expected to reduce Fire Station 17's response time by half.
The $1.7 million project to extend Barnes Road included the installation of a 12-inch water main, new sidewalks, bike lanes and stormwater facilities.
Local journalism is essential.
Give directly to The Spokesman-Review's Northwest Passages community forums series -- which helps to offset the costs of several reporter and editor positions at the newspaper -- by using the easy options below. Gifts processed in this system are not tax deductible, but are predominately used to help meet the local financial requirements needed to receive national matching-grant funds.
Subscribe now to get breaking news alerts in your email inbox
Get breaking news delivered to your inbox as it happens.
---