A&E
Spokane health professionals weigh in on holiday eating
UPDATED: Mon., Dec. 4, 2017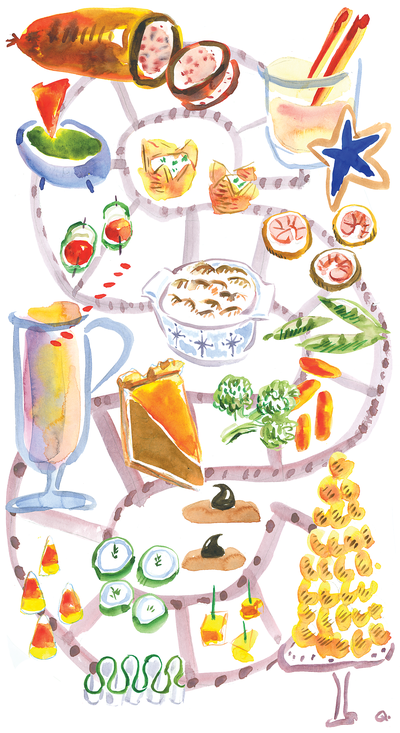 From leftover Halloween candy to those well-intended office Christmas cookies, there's no doubt the final months of the calendar can be rough on the waistline.
Thanksgiving ushers in more of the starchy carbohydrates, and holiday gatherings through New Year's bring on the appetizers, rich foods and dessert tables crammed-full.
It's tempting to give in to holiday excess, derailing a plan to eat healthy, keep off pounds and avoid spiking insulin levels. But there are ways to unwrap healthier holiday eating strategies while still enjoying what the season serves up, say Spokane health professionals.
"The hard part is to not overindulge, especially with processed foods and those refined sugars," said Greg Lang, a physician's assistant at MultiCare Rockwood Heart & Vascular Center. "Your goal through the next six weeks is to keep your weight stable."
It's good to apply mindful eating – awareness of what and how much you're consuming – while at festivities, suggests Sophie Kauffman, registered dietitian at Providence Sacred Heart Medical Center & Children's Hospital. Enjoy, just narrow it down to favorites, she said.
"Sometimes we think, oh it's the holidays, so I have to have eggnog," Kauffman said. "Prioritize what you really like. Ask yourself if you really need it. If so, go for it. The holidays seem to stretch out longer these days, so be mindful."
Strategies to avoid overindulgence need to be what works best for each individual, added Lisa Randall, Inland Northwest Health Services registered dietitian nutritionist. Traditions, culture and family influences can make that doubly hard.
"Unfortunately, there is no one strategy that will work for everybody," Randall said. "That would be easy."
"Define in your head what your rules are, like 'I'll allow myself treats but reduce the portion sizes.' Maybe it's to sample a little of everything, but have a small plate and don't go back for seconds. Really, the goal is to either maintain weight or not to gain weight this time of year."
Here are 10 tips to avoid holiday spread:
Smaller sweets: Around many desserts, take samples rather than denying yourself, Randall suggested. She said the first two to three bites are what bring the greatest satisfaction. After that, it's more like routine eating. Cut a cookie in half to satisfy temptation, but still reduce refined sugar consumption.
"If you do that every time, you've cut your refined sugar consumption in half," Lang said.
"The biggest problem for weight gain, especially during the holiday season, is that we eat so many refined sugars that have an immediate insulin response. That causes more hunger because that insulin spikes and drops. When it drops, you get the feeling of being hungry."
Party trays at work: Zoom in first on any proteins – cheese bites and lean meat cuts – and hopefully, a tray of fresh vegetables. A taste-pleasing choice is to enjoy dips such as guacamole in another way. Rather than corn chips, use celery, cauliflower or broccoli as the dipping tool to get the pleasure of eating guacamole, and a way to have healthy fat with a fresh vegetable while cutting carbs.
Buffet table tactics: Use a smaller plate if available. Think about smaller portions and load up first with less-starchy vegetables, greens, fruits and lean proteins before other ingredients. Take a few favorite desserts too. Kauffman suggests another strategy after filling one plate: Go across the room farthest from the buffet table and strike up an interesting conversation. "It takes about 20 minutes for your body to know you're full," she said.
Holiday party countdown: Before that big company or party dinner, don't skip meals in the hours leading up to the event. Have a healthy snack or small salad right before you go, so you don't arrive starving for appetizers. Try to fill up first with salad, veggies and fruits, then richer foods and sweets you really like. "Don't skip meals just because you're going to a big meal," Kauffman said. "That's what a lot of people do, and it ends in disaster. That's where the mindless eating comes to play."
Healthier filler foods: Lang suggests eating a halved avocado , filled with salsa or picante sauce in the center. Again, skip the chips. "That's a snack that's almost all fat, a little protein, very little carbohydrates, so there isn't that insulin spike," Lang said.
Eating a hard-boiled egg is another good strategy. Iceberg lettuce can be a dipping source for a holiday dip instead of a cracker, giving the flavor of the dip. Or celery is a great alternative for enjoying some spreads and dips.
December home-cooked meals: Try to eliminate the season's typically high starchy sides such as mashed potatoes and stuffing. Replace them with savory side dishes of vegetables. "There are so many great vegetable dishes," Lang said. "If you can make Brussels sprouts with one, maybe the other dish is a riced cauliflower, and the third one is green salad." He also recommends thinking about good protein choices: Turkey as one of the better ones or sometimes a lean cut of beef. "Ham is probably the worst because it's much more processed and it has a lot of salt and nitrates; at least most hams do."
Exercise or light activity: Exercise will help you maintain and feel better, and walking is a good backup. Or Lang advises that people pace around for five minutes every hour during the eight-hour work day to clock at least 40 minutes a day. Kauffman suggests that when you plan for holiday gatherings, also schedule in an after-meal group activity such as ice skating or a walk to see holiday lights.
"After a meal, a walk helps you digest it," Kauffman said. "It helps keep your blood sugar from spiking if you do something physical, and it's making sure you're not falling into that food coma."
Stay hydrated, limit alcohol: Be sure to drink enough water throughout the day. When you think you're hungry, it might be that you're really thirsty, Kauffman said. Another good choice is flavored sparkling water. Because all alcoholic drinks are high in calories, watch how much you imbibe at holiday parties. A sugary load for the day can add up quickly if those alcoholic drinks have juice or other sweet ingredients. Sip slowly.
Potlucks and support: Take at least one dish you know is healthier to eat, said Joyce Anderson, a Spokane leader in the Take Off Pounds Sensibly group. Plan ahead what you'll eat and know you have the one dish to count on if confronted with mostly comfort foods.
If you're not in a support group, like TOPS, Anderson suggests leaning on a friend, coworker or family member for support when you're tempted to go overboard. "Just give someone a call, 'Help me through this.' It helps knowing they're there to support you."
Seasonal long view: Lang suggests limiting daily carbohydrates, like in breads and potatoes, although fresh fruits and veggies are good, and eat healthier fats such as avocados to avoid weight gain.
But don't beat yourself up over moments of excessive eating or too many sweets.
"You might be off the wagon for a day, but that's OK," added Lang. "Just as long as you know the longer-term goal is to get through the holidays better than you did last year."
Guilt can trigger more overindulgence, so Kauffman has this reminder: "It's a long season; a marathon, not a sprint. You'll have lots of opportunities to eat what you love."
Local journalism is essential.
Give directly to The Spokesman-Review's Northwest Passages community forums series -- which helps to offset the costs of several reporter and editor positions at the newspaper -- by using the easy options below. Gifts processed in this system are not tax deductible, but are predominately used to help meet the local financial requirements needed to receive national matching-grant funds.
Subscribe to the Spokane7 email newsletter
Get the day's top entertainment headlines delivered to your inbox every morning.
---