News > Spokane
Spokane Valley Fire Department opens new station in Liberty Lake
UPDATED: Mon., Dec. 4, 2017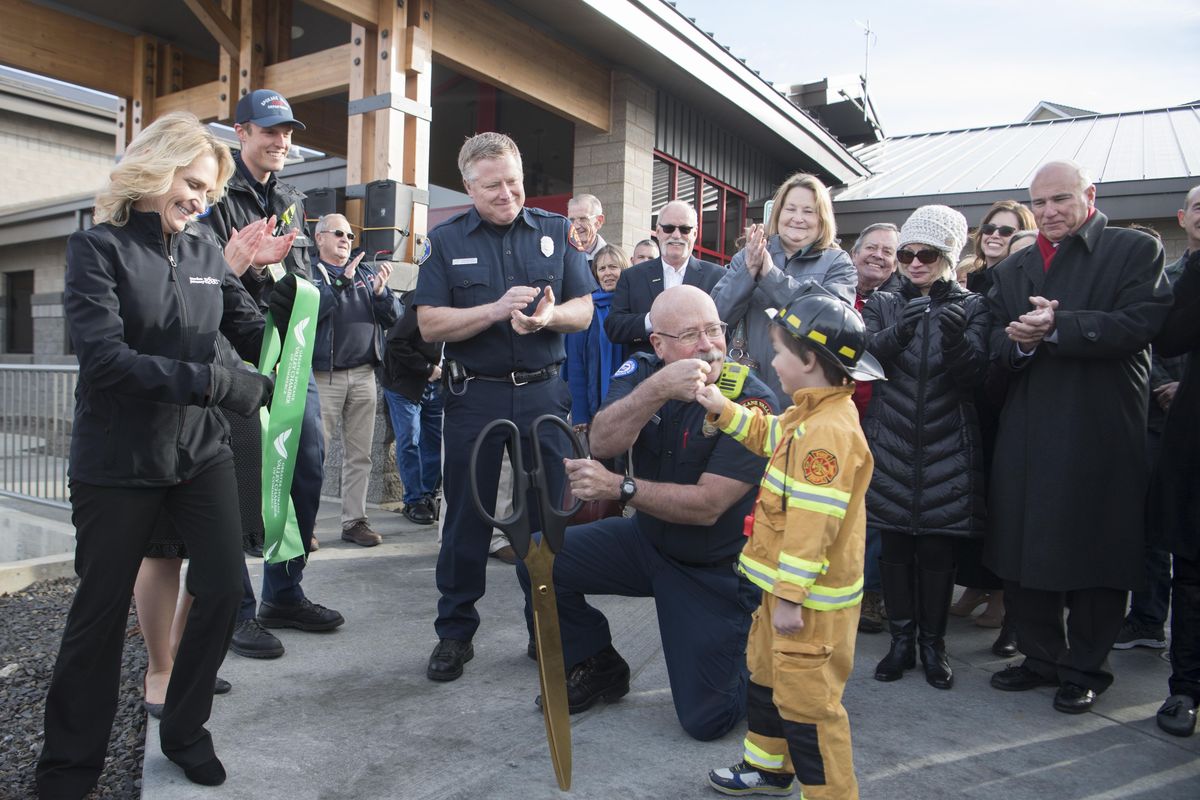 Firefighter Paul Hammersley, kneeling, bumps knuckles with four-year-old Mark Frazier after the ribbon cutting at the new Spokane Valley station on Country Vista Drive in Liberty Lake, Monday, Dec. 4, 2017. Mark isn't related to any Spokane Valley firemen, but he loves getting dressed up in his firefighter costume and attending events like this. (Jesse Tinsley / The Spokesman-Review)
A new $4 million fire station is serving Liberty Lake.
The Spokane Valley Fire Department celebrated the opening of a three-door firehouse in a ceremony Monday, about eight months after construction began. Dozens of city leaders from Liberty Lake and Spokane Valley gathered Monday for the ceremony, which included words from fire Chief Brian Collins.
"I can't say enough about the pleasure and partnership we have with the city," he said to the dozens in the crowd. "They're just incredible to work with."
Collins said the 11,000-square-foot facility at 21300 E. Country Vista Drive will have a full-time paramedic on hand and will serve as the department's storage facility for breathing apparatuses. It also has a wraparound driveway leading to garage doors in the back, which allows firefighters to enter the garage without holding up traffic.
The three large bay doors at the front of the building open horizontally, rather than roll up, which reduces the time it takes for fire engines to exit by a few seconds. A demonstration of the door mechanism was a huge hit for the children who toured the building.
The building was financed from a capital reserve fund. Melanie Rose, spokeswoman for the fire department, said they were proud not to have had to ask voters to foot the bill.
"We've been able to plan for these through savings," she said. "Mostly it's money that's been put away and set aside for this project."
The building is replacing the old Liberty Lake fire station at 2218 N. Harvard Road. Rose said firefighters have until the end of December to move out, as the old facility was purchased by Liberty Lake Sewer and Water District.
The new location was selected to make use of the planned Harvard Road overpass, a $4 million project that would relieve congestion in the city by widening its main point of access to Interstate 90.
"We relocated to help assure emergency response coverage keeps pace with emergence and growth," Rose said.
Workers from the Greater Spokane Valley Chamber of Commerce cut the ceremonious green ribbon.
Paul Hammersley, a member of the small fire crew that will staff the new station in a few weeks, was chosen to cut the ribbon. He picked a small boy dressed in a firefighter uniform from the crowd to help him.
Local journalism is essential.
Give directly to The Spokesman-Review's Northwest Passages community forums series -- which helps to offset the costs of several reporter and editor positions at the newspaper -- by using the easy options below. Gifts processed in this system are not tax deductible, but are predominately used to help meet the local financial requirements needed to receive national matching-grant funds.
Subscribe now to get breaking news alerts in your email inbox
Get breaking news delivered to your inbox as it happens.
---