News > Spokane
A father's choice: Phil Tyler wants to talk about his son's suicide
Tue., Dec. 5, 2017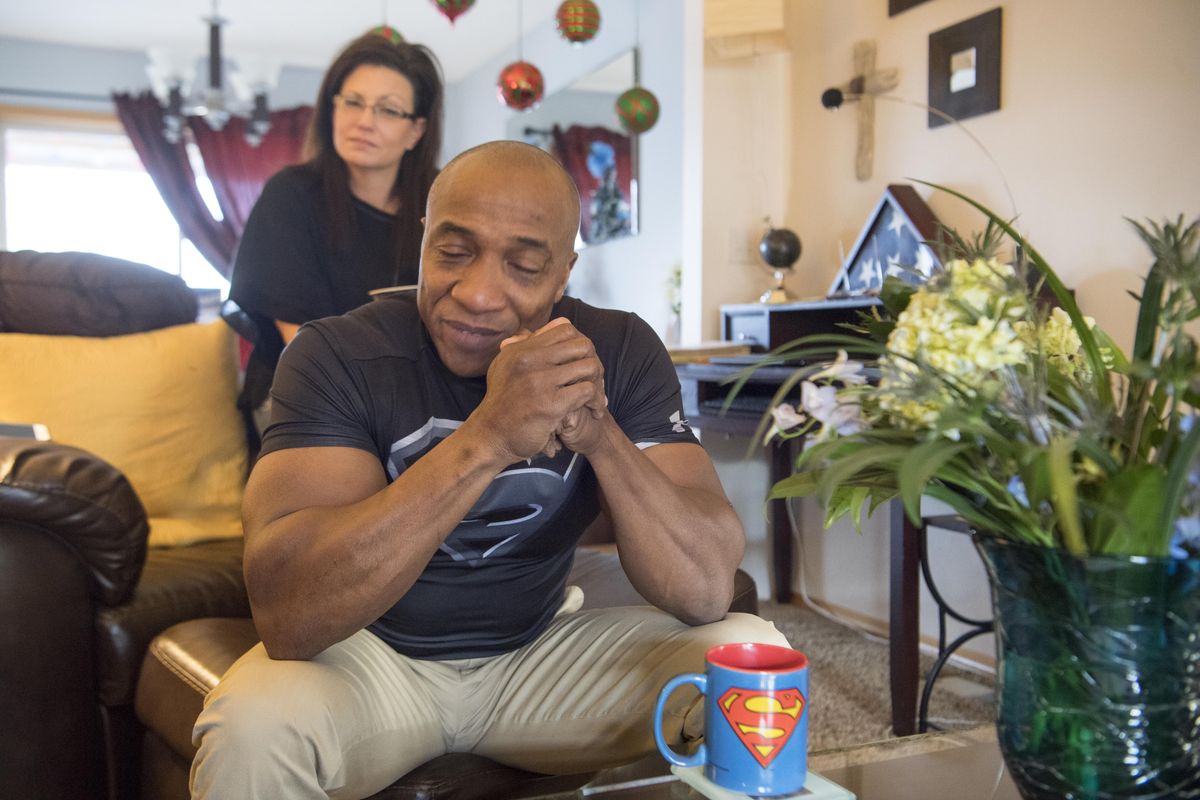 Phil Tyler, with his wife, Meg Demand, talks Monday, Dec. 4, 2017, about the suicide of his 22-year-old son, Devon, which took place last week. Tyler would like some good to come from the tragedy. (Jesse Tinsley / The Spokesman-Review)
Devon Tyler liked to tug at his father's heartstrings.
"He would write cards for my birthday or Father's Day or Christmas," said Phil Tyler, a former Spokane County Jail deputy, "and he knew that Dad's tough exterior was going to be melted away when I opened it and started reading it."
There will be no Christmas card from Devon this year. He took his own life on Nov. 28, in the South Hill home where he grew up, after saying goodbye in a series of a self-recorded videos. He was 22.
And while Phil Tyler may never fully understand his son's suicide, he will not grieve alone. On Thursday, just two days after it happened, Tyler vowed in an emotional Facebook video to be a staunch advocate for mental health care reform.
As a former president of the Spokane NAACP and a public figure in the community, Tyler said he felt a responsibility to speak out and eliminate the stigma surrounding depression – sooner rather than later. A year and a half ago, Tyler noted, he took part in a campaign to raise awareness of suicides by military veterans.
"Silence isn't strength," he said in an interview Monday. "It's so important for the community to understand that this is a real issue out there, and it shouldn't be hidden."
Tyler spoke in his living room, wearing a Superman T-shirt and sipping coffee from a Superman mug – because, he said, he could use a little extra strength these days. This public grieving process, he said, has been cathartic.
Three bouquets of flowers crowded the coffee table. Photos of Devon showed a grinning Ferris High School student who loved football and basketball, the daredevil who bought a Honda motorcycle when he was 18 and always drove it too fast, reminding Phil Tyler of his younger, rowdier self.
"Early on as a parent, as a father, I wanted to teach my kids to be hard, and be tough and resilient … but in later years I realized that it's OK to cry and let your emotions out," Tyler said. "Don't pen them up. I don't know if I was just too late for him to learn those things."
When Tyler remarried and moved a few blocks away, Devon and some roommates began renting the family's old house on the South Hill. It was there, in the garage, where he shot himself last week.
Devon's mother found his body around noon last Tuesday, and when emergency vehicles swarmed the residence, a worried neighbor called Tyler.
"As a parent you have this foreboding feeling," Tyler said, describing the dread he felt while driving to Devon's house.
Tyler had been testifying at a Spokane City Council meeting the previous evening when he received a text. Devon had stopped by his father's house to drop off cookies. It was their last exchange.
Tyler said many of his son's friends have reacted the same way: "Last time I saw him, he was happy and smiling, and if I knew I would have been there!"
Tyler thought the same thing. Devon was sociable and regarded as a hard worker at McDonald's. He wanted to move in with a friend in California and, eventually, go to college and study art. He was never diagnosed with depression.
His death, Tyler said, is "painful and confusing."
But Tyler stressed that suicide is a complex public health issue, and it's too often attributed to a singular cause such as a breakup or being fired from a job.
Most people who die by suicide grapple with mental health or substance abuse, or both, although sometimes those conditions go undiagnosed. In 2015, suicide was the second leading case of death among 15- to 35-year-olds in the United States, according to the Centers for Disease Control and Prevention. The number of suicides that year, 44,193, dwarfed the number of homicides, 17,793.
"The only way that things are going to change is if we openly talk about it," he said, "if we openly share our experiences, our stories, our heartache even."
He urged people to routinely ask their loved ones, "How are you?" and to treat everyone with respect "because you never really know what a person is going through."
He repeated a short phrase that his son began saying in the days before his death: "Life is chaos. Be kind."
Local journalism is essential.
Give directly to The Spokesman-Review's Northwest Passages community forums series -- which helps to offset the costs of several reporter and editor positions at the newspaper -- by using the easy options below. Gifts processed in this system are not tax deductible, but are predominately used to help meet the local financial requirements needed to receive national matching-grant funds.
Subscribe now to get breaking news alerts in your email inbox
Get breaking news delivered to your inbox as it happens.
---