Sports > Gonzaga basketball
John Blanchette: Zags must improve to match teams like Villanova
Tue., Dec. 5, 2017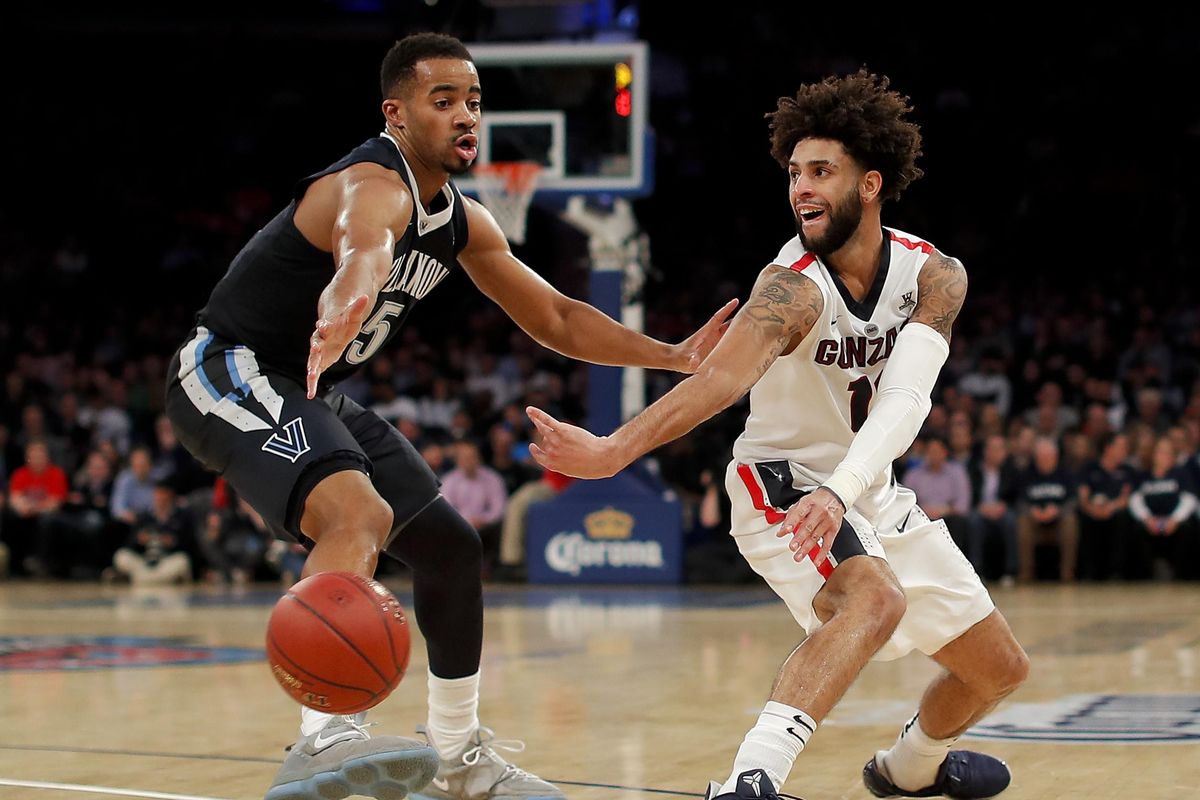 Gonzaga guard Josh Perkins (13) passes the ball against Villanova guard Phil Booth (5) during the first half of an NCAA college basketball game, Tuesday, Dec. 5, 2017, in New York. (Julie Jacobson / Associated Press)
NEW YORK – Just a couple months shy of 50 years ago, an old Zag named Bing Crosby helped christen the current Madison Square Garden with a star-spangled salute to the USO. His big number: a song from the musical "South Pacific" called "Cockeyed Optimist."
A good suggestion for a Gonzaga basketball fan on Tuesday night watching his Bulldogs go south in the same building.
They've been better.
They can be better.
And if those aspirations these Zags have of equaling what the last ones achieved, they'll simply have to be better.
But right now, the difference between No. 4 team in the country and No. 12 is not just simple subtraction, and the point spread in Villanova's 88-72 dissection of the Bulldogs was an accurate representation, but not complete.
Complete, actually, is a pretty good description of the Wildcats. And what a compliment.
"They're very connected," said Gonzaga coach Mark Few, "and playing at a really high level. They're very impressive to play and to see first-hand. Not overwhelming physically. Not overwhelmingly crazy athletic. But basketball players who know how to play and play the right way."
And the Zags, well, they're certainly capable of such moments.
But even in running up a 7-2 record against a quality schedule — 'Nova, Creighton, Florida, Texas, Ohio State — and surviving perhaps better than anyone had a right to expect, the frays in their connections have been revealed. And no more so than against the Wildcats.
Gonzaga would certainly relish another crack at them, but a best-of-seven still might be over in four.
It unraveled all too quickly for the Bulldogs this night — 11 turnovers in the first 13 minutes, inability to handle 'Nova's dribble penatration and a disastrous stretch of zone defense allowed the Wildcats to build a 17-point lead. The Zags managed to get it to seven points midway through the second half, at which point they got into a game of Monopoly with Mikal Bridges.
Who had the deeds to Park Place and Boardwalk with hotels on both as the Zags continually landed there.
The 6-foot-7 forward and soon to be first-round pick in an NBA Draft near you already had 17 points. But in the space of a minute, he boarded a missed 'Nova foul shot, drove for a layup, nailed a 3-point and then swatted Killian Tillie and corralled the ball to start a fast break that made it 60-48. A couple minutes later, a thunderous dunk over Jacob Larsen and another swat of Josh Perkins were just for show.
Not quite a year ago, the Wildcats came to metro New York for a neutral courter against Notre Dame and Josh Hart erupted for 37 points to put himself in the player of the year conversation.
"I would like that for Mikal," said Villanova coach Jay Wright. "That would be nice."
There are some parallels between these two programs that go beyond their stature as No. 1 and 2 in wins in college basketball over the past three-plus years. In the Wildcats' eight-man rotation are no fewer than five players who've redshirted — including Bridges and Phil Booth, downed by a bad knee last year but whose 20 points against GU suggested he's all the way back.
"A year," Booth noted, "can change your life."
The Zags have also benefitted from the redshirt culture and have five in their mix, as well, this season. They may be slightly more reliant on their less-experienced players, however — and they haven't connected in the same fashion.
"When you schedule like this and play games like this you, for lack of a better term, expose your guys," Few said. "And we learned some things.
"I told them after the game, we have to start valuing the little things. We have to. They hurt us today on the details. The turnovers, literally, came in every way, shape and form. It was foot faults, it was putting your head own and running a guy over, it was three seconds in the key, it was not being strong with the ball, a bad screen, you name it. It's not just one thing you can drill out. But we have to value those things because they go a long ways toward winning.
"And we obviously have to start guarding the 3-line better."
No joke. At the moment, Gonzaga opponents are shooting 39.5 percent from the arc. That won't hold up, of course, but if it did, it would be the Zags' worst showing in the 3-point era — and as it stands 10 full percentage points higher than the last two seasons.
Turnovers? They're up nearly 2 1-2 a game over 2017.
There is a price to be paid for success and early departures — but, as Few noted, "We're not interested in rebuilding. We try to reload." Which means regardless of roster churn, the standards never change.
Sometimes that calls for cockeyed optimism. And sometimes just some old-fashioned detail work.
Local journalism is essential.
Give directly to The Spokesman-Review's Northwest Passages community forums series -- which helps to offset the costs of several reporter and editor positions at the newspaper -- by using the easy options below. Gifts processed in this system are not tax deductible, but are predominately used to help meet the local financial requirements needed to receive national matching-grant funds.
Follow along with the Zags
Subscribe to our Gonzaga Basketball newsletter to stay up with the latest news.
---